Sky's the limit for EQSTRA Carbon Offset Project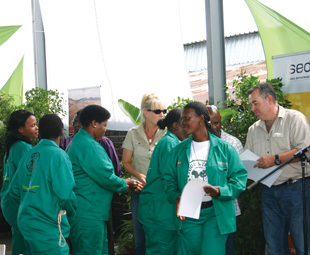 The EQSTRA Carbon Offset Project (ECO Project) – the first of its kind in the world – is seeing this logistics company take sustainable business to new heights.
Eqstra, a relatively new player in the coal transportation industry, has joined forces with Food & Trees for Africa (FTFA) – the local social enterprise addressing sustainable development through climate change action, food security and greening programmes. FTFA is the first in the world to register its Bamboo for Africa for Carbon Offsets under the internationally Verified Carbon Standard.
"Bamboo is the fastest growing, largest plant on the planet that has over 1 200 known uses, making it one of the most efficient carbon sinks and an enterprise development dream," says Jeunesse Park, Founder of FTFA. "Its planting is new to South Africa and will hopefully result in the same kind of major-investment initiative it is in places like China and India."
FTFA was asked to develop a Climate Response Strategy to address EQSTRA's contingent carbon liability while contributing to its social investment and enterprise development objectives.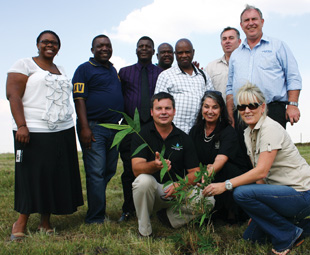 As a result, a 60 hectare bio energy plantation has been developed in Leandra, Mpumalanga – with 60 formerly unemployed community members trained to develop the necessary infrastructure on the site. In addition to bamboo, two oil-producing trees have been planted to produce crude vegetable oil for bio-diesel production. These are intercropped with red speckled beans and vegetables to contribute to food security. The trees support additional reduction of carbon emissions, and together with the crops, are contributing to another revenue stream for the Leandra project participants.
"The project has been a model showcase for partnerships in carbon and enterprise development, with integrated support from the Small Enterprise Development Agency (SEDA), Local Economic Development and the Department of Agriculture, facilitated by Renewable Energy Solutions (RES)," says John Loxton, MD of EQSTRA Flexi Logistics.
Leaders were elected from the 60 local community members to head up four co-operatives, and a "Train the Trainer" programme was introduced to ensure effective skills development for all participants. The project is changing lives in the impoverished area. The planters as well as their families stand to benefit.
The objectives of sustainable carbon sequestration, meaningful enterprise development and social development give EQSTRA a unique position as a leader in the transport and mobility market and allows the company to strengthen its relationship with customers, local and national government, as well as Eskom in the Mpumalanga region.
"EQSTRA has invested substantially in this project, ensuring our place at the forefront of the industry in terms of carbon offset initiatives," said Walter Hill, CEO of EQSTRA Holdings LIMITED, at the official launch of the project on February 15, 2012.
The ECO Project will allow EQSTRA to remain carbon neutral beyond the next 10 years and sets an example that is sure to encourage other industry players to follow suit.
Focus on Transport
March 1, 2012
Published by