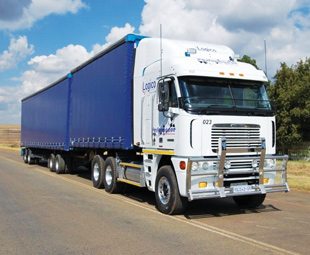 When transport operators are looking to buy a truck, there are a number of things they need to consider: suitability and reliability of the product; price; service and parts support; and how well these work together to ensure maximum uptime. According to Logico Logistics, Sandown Motors Commercial Vehicle Centre offers the whole package – and then some.

As an independent Freightliner/Mitsubishi FUSO dealership, Sandown Motors' first real value-add is its product offering. "We offer extra-heavy long-distance haulage vehicles through our Freightliner product range, as well as smaller inner-city run-around and construction vehicles through our tough, no-nonsense Mitsubishi FUSO range," explains Martin Liebenberg, brand sales manager at Sandown Motors Commercial Vehicle Centre Centurion.
This means that an operator with a diverse portfolio and varying requirements from his trucks can source his entire fleet from one dealership, thereby streamlining the service he receives.
"We enjoy good overall participation in the market, and our sales and service teams on both product ranges work well together to ensure that our product offering is matched only by our service offering," Liebenberg continues.
Assuming a service offering is even needed with these trucks. "We have a Mitsubishi FUSO FM14 rigid body truck that is the dedicated vehicle for our Woolworths Country Roads clothing range contract," says Bryan Cuff, managing director of Logico Logistics.
"In its first 18 months on the road, it was operating seven days a week, 18 hours a day. That's a lot to expect from a truck, particularly an inner-city run-around vehicle that is always in stop-start traffic.
"Yet, despite everything we put it through, in all that time we experienced only one breakdown: the clutch cable snapped."
Thanks to Sandown Motors' dedication to its customers, however, the FM14 was out of commission for a mere three hours – from the time of the call reporting the breakdown to the vehicle being back on the road.
"We take downtime very seriously," agrees Liebenberg. "If a truck isn't on the road, it isn't working, and if it's not working, it can actually end up costing its owner money." According to Cuff, this can amount to as much as
R8 000 a day.
Sandown Motors' unique sales and service system aims to assist its clients as much as possible.
In the case of Logico Logistics, Cuff currently runs seven Freightliners as long-hauliers and five FUSOs as inner-city delivery trucks.
"We have contracts with Barloworld Logistics on behalf of Unilever, delivering Unilever products to retail agents across the country on a daily basis, in specialised Barloworld Logistics-patented trailers," says Cuff. "They are able to pack 72 rather than the traditional 36 pallets," he continues. "These are big loads, and they always need to arrive on time. Reliability is everything in this business."
The Sandown Motors team works hard to ensure Cuff delivers on his promises. "The Freightliner service department is run by Rika Jansen, and I have only praise for her workshop management," he says. "She runs a tight ship, and she understands my need to always know exactly where we stand when it comes to the availability of my trucks. If she makes promises she can't deliver on, I end up making promises I can't deliver on."
The Freightliner and Mitsubishi FUSO sales teams are equally important. "Johan Meyer on the Freightliner side and Chris Gwazi in the Mitsubishi FUSO office work together to create the perfect fleet for me," Cuff continues. "And make no mistake, these are good vehicles.
"Both Freightliner and FUSO are built for our local conditions. They are tough trucks, able to withstand our extreme operating conditions while remaining incredibly fuel efficient."
Overall, the combination of quality products and reliable service delivery has cemented a secure working relationship between Cuff and Sandown Motors, which is what working in commercial transport is all about.
"Buying a commercial vehicle is like a marriage," concludes Liebenberg. "You need to work together as operator and dealer for the relationship to be a success."
Focus on Transport
November 1, 2009
Published by