By the time you read this, Truck Test 2017 will be done and dusted. Our full report will be published in the May issue, but here's one final tribute to those companies without whom the test would not have been possible
Mercedes-Benz
Mercedes-Benz has participated in every truck test since its inception in 2012. The 2017 test holds significant importance for the brand as its Actros 6×4 truck tractor has received some important improvements, the merits of which the company hoped to prove during the test.
"We aim to use the test to demonstrate the frugality of our engines, while providing the necessary power for varying loads and distances," says Christo Kleynhans, product manager for Mercedes-Benz Trucks.
Read the full Mercedes-Benz Truck Test 2017 profile on page 22.
Sinotruk
Adding to its drive to enter the South African market and obtain the type of success it has in other countries around the continent, Sinotruk South Africa entered a HOWO V7G 320 kW (430 hp) truck tractor into Truck Test 2017.
"After two years of preparation, we now need to show the good performance and reliability of our trucks, and let people know that we are here in South Africa, and in Africa," says Zhong "Jeff" Qirong, manager at Sinotruk SA.
One Sure
An event such as Truck Test requires many stakeholders to come together to ensure it is a success. With the loads kindly sponsored by Sephaku Cement, the matter of insurance was the next important factor … happily niche insurance underwriter One Sure again supported this crucial aspect of the test.
The company provided full all-risks insurance cover, free of any excess, for the cement products that were carried during the test.
Says Sid Beeton, divisional transport manager, One Sure: "At One Sure we believe in the 'transport solution'. We strive to provide non-insurance products, as well as our core risk-protection covers.
"Although the Truck Test is more to do with vehicle performance, safety features are part of that and we also support such initiatives in the transport industry. We trust this shows our commitment to give back to the industry," he says.
Sub-Saharan Tyre Services
A company interested in promoting road safety, Sub-Saharan Tyre Services – with its wheel-securing device, Wieloc – is keen to attract operators that are safety conscious and proactive in providing a higher standard of road transport.
"Wieloc participated in Truck Test 2017 to gain exposure among professional equipment and service providers to the road transport industry, so that the simplicity and practical benefits of the Wieloc product could be appreciated and documented for user consideration," says Dave Mills of Sub-Saharan Tyre Services.
Wieloc prevents truck wheels from running loose or, worse, coming off the vehicle, by mechanically clasping two adjacent wheel nuts, preventing them from loosening.
"Roadside tyre-related breakdowns present their own set of problems for the operator. Application of the Wieloc product will not interfere or delay the service required in a breakdown event. This represents an enormous benefit to the safety-conscious operator. As an added benefit, Wieloc has also proved to be an effective deterrent against wheel theft; a huge risk, particularly for cross-border operations," says Mills.
"Transporters of hazardous chemicals and other dangerous goods, as well as bus and coach operators, will obtain immediate safety benefits – to the delight of SHEQ-compliance officers," Mills concludes.
Voith Turbo
Voith Turbo is a name synonymous with retardation solutions and the company threw its weight behind Truck Test 2017 in support of the various original equipment manufacturers (OEMs) that fit its products to their vehicles.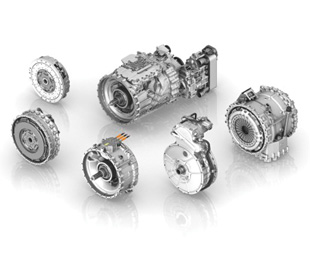 "There are many benefits to the application of Voith Retarder products, which include reduced wear of brake linings, improved safety and fuel consumption and a greener approach to the environment, due to less brake-lining dust entering the atmosphere. The latest technology integrates completely into OEM technology and provides reliability and improved trip times, due to a higher average speed," says Frederick Smit, vice president – mobility.
"We are confident that the tests will prove the advantage of having a Voith Retarder fitted to a vehicle," he adds.
ZF
As ZF South Africa prepares for vehicles fitted with its TraXon fully automatic transmission – the successor to the popular AsTronic – to start operating locally in due course, the company put its support behind Truck Test 2017 to showcase its product portfolio and service offering to the market.
"ZF offers technical and product support, original equipment parts sales and field service and repairs through our branches in Johannesburg, Durban and Cape Town. Through Truck Test we hope to continue to build lasting relationships with OEM customers and provide them with insight into our product and service offering," says marketing manager Pieter Potgieter.
Dromex
With personal protective equipment (PPE) among the most important components of a professional trucking operation, we welcomed PPE supplier Dromex to Truck Test 2017. The company supplied its S3 Boots to Truck Test officials, which have a water-resistant leather upper, steel toe cap, an injected dual-density polyurethane sole along with a steel midsole.
Dromex supplies a vast range of appropriate head-to-toe protective equipment that conforms to ISO, EN and South African Bureau of Standards (SABS) standards.
"PPE is very important to the local transport industry, because all drivers are potentially exposed to fire hazards. We therefore recommend fire retardant workwear as minimum protection," says Stephen Mallett, Dromex general manager.
"Depending on the specific hazards of the cargo, PPE is crucial for those staff who assist with loading and unloading and for the driver – especially in the event that the truck is involved in an accident."
Mallett suggests that all transport operators need to ask the following questions in determining their PPE needs:
• Is the cargo hazardous?
• Is the driver especially visible?
• Is he wearing appropriate footwear?
• What eye protection is needed?
Michelin
Previous editions of the Truck Test have seen certain tyre manufacturers showing their support, while this is the first time that Michelin Tyre Company South Africa (Michelin) has been a partner.
"Michelin is much more than just a tyre manufacturer; it has a comprehensive service offering. Through its continued innovation, Michelin provides fleet operators with solutions that create value. These services aim to lower cost per kilometre, improve company profitability and protect the environment," says Yoliswa Nkomo, operations marketing manager B2B, Michelin.
During Truck Test 2017, Michelin provided entrants with access to Michelin Tyre Care, a digital tyre service offering designed to simplify the maintenance of tyres and reduce operating costs.
"The test provides an exciting opportunity for Michelin to network with the transport industry and to present our innovative tyre-check services. Michelin is committed to providing sustainable mobility through innovative solutions for fleet operators," says Nkomo.
"One of the major challenges for fleet operators has been to reduce operating costs while maintaining the quality of the service delivered to our clients," she elaborates.
"Michelin Tyre Care provides real-time monitoring of vehicles, which enables operators to reduce vehicle breakdown and improve the safety of goods and people being transported," Nkomo concludes.
Focus on Transport
April 18, 2017
Published by