With the year-to-date sales volumes of extra-heavy commercial vehicles having taken a significant drop, it's clear that operators are demanding more from their vehicles. Yet, there's much that can be done to weather the storm of tough trading conditions
Cast your mind back to 2008 to the onset the global economic crisis. We expected the shockwaves of the recession in Europe and the United States of America (USA) to rapidly impact on our own emerging economy, notably in the hitherto healthy growth of the South African road-freight industry.
As fate would have it, our local road transport industry continued to grow post-2008 with year-on-year improvements in new-vehicle sales. The extra-heavy truck segment (trucks with a tare mass exceeding 16,5 tonnes), in particular, registered modest, but steady annual volume increases, despite growing uncertainty in both the political and economic arenas.
Unfortunately, the day of reckoning for the extra-heavy trucking industry has finally arrived. According to the National Association of Automobile Manufacturers (Naamsa), 2016 year-to-date sales volumes in the extra-heavy truck segment have plummeted by at least 8,5 percent on 2015 volumes.
The industry mouthpiece cites negative macro-economic forces, low domestic economic growth, political uncertainty, a decline in the Purchasing Managers Index, unstable exchange rates, relatively high interest rates, increases in new-vehicle prices and low business confidence as being the primary causes of the downward spiral in new-truck sales volumes this year.
Crisis equals opportunity
Despite the relative inertia within the South African extra-heavy truck industry as a whole, original equipment manufacturers (OEMs) and fleet operators remain characteristically resilient (and realistic), and are positively implementing new technologies and business methodologies to ensure their survival and future growth.
Dave van Graan, head of truck sales, MAN Truck & Bus SA, says: "The extra-heavy truck segment is highly competitive with as many as 26 OEMs. Several of these offer products with low-priced packages, creating artificial, supply-driven inflation of the industry. In reality, with many of these OEMs not disclosing sales volumes to Naamsa, the drop in new extra-heavy truck sales has probably been around ten percent this year."
"The recent drop in consumer spending and the weakening of the commodities markets have contributed significantly to decreased demand for 6×4 truck tractors in the line-haul and mining sectors of the road freight industry," explains Van Graan.
"Absolute tonnages have declined and transport operators are redeploying their rolling stock to alternative applications. For example, side tippers that once carried ore are now transporting grain. Essentially, the industry is battling over-capacity, which is creating increased pressure on operating margins," he adds.
"In the next 12 to 18 months, the survival of OEMs will depend on key factors including: product enhancement; vehicle reliability and maximised uptime; improved fuel savings and payload productivity; enhanced after-sales support including telematics and fleet management; driver-training services; and viable vehicle trade-in options," Van Graan explains.
"Operators are able to do more with less. OEMs must help build fleet capacity via feedback and ramped up engagement with customers using fleet-management technologies and skills-development programmes that boost the overall efficiency of the fleet.
"Truck suppliers need to add tangible value to their offerings that effectively generate greater cost efficiencies across the value chain. Our maxim at MAN says it all: 'we're in the business of delighting the customers of our customers'," he says.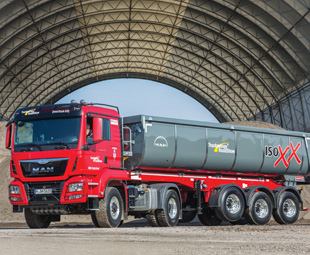 Rory Schulz, marketing director at UD Trucks Southern Africa, says: "The biggest impact we are experiencing is the lack of business confidence, which has led to operators 'sweating their assets' or adopting a wait-and-see approach. We have seen some positive activity over the last few weeks in some segments, such as construction. However, with some of the political issues around, we could face more headwinds."
Schulz adds: "To ensure business sustainability, any technology that supports the cost of ownership is of the greatest importance in these times. We are currently seeing a move in the industry to ensure safer trucks, and, as a result, the use of technology will become even more prevalent in the years to come.
"We understand that there are always cycles to our business, so we need to look after our customers efficiently, professionally and dependably. Partnerships with our customers are the best medicine."
According to Kobus van Zyl, executive director, Daimler Trucks & Buses Southern Africa: "A sustainable transport businesses should remain focused on efficiency. Our telematics solutions, provided through our FleetBoard system, continue to add significant value to our customers. We believe the market will remain challenging and, as such, we are constantly reviewing new approaches to improve efficiency along the value chain."
Intelligent fleets prevail
Chief business development and strategy officer at Imperial Logistics, Cobus Rossouw, echoes the sentiments of Van Graan and Schulz: "The organisation's 2015/16 annual financial results reflect the mounting pressure on the industry and volatility in the African region."
"The tough trading conditions, which contributed to Imperial's reported flat revenue and operating profit decline, have galvanised the Group's resolve to continue investing in people, relationships and capabilities.
"In South Africa, challenging trading conditions continue to put pressure on Imperial's revenue and profitability, due to soft volumes in most sectors, particularly in manufacturing and commodities. However, with a more asset-light strategy, the business will add further impetus to its drive to develop customised solutions to better service our clients and improve their efficiencies.
"Technology is one of the drivers of Imperial's transition from 'old school' transaction and price-based contracts to new, transparent and mutually rewarding commercial models. Logistics 'control towers', state-of-the-art IT solutions that offer unrivalled visibility of supply chains, and transport telematics are examples of the sophisticated technology that Imperial is leveraging to build transparent and mutually rewarding partnerships with clients," states Rossouw.
Neil Henderson, chief executive, Barloworld Transport, says: "Technological innovations in the transport industry present the opportunity to challenge the status quo of risk management and operational efficiencies.
"In effect, transport has entered the information age where technological advancement, mobile data and analytics are enabling a new connected world of transport. For example, the availability of data from telematics helps to monitor and analyse our fleet and our drivers in real time, providing superior journey management for greater efficiencies, enhanced safety and, ultimately, cost-savings for the customer."
All about best practice
For an industry facing unprecedented constraints and challenges, consolidation in the extra-heavy truck sector is an overarching strategic focus – optimising the performance of existing assets while investing in cost-effective management systems.
By coupling new truck technology with advanced fleet-management technologies and implementing skills-development initiatives (particularly driver training and technical training) to improve the human-machine interface, fleet operators in the extra-heavy trucking industry can gain best practice status and qualify for Road Transport Management System (RTMS) accreditation, which significantly improves a fleet's marketability.
"Businesses tend to take a quantum leap forward in terms of road safety and productivity once they implement the basics of the RTMS management system. That's why more and more transport companies are joining the initiative – they see tangible results," says Adrian van Tonder, chairman of the RTMS National Steering Committee.
The slump in extra-heavy truck sales looks set to continue for some time, but the resources exist to stay afloat and to gear up for maximum traction when the economy recovers.
Focus on Transport
September 7, 2016
Published by