Clear sunny skies, rolling green hills and the opportunity to travel affordably in comfort. What more could you want? FOCUS takes a peek at the option of travelling by luxury coach.
You know the drill. It's a rush to the airport, you push through hoards of people to get to the departures desks only to stand in queues to collect tickets (you would've booked online) and check in your luggage. Then it's more queues to pass through the gates (while you empty your pockets and your hand luggage is inspected), followed by a dash that always seems to take forever to your gate and, finally, you're on the plane.
Quite a contrast to travelling by coach. You'd book you tickets online too, find your coach at a bus/coach station or meet it at a convenient designated boarding point (more popular in South Africa; usually a prominent filling station), board right then and there, and off you go.
South Africa is a perfect country for coach travel. We have vast open spaces, mostly gorgeous weather, friendly citizens and so much to see. You can't enjoy all of that from the air. Coach travel might require more time for the journey, but it's surely more fun. "A great road infrastructure and easy-to-reach destinations makes South Africa an ideal place to travel by coach," says Craig Drysdale, CEO of local coach operator Springbok Atlas, which has anywhere between 10 and 30 departures a week depending on whether it's high season or not.
A coach is a type of bus designed to transport passengers on longer-distance journeys such as cross- or inter-country journeys or charter services (renting an entire vehicle). It is distinguished from the general bus – used for short journeys – by the inclusion of a luggage hold separate from the passenger compartment, as well as comfort-oriented amenities. These include such things as comfortable, reclinable seats, air-conditioning, on-board toilet facilities, beverage or refreshment stations, reading lights, and audio/visual facilities for entertainment. In certain countries where there is capacity for it, coaches are also sometimes equipped with mobile Wi-Fi hotspots so passengers can connect their mobile devices to the Internet.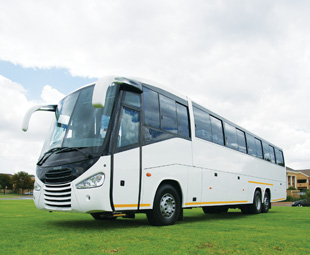 Coach travel in South Africa also enjoys a good overall record. A report on public transport published by Arrive Alive ahead of the 2010 Soccer World Cup stated that luxury coach transport in South Africa has a safety record comparable to that of the best in the world, underpinned by regulatory standards and operating procedures. Key among these considerations is the strong focus on driver safety and fitness. For example, drivers are required to be in possession of a Professional Driver Permit (PrDP), which is renewed every two years subject to the driver passing a specified test and medical examination. The report also stated that "in general terms, company policies in the bus industry require additional compliance specifying levels of experience, background checks, personal road safety records, and ongoing positive performance evaluation and training".
In addition, South Africa's national road network is said to be among the best quality in the developing world. "South Africa's road infrastructure has been greatly improved over the last couple of years," says Drysdale, "so too have new coach technologies, mainly around the more advanced safety features now fitted to the vehicles."
The Statistics South Africa report of tourism for 2011 recorded that a total of
8 339 354 tourists came to South Africa in 2011, showing an increase of 3,3 percent from the 8 073 552 tourists recorded in 2010, with 94 percent of these coming here on holiday – which almost makes travel a non-negotiable for them. Of the tourists who came to South Africa in 2011, 69,9 percent used road transport and 30 percent used air transport. There were an estimated 23 220 956 travellers in South Africa in total last year (local and international tourists and holidaymakers).
This would indicate that coach travel both within and between South Africa's borders could be an even more popular option than it already is. And with all these great positives the industry (and country) is currently enjoying, why shouldn't it be?
Focus on Transport
August 1, 2012
Published by