A new, in-house bodyshop, shipping of the first batch of export units and preparation for an all-new range of vehicles has made up the story of FAW Vehicle Manufacturers SA (FAW) so far this year. And it all stems from the company's Coega assembly plant.
Since opening its assembly plant at Port Elizabeth's Coega Industrial Development Zone in July 2014, FAW is proud to state that it is the only original equipment manufacturer (OEM) in South Africa to locally build its entire range of commercial vehicles that are sold here.
The US$ 60-million investment allowed the company to engineer capacity for 5 000 units per annum, with an eye on supplying African and export markets.
Earlier this year, the company shipped its first batch of five 55-t J5P 6×4 truck tractor units to Transafrica Motors Limited in Mombasa, Kenya. The company reports that African dealers, who traditionally placed their orders on FAW China, are moving their orders to South Africa, owing to the shorter lead time for delivery, the high levels of quality and the reduced cost of sourcing FAW vehicles on the same continent.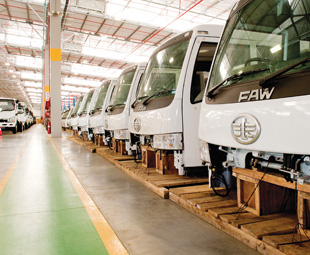 Says Yusheng Zhang, CEO of FAW Vehicle Manufacturers SA: "We are already working on a special order for the FAW Tanzania dealership. What is significant is that the export destinations can more readily adjust some specifications to accommodate customers' requirements specific to their markets."
The company has also added tipper bodies to its Coega repertoire. Built from SKD packs imported from the FAW parent plant in China, approximately 100 tipper bodies came off the line in the first quarter of the year.
The company is assessing the viability of producing drop-side bodies in the near future and other bodies, such as mixer drums, may eventually follow.
In assembling its vehicles and new bodies, FAW places safety, health, environment and quality (SHEQ) considerations as matters of prime consideration. "Keeping our employees safe and comfortable are key to our retention programme and important as we invest in their training and up-skilling," says Zhang.
This continual up-skilling is assured as the company is ramping up for the introduction of its new Tiger medium commercial vehicle (MCV). The Tiger is due to be introduced to the local and southern African markets in May, with a five tonne payload dropside body, which FAW says will provide for the lowest cost per tonne on the market.
"The FAW Tiger will be a 'true-blood' South African, built locally and uniquely engineered for the African environment," Zhang says. "The Tiger will carry all the hallmarks that FAW trucks stand for – strength, reliability, easy operation and, most importantly, delivering on the promise of a 'truck built for Africa, in Africa'."
FAW says that the rationale for introducing a MCV range is to satisfy customer demand for smaller-sized vehicles as durable and rugged as its heavy and extra-heavy trucks. "We believe this segment of the market has great potential and opportunity for growth," says Zhang.
FAW is not divulging too much about the new vehicle ahead of its official launch, but it has alluded that the Tiger will include componentry from the United States and Europe.
The already energized activity at the FAW Coega assembly plant is definitely about to kick up a few notches.
Focus on Transport
May 1, 2015
Published by