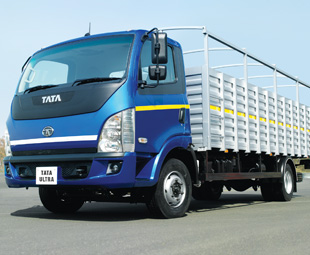 In his monthly review of global news for local truckers, FRANK BEETON reveals the first details of the new Ultra range of Tata products, takes a look at Ford's latest Transit van family, reports that Daimler's Chinese joint venture with Beiqi Foton is a go, tracks Mack's re-introduction of its own engines into Australia, and shares some facts about Brazil's truck market

While digging for more detailed information on Tata's LPT 3723 multi-axled rigid, Global Focus stumbled over another new Tata product range, which may be enormously significant in the Indian manufacturers' efforts to gain traction in the global truck market. Two models from this new series, the Ultra 714 and Ultra 1017, made their debut at AutoExpo 2012 in Delhi, revealing a design language that moves this manufacturer considerably closer to best current practice in the medium truck universe.
The Ultra range is intended to cover the Gross Vehicle Mass spectrum from five to 14 tonnes, although the launch units, as indicated by their designations, were rated at representative all-up masses of seven and 10 tonnes respectively. The striking walk-through cab design, as can be seen in the accompanying image, immediately confirms Tata's strategic intent to take on current European and Japanese competition – and closer examination of the specification mix reinforces this perception.
Considerably more attention has been paid to driver comfort and convenience than in Tata's previous offerings in this class, with features such as dash-mounted gearshift, hydraulic cab tilt, adjustable tilt/telescopic steering column, mechanically-suspended seats with integral headrests, optional cruise control and air conditioning, roof hatch, entertainment system, and leather finish dashboard being given due prominence.
Mechanically, the driveline is headed up by all-new three and five-litre DICOR NG diesel engines, with this designation indicating a new generation, electronically-controlled, direct-injection common-rail design. The origin of these engines, which develop outputs of 103 kW (138 hp) and 125 kW (168 hp) respectively, is not immediately apparent. Tata's previous models in this mass range have used power units derived from its original partnership with Daimler-Benz, or the Tata Cummins joint venture, but the use of the DICOR nomenclature on engines for light vehicles has usually indicated in-house design and manufacture. Ultra engines drive through six-speed manual transmissions contained within aluminium casings to the rear wheels.
Tata's revised design thinking extends beyond the obvious. The earlier cranked and welded chassis frame has been replaced by an assembly using straight profile rails rolled from Domex 650 steel, with crossmembers bolted in place. This design is said to allow for a greater variety of wheelbase and bodywork options. The axles are carried on parabolic leaf springs at the front, and semi-elliptic springs with parabolic helpers at the rear, while the hydraulic braking system utilises discs on the front axle, and drums at the rear. The brakes on the smaller unit have vacuum assistance, while those on the 10 tonne GVM chassis are boosted by air pressure.
Although the launch platform for the new range has focused on its potential appeal to a progressively more sophisticated Indian truck market, there seems to be much in the Ultra package that will make this product attractive further abroad, and some observers have even predicted a possible entry into Europe. Much of the criticism previously levelled at Tata's light trucks in export markets such as South Africa has revolved around issues such as excessive tare mass and lack of driver comfort, and both these boxes appear to have been ticked in the Ultra design. If Tata can get its product support infrastructure right, its future in the global truck market could just have become a great deal brighter.
First visible evidence of new Transit family
Last year, we devoted a considerable number of column centimetres to Ford's apparent reawakening of interest in the global commercial vehicle business. Although our attention was first grabbed by the emergence of new Cargo medium and heavy trucks in Brazil and Turkey, there was also the matter of the European Transit van being adopted for the North American market, representing a major change in strategy on a continent where specific product, in this case the enormously successful E-Series integral van, has been the historic case. The seriousness of Ford's intent was reinforced by news that it is to invest $US 1,1 billion at its Kansas City Assembly Plant, to build Transit stateside.
The next chapter in this story played out at March's Geneva Motor Show, where Ford unveiled its Tourneo Custom Concept, although this looked every inch a production-ready product. The Tourneo is the smallest, front-wheel drive eight-seater people mover member of the Transit family, so this viewing provided the public with its first look at a member of the new product range, giving some clues of what is still to follow. The larger two-ton Transit – which is also to form the basis of the Transatlantic model – will reportedly be available in rear- and all-wheel-drive versions. The practice of offering front- and rear-drive platforms within the same integral van family first emerged in the latest incarnations of the Renault/Nissan/GM joint venture vans, but it seems that Ford has taken this to the logical next step by developing an all-wheel-drive version as well.
Features of the Tourneo Custom Concept that appear likely to find their way into the definitive Transit family include flush window glazing, a bold trapezoidal grille, LED front lighting, Auto-Start-Stop, Smart Regenerative Charging, rear-view camera, Lane Departure Warning and Driver Alert. The Concept is powered by a 115 kW (155 hp) version of Ford's 2,2-litre Duratorq TDCi diesel engine family, which is expected to be the principal power source for the new Transit line-up. Other power ratings will include 75 kW (100 hp) and 93 kW (125 hp).
Daimler going ahead with Beiqi Foton
As reported in the March issue of FOCUS, Daimler AG and Chinese manufacturer Beiqi Foton Motor Company have gone ahead with their joint venture operation. Early in January 2009, it was reported that Daimler and Beiqi Foton were to set up a 50/50 truck joint venture, carrying the name Beijing Foton Daimler Automotive. At the time, diesel engine production was scheduled to commence in 2011, with truck manufacture following in 2012, at an annual rate of 100 000 units. Beiqi Foton's existing range of Auman heavy-duty trucks was expected to continue alongside new JV-developed models incorporating Mercedes-Benz designs and technology. The Auman-branded products would be aimed at the mainstream Chinese truck market, while the JV models were to be targeted at the high-end and export markets.
Towards the end of February, it was reported that the Chinese government had issued a business licence to Daimler and Beiqi Foton to start operating this $US 1 billion 50/50 partnership. One of Beiqi Foton's Beijing plants is reportedly being retooled to build 160 000 joint venture models per annum, and production of Beijing Foton Daimler's medium and heavy-duty trucks, now reportedly to also carry Auman branding, is scheduled to commence in the third quarter of 2012.
Mack is back in Oz with an MP10
If asked to name America's most iconic truck brand, many people would opt for Mack. With its roots in wagon building at the end of the 19th Century, the Mack family's bus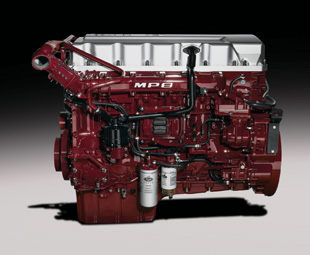 and truck building business gained international fame during World War I, when its chain-drive AC series trucks were christened "Bulldog" by British Army engineers. This gave rise to the brand's famous canine mascot, adopted after the Great War, and the perception of toughness was later reinforced by the popular expression "built like a Mack truck".
Mack's heyday in South Africa came considerably later, in the 1970s, when local Anglo American Group company Illings started selling the Maxidyne-powered R and F Series to a local operating community that was already well-disposed towards using American trucks for their increasingly deregulated long-distance transport activities. The high torque rise characteristics of Mack diesel engines, coupled to a triple-countershaft transmission with only five forward speeds, produced exceptional performance and economy results in an era when multi-speed transmissions had become the norm, and this made Mack a popular alternative among many local fleet engineers and drivers.
Unfortunately, the imposition of strict local content regulations for trucks in South Africa from 1981 onwards, which led to the universal adoption of Mercedes-Benz-designed ADE engines for heavier trucks, cancelled out Mack's unique sales proposition, and the brand faded from the local scene. Globally, Mack Trucks was acquired by Renault in 1990, and was subsequently integrated into the Volvo Trucks family in 2001, along with all other heavy vehicle assets controlled by the Renault/Nissan alliance. Despite several subsequent attempts to re-establish the brand in South Africa, only isolated examples of Mack trucks have been seen locally in recent years.
During the period when Mack was undergoing ownership changes, ever more stringent US emission standards worked against the company's design philosophy. This even led to the use of some bought-in engines and in 2006 Mack renewed its entire product offering to incorporate new MP7 and MP8 engines based on the major components of Volvo's 11 and 13-litre powerplants. In 2008, a new larger displacement 16,1-litre MP10 unit was added to the catalogue with outputs of 385, 421 and 451 kW (515, 565 and 605 hp). This engine bears the same relationship to Volvo's D16C unit as its MP7 and MP8 engines enjoy with the smaller Volvo diesels, but Mack, being intensely proud of its history in engine building, has gone to substantial lengths to ensure that its MP engine line-up has a unique character in terms of look, sound and feel.
In Australia, Mack sold its last in-house EA9 455 kW (610 hp) V8-powered Super-Liner in 1998, and since then has offered only bought-in Cummins engines in the
441 kW (600 hp) class. Considerable attention, therefore, has been attracted by the recent launch of the first MP10-powered units to that market, offering its highest ever installed outputs of up to 515 kW (685 hp), with torque ratings up to 3 150 Nm
(2 300 lb ft). These Selective Catalytic Reduction engines are offered as alternatives to Cummins ISX Exhaust Gas Recirculation powerplants in two models clearly aimed at the road train market, namely the Super-Liner, rated for GCM's up to 145 tonnes, and the Titan, which can accommodate a range of all-up masses from 131 to 250 tonnes. Transmission choices behind the 441 kW (600 hp) version of the MP10 can be made between Mack's 12-speed mDrive automated transmission, its own triple-countershaft 18-speed, or Eaton's RTLO-22918 18-speed, while the 515 kW (685 hp) engine is only available with the mDrive version of Volvo's automated I-shift gearbox in tow. Keeping with the "doggy" idiom, Mack's 425 kW (570 hp) engine brake on the MP10 has been dubbed "PowerLeash"!
Other elements of the extra heavy duty Titan specification include a selection of Mack, Meritor, Sisu or Dana rear bogies in tandem or tri-drive configurations with capacities ranging from 23 to 44 tonnes, mounted on mechanical or airbag suspensions. The slightly lighter PowerLiner specification provides a choice of Mack, Dana or Meritor rear bogies with ratings ranging from 21 to 24 tonnes.
Brazilian market heads-up
When considering a list of global truck markets of interest or importance to South Africans, Brazil does not immediately spring to mind. However, there has been a tangible connection between the commercial vehicle industries of the two countries for some time. Some readers may remember a number of "different" Mercedes-Benz L1113 Series trucks with slatted grilles that appeared on local roads in the 1980s. Those were manufactured in Brazil, and since then there has been a steady stream of complete buses, coaches and bus chassis, from various manufacturers, not to mention many thousands of "car-derived pickups', which fall outside of the scope of this article, that have crossed the South Atlantic to our shores. When Volkswagen's Constellation range of 4×2 and 6×2 freight carriers entered the local market in 2007, a more visible local presence for Brazilian commercials was established.
With the aforementioned as background, the sheer size of the Brazilian truck market may come as a surprise to many. In 2011, nearly 173 000 trucks with Gross Vehicle Mass ratings of greater than 3,5 tonnes were sold in that country, and bus and coach chassis sales totalled an additional 35 000 units, making up a combined total of 207 574 units in these categories! Overall year-on-year market growth of 9,6 percent was recorded in the goods vehicle categories, while 2011 passenger vehicle sales grew by an impressive 22 percent when compared with the 2010 result.
The character of Brazilian road transport is quite unique in that it tends to favour light and mid-sized vehicles operating over medium distances, rather than larger vehicles running very long distances. This traditional pattern is a reflection of the high degree of congestion that occurs in Brazilian cities, and the substantial percentage of the country's road network that has yet to be given a macadamised surface.
A number of global vehicle manufacturers build goods and passenger vehicles in Brazilian plants, and many of the unique models are marketed mainly in the local and adjacent South American markets. Readers will recall the exposé of the new Brazilian Ford Cargo series that was carried in Global Focus last year, while Volkswagen's highly successful Constellation series is a prominent example of a product range having its origins in this South American country. Navistar's MWM International operation manufactures medium displacement diesel engines in Brazil, while a number of European bus manufacturers source their coach chassis suitable for the mounting of outsourced bodywork out of Brazilian plants.
Turning to the most successful manufacturers participating in the Brazilian truck market during 2011 – Ford led the semi-light segment with a penetration level of 46,4 percent, followed by Iveco (27,8 percent), and Mercedes-Benz (13,8 percent). The light segment was led by MAN (through its ownership of the Volkswagen truck brand) with 38,6 percent, followed by Ford with 28,9 percent, and Mercedes-Benz on 27 percent. The medium and semi-heavy categories were both headed by MAN products, achieving 54,9 and 35,9 percentage shares respectively, with Ford (20,8 percent) and Mercedes-Benz (17,9 percent) following in the medium segment. In the semi-heavy category, the order of the runners-up was reversed, with Mercedes-Benz (27 percent) leading Ford (20,3 percent).
The heavy category is characterised by stiff competition between Volvo (leading narrowly with 26,5 percent penetration), Scania (24,8 percent) and Mercedes-Benz (23,8 percent). With its local presence now firmly consolidated through its association with the Volkswagen brand, MAN will be striving to improve on its own products' 2011 share of 11,3 percent of the premier Brazilian goods vehicle segment. In the bus and coach league, Mercedes-Benz led last year's standings with 43,1 percent from MAN (32,1 percent), and Agrale, a local manufacturer of mainly agricultural equipment, which captured 12,7 percent of the passenger vehicle segment.
---
Global FOCUS is a monthly update of international news relating to the commercial vehicle industry. It is compiled exclusively for FOCUS by Frank Beeton of Econometrix.
Focus on Transport
April 2, 2012
Published by