It may be more of an evolution of the previous model than an outright all-new model, but the Volkswagen (VW) Caddy still has a lot to offer, as GAVIN MYERS found out on its launch in KwaZulu-Natal.
Before we get into the nitty-gritty, let's quantify that "evolution" statement. While this fourth-generation model incorporates 4 200 new components compared to its predecessor (which sold 23 400 units locally), it is nonetheless built on the same platform and retains the same dimensions. For now, the range of engines and transmissions also remains the same.
Not that any of that is necessarily bad. Maximum load space of 4,2 m3 is available in the Maxi Panel Van (3,2 m3 in the short-wheelbase version) and the Caddy's versatility, ride refinement and road-holding are top drawer.
The 81 and 103 kW 2,0-litre TDI engines (250 and 320 Nm torque respectively) also pull with more than enough gusto. There is also an 81 kW, 155 Nm 1,6-litre petrol engine available in Panel Van and Crew Bus derivatives. A VW-slick five-speed manual is available with the lower-powered vehicles, while drivers of the high-output TDI enjoy VW's superb six-speed DSG transmission.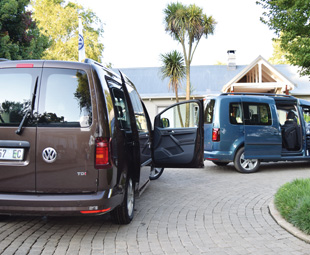 So, other than the smart, mildly updated appearance, what is new? To begin with, VWSA has revised the range to include the Panel Van and Crew Bus for commercial customers (Caddy accounted for 72,4 percent of this market in 2015) and the Trendline and Alltrack, which replaces Cross Caddy, for those looking to use it privately (54,8 percent market share in 2015).
The Panel Van will be available in a "Sport" version, too, which adds certain luxuries for buyers who might also want to use their van privately, or for leisure activities.
The Caddy 4 is not short on luxuries. A range of infotainment systems are available; touch screen in Trendline models, for example, but what will really impress is the high level of driver-assistance technology.
This begins with the Automatic Post-Collision Braking System, which brakes the Caddy when it is involved in an accident to reduce the risk or severity of a secondary collision, while the Driver Alert System monitors steering input above 65 km/h to detect when the driver might be fatigued.
Parking is also made easier by the inclusion (on models with a raising tailgate) of a wide-angle rear-view camera with parking sensors. VW has taken this a step further, though, creating the 360° Optical Parking System. This gives a graphical representation of the vehicle from above, which allows the driver to easily manoeuvre the vehicle into a gap.
Pricing starts at R226 800 for the Crew Bus 1.6i, and goes to R399 300 for the Maxi Trendline 2.0 TDI DSG. Panel Van and Crew Bus models come standard with a two-year/unlimited kilometres warranty, while the Trendline and Alltrack are covered for three-years/120 000 km. A three-year/60 000 km Automotion Service Plan is standard on all but the 1.6i (optional).
The recent emergence of stiffer competition in the Caddy's segment has surely made VW sit up and take notice. While 70 percent of the Caddy's make-up is new, the focus on quality and technology will certainly do a lot to keep buyers in VW showrooms.
Focus on Transport
March 7, 2016
Published by