Telematics technology driving the transport industry's future
The fleet management industry in South Africa has come a long way since the use of paper-based tachographs. Telematics technology has changed the way fleet management companies do business and experts believe it is changing the face of transport and logistics as we know it. ANLERIE DE WET finds out more
Shaun Brashaw, chief technology officer at Altech Netstar, says: "Fleet telematics is one of the critical pillars in a very complicated and specialised ecosystem. It will be one of the catalysts for supplying critical data to this ecosystem in real time for many years to come."
Hein Jordt, MD at Ctrack Fleet Management Solutions, says fleet owners are relying increasingly on telematics to assess all aspects of the use of vehicles and the behaviour of drivers.
"Telematics companies provide the ideal platform for the integration with original equipment manufacturers, which are currently investing funds into development of driverless vehicles and trucks," says Jordt.
Brashaw says: "We see more and more customers looking at telematics as a small component of a much larger and more complex ecosystem. This trend is becoming increasingly popular with logistics operators as they start seeing real and tangible benefits of a singular view of their entire ecosystem in as close to real time as possible."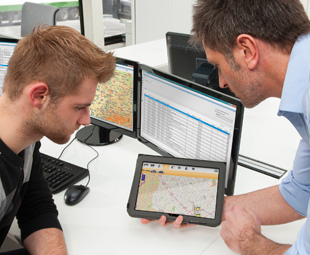 Justin Manson, business development manager at TomTom South Africa, says: "Telematics technology is without a doubt the way of the future for transport and logistics, especially with the advancements that are being made in the industry.
"Clients no longer want to see only where their vehicles are and how they are being driven. They also want a telematics system that talks to their back-office systems, or offers them a platform where they can start collecting electronic proof of delivery, thereby shortening the time it takes to bill clients and improving cash flow," says Manson.
Grant Fraser, product and marketing director at MiX Telematics Africa, says: "The benefits of effective mobile asset management are tangible and provide sustainable improvements.
"Telematics helps fleets reduce costs and increase business efficiency, directly contributing to the overall profitability of businesses by optimising their fleet operating budget. It remains one of the most important tools fleet managers can use to improve the safety of their fleet."
Telematics technology has become very popular in South Africa over the past few years. "South Africa is one of the more mature markets when it comes to fleet telematics. We also have one of the highest market penetration rates, which is expected to be at around 25 percent in 2017," says Manson.
Jordt says: "The market for telematics in South Africa is almost saturated. Telematics is required by most insurance companies as a prerequisite for cover. Currently these telematics services are directed to the benefit the insurer, which benefits the truck owner in terms of lower premiums."
He explains that a total telematics solution creates management tools, which Ctrack views as beneficial in terms of asset and cost management, productivity and utilisation, as well as risk management.
Manson adds: "Another benefit is that accurate data can be collected from the vehicle and does not have to be re-captured. TomTom can provide the information that its customers need, which would then automatically populate their existing systems."
Manson and Jordt both predict that telematics technology is set to grow in South Africa this year. Jordt says the industry is abuzz about big data (extremely large data sets that may be analysed computationally to reveal patterns, trends, and associations, especially relating to human behaviour and interactions) and everything being interconnected.
"The drive towards integrated and paperless solutions will accelerate during 2017. Another area that we think will pick up momentum is that of driver incentives. Clients are starting to use the savings from telematics to incentivise drivers, and I think we will see a lot more clients going this route," says Manson.
Fraser says his company believes that telematics technology will continue to be invaluable for the transport and logistics industry. "Continuous innovation by the leading telematics industry players will drive service-based offerings that benefit the market and bring further cost savings for operators in 2017 and beyond," he concludes.
Focus on Transport
April 18, 2017
Published by