Ten examples that prove vans are making a comeback
The van has been the preferred vehicle for artisans since the 1950s, but what exactly can be done with the humble van? Here are ten of the best Ford Transits in the world:
1. The Limo
Stretch limousines are out of date. So Chicago-based Windy City Limousines converted a Ford Transit into a plush ride equipped to carry 13 passengers in luxury and style – with a wooden floor, black leather couch-style seating and two flat-screen televisions.
2. The Snowboarder
This shred-ready Ford Transit is modified with a custom boot dryer, snowboard rack, tuning bench and portable DJ booth to make snowboarding even more fun for its riders. Check out the video.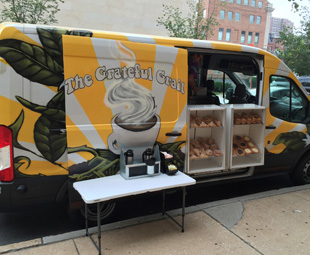 3. The Artist
The first Ford Transit buyer in the United States (US), ZL Feng, is an art professor and skilled artist. He uses his van to transport his art to museums, galleries, art shows and art buyers' homes.
4. The Coffee Shop
The Grateful Grail mobile coffee shop cruises around Baltimore, visiting local music festivals and events. Grateful Grail owners Brian and David Seward customised the van themselves.
5. The Surfer Dude
Champion surfer Izzy Paskowitz and his Surfers Healing team use a Ford Transit to transport surfboards, beach gear and life jackets as they introduce kids with autism to surfing. Check out the video.
6. The Caterer
The jumbo Ford Transit van, used by Park Place Caterers in Ford HQ's back yard, is customised with a lift gate and inverter to power a refrigerator and hotbox – delivering deliciousness to the local community.
7. The Animal Rescuer
Shultz's Guest House uses its Ford Transit to transport orphaned dogs – sometimes from several states away – to a private farm in Dedham, in the US, where they are safe from being euthanised until permanent homes are found for them.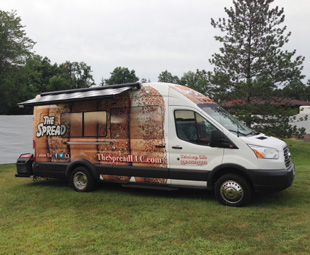 8. The Food Truck
Everyone's favourite kind of van … The Spread's Ford Transit is a mobile deli – serving breakfast and lunch sandwiches, wraps and fresh-baked bagels.
9. The Pet Stylist
Wag 'n Tails Mobile Conversions in Granger, US, converts Ford Transit vans into self-contained mobile pet-grooming studios; complete with full-size tubs, hydro-massage shampoo systems, grooming tables, blow dryers, vacuums and fridges.
10. The Mobility Van
Eighty-six-year-old Forrest Baker explores the Pacific Northwest with the help of his specially modified Ford Transit, which includes a lift for his off-road wheelchair, high-visibility lights and bull guard.
"Without a doubt, this is the finest purpose-built vehicle I have ever had the pleasure of owning," Baker wrote to his Ford dealership, where he has been a loyal customer for more than 45 years.
Focus on Transport
April 13, 2016
Published by