There was an aero show at the Johannesburg International Motor Show (JIMS) – part of it even took place indoors …
With the ever increasing emphasis on increasing efficiency and reducing costs, more and more original equipment manufacturers (OEMs), and the operators that run their vehicles, are looking for innovative and cost-effective ways to accomplish this.
A cost-effective means of achieving this is by fitting aerodynamics, says Cameron Dudley-Owen, owner of Aero Truck.
This was clearly evident at this year's JIMS, where no less than four OEMs and one trailer manufacturer had a product on display kitted out in full Aero Truck drag (if you'll excuse the pun).
Over at Afrit – that trailer manufacturer – was perhaps the most radical concept in aerodynamic enhancements. The trailer in question: an interlink side-tipper – not the most easy of shapes to smooth out, as Dudley-Owen and Afrit sales director Leon van de Wetering explain. "It's been a concept in my mind for ages, but getting someone to do it has been difficult. This is probably the worst unit you can try make aerodynamic," says Dudley-Owen. Van de Wetering continues: "It's the most difficult, but it's by far our biggest market; we've done 4 000 units this year of which 60 percent were side tippers."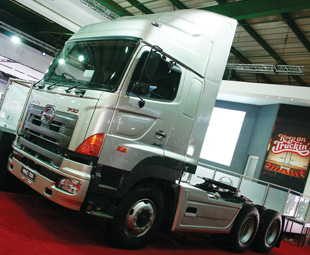 The trailer will be used by Izusa Carriers to transport Manganese between Phalaborwa and Maputo. "We've gone on the basis that we give it to the client and see how it performs," Dudley-Owen says. "The skirts are currently fibre glass but I'd like to change to plastic as it's more durable. The cones are currently a vinyl-type material." The entire kit weighs a mere 300 kg.
"We're always up for any innovations – and we also get a lot of exposure with this," Van de Wetering says. "We've had people walking past and asking about it. Unfortunately we can't give them any numbers at this stage as it still needs to be tested and refined, which Izusa Carriers will do over the next several months."
FOCUS will definitely publish an update when the figures become available.
The OEMs
Iveco, Hino, Isuzu, FAW and MAN each had a vehicle on show sporting full aerodynamic kits – Iveco had the brand new Stralis Hi-Way 500; Hino had its flagship 2848 6×4 truck tractor; Isuzu had the FSR 800, as featured in FOCUS's Truck Test 2013; FAW had the J6 420 6×4 truck tractor; and MAN the TGS 26.440 EfficientLine vehicle.
All the vehicles were fitted with complete kits comprising roof spoiler, cab extenders and side-skirts. The J6 also sported a sturdy bull bar from Aero Truck's sister company Bull bars for Africa. As the only freight carrier, the Isuzu also features an important roof diffuser that breaks the vacuum of air that forms behind the truck.
As the only vehicle in the group to have been tested in FOCUS's Truck Test 2013 against its standard counterpart, Isuzu is still monitoring these vehicles, which are returning consistent fuel consumption figures. "At the legal limit of around 80 km/h one can expect a three percent saving, which was also tested in real world conditions from Johannesburg to Durban and back," says Tiny Daya, product and application engineering manager, Isuzu Truck South Africa. Daya says that some customers to whom the company has lent the vehicle have reported the same or better savings.
MAN's TGS EfficientLine took part in the company's 2012 Consistently Efficient Tour, where it achieved fuel savings of 4,7 l/100 km over its standard counterpart.
The new Stralis, J6 and 700 were all built for JIMS, to show off to customers exactly what can be done, aerodynamically, to increase fuel savings.
"It is something we would really insist on if the customer wants to achieve absolutely ideal fuel consumption," says Deon Wannenburg, Iveco product manager.

"We haven't conducted tests with this unit as it's the brand-new model," he continues, "but we have a client running the old 480 Stralis who insisted on his
units running with the kits. They are definitely seeing an improvement and we expect similar results with the new vehicles."
Though no tests have been run with the J6 as yet, Steve Verwey, product specialist at FAW, says that the company will be conducting road tests in due course. He expects the aerodynamic kits to show good savings in real-world driving conditions.
FAW, Hino, Isuzu and Iveco are all offering the kits to their customers in conjunction with Aero Truck. "Many of our vehicles have been fitted with aerodynamic kits and the product is always very will designed and of good quality," notes Gert Agenbag, product planning and development manager, Hino South Africa. "Our most prominent customer using these components is Barloworld; on their parts supply vehicles that run to Durban. They have fitted full body and trailer kits with good results," he says.
Judging by reactions at the show, more success is yet to come.
Focus on Transport
November 1, 2013
Published by