Depending on which side of the fence you sit, you either view importing cheaper tyres as a progressive or destructive move. THATO TINTE looks at whether these cheaper, yet good-quality, alternatives have any merit
Tyres have recently become a contentious topic in the country. The South African Tyre Manufacturers' Conference (SATMC) has tried to curb the illegal importing of cheap substandard tyres and has recently intensified its efforts to launch anti-dumping probes into these inferior imports.
On September 2, the Parliamentary Portfolio Committee on Trade and Industry was briefed by the SATMC on the growing concerns around the unregulated second-hand tyre industry, including the illegal importing of tyres into the country.
The SATMC – which represents the leading four South African tyre companies: Bridgestone, Continental, Goodyear and Sumitomo – first applied in 2005 for anti-dumping duties to be introduced, but this application did not succeed.
A parliamentary media release stated that the SATMC had requested that industry standards be implemented in order to improve the regulated sale of second-hand tyres and reduce the growing import market of illegal tyres.
Experts consider tyres to be the most crucial safety feature of a vehicle. Tyres are the only part of a vehicle in direct contact with the road and, therefore, need to be of a high quality and meet certain standards. Cheap and substandard tyre imports are dangerous and pose a risk to all drivers on our roads.
Having said that, is it fair to paint all imported tyres with the same brush and label them substandard? Andre van der Walt, the owner of a reputable and leading Namibian long-haul transport company, has been using inexpensive, but high-quality, imported tyres in his business and gives us his thoughts on this controversial topic.
A Van Der Walt Transport has been in business since 1986 and provides transport services across Namibia and other sub-Saharan countries. The company has routes extending across the entire Southern African Development Community (SADC).
Van der Walt tells us that he uses a few trusted brands, which he imports from China and South Africa. The Chinese brands he uses are; Double Star, Double Coin and Aeolus tyres. Van der Walt also sources tyres through local South African distributers including: Firestone, Bridgestone and Michelin.
When it comes to back-up service and support, Van der Walt says he has never experienced any challenges or problems regarding the tyres from China or South Africa.
"The duties we pay and the cost per kilometre are the same for the brands from China and South Africa. I also find that the lifespan of the tyres from China is the same and, at times, better," he asserts.
With regard to protecting local manufacturers against cheap imports, Van der Walt believes the commercial transport industry must find ways to reduce costs of transport in order to ensure savings for consumers.
"If you buy tyres at a higher price, costs to the consumer increase. We need to work on getting these costs down for the benefit of the industry as a whole – from consumers to sellers," he says, adding that quality should never be compromised.
Van der Walt estimates the difference in price between his imported and locally manufactured tyres ranges from 35 to 50 percent – depending on the tyre type and brand.
The SATMC is of the view that, because locally manufactured tyres are designed specifically for the road and conditions of the country in which they are manufactured, these tyres are safer and more durable, when compared to many imported tyres that may be of an inferior standard.
Van der Walt is, however, of the opinion that these statements are incorrect. "The main customers of these Chinese tyres are from Asia. The conditions in Asia are harsher and more extreme than those of South Africa.
"China also supplies tyres to other countries in sub-Saharan Africa that have much more extreme conditions than South Africa. The quality of these credible tyre suppliers is good and their tyres perform well in these countries," he enthuses.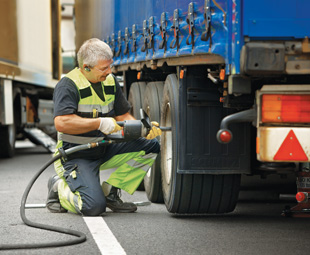 Over and above the required South African Bureau of Standards (SABS) safety approval on all imported tyres, Van der Walt notes that the tyres he imports undergo extensive safety and quality tests before they are used or sold. He says that his suppliers in China test the three brands he imports and, thereafter, issue him with the testing certificates.
His company also conducts its own safety and quality tests before giving the tyres the thumbs up. Van der Walt has also visited and inspected the South African plant from where he sources tyres.
In terms of quality, Van der Walt says that, in his experience, the wear and tear is the same on the Chinese imports and the local quality brands that he uses. He says the maximum difference he has seen in terms of durability is between 15 and 20 percent.
He notes that the process of sourcing and importing is actually straight-forward and shipment is reasonably fast. He does not believe, however, that the local tyre manufacturers will eventually go out of business with the infiltration of the cheaper Chinese imports.
"There will always be a market for local manufacturers, because China cannot always supply. When we don't receive enough stock from China, we choose to buy from our local distributers.
"Many businesses don't conduct enough research to ensure they're getting the best prices available. They often don't realise that they can get the same quality products at a much cheaper price from China," he points out.
Van der Walt believes that the transport industry needs to save costs to ensure the end-user pays less. "If you can get the same quality at a better price, it's a much smarter way of doing business," he concludes.
We also took the opportunity to speak to South African tyre expert Liana Shaw, who gave us her valuable input on this topic. Shaw established South Africa's only tyre publication, SA Treads, which has been touted as the "official voice of the tyre industry".
She explains that, in South Africa, the biggest importers are the (previously mentioned) four leading local manufacturers, as they need to supplement their local range. Together with other reputable brands such as Michelin, Pirelli and Hankook, they form part of the country's import quota.
Shaw notes that only substandard and inferior tyres (which are predominantly made in China) are being imported at low cost into South Africa. She notes that, not all tyres coming from China should be considered cheap or poor quality, adding that imports certainly have their place in the market – given that the local manufacturers are the biggest importers in the country.
"There are some good and proven Chinese tyre brands – especially considering that the world's leading manufacturers, such as Michelin and Bridgestone, have factories in China," she states.
In spite of this, Shaw advices consumers to exercise caution when buying imports, as inferior and substandard makes are available.
"Consumers need to ensure that they buy from reputable dealers, or importers, who are preferably members of the Tyre Importer Association of South Africa (TIASA)," she warns. "This way, you can rest assured that there will be recourse in the event of a claim," she says.
Whether or not there is merit to the cheaper imported quality tyres (as Van der Walt believes there is) is to be seen, but cheap tyres of inferior quality are definitely a burden to our society.
Focus on Transport
November 1, 2015
Published by