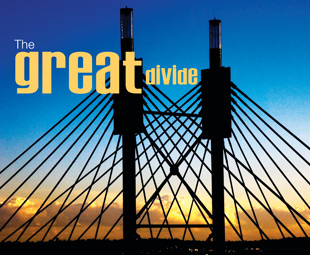 In South Africa, 2009 was undoubtedly the year of the bus. Nevertheless, although the devastating sales figures experienced by the rest of the commercial transport industry hardly touched the bus and coach sector, there are still a number of road blocks that could impact negatively on future sales. NADINE VON MOLTKE examines the state of local public transport.
For the past few years, the concept of Bus Rapid Transit (BRT) has triggered various reactions across the spectrum of South African society. For bus operators, BRT has meant a return to more frequent operating hours, rather than being forced by an unregulated taxi industry to offering limited services based on peak-time demand. For bus body and chassis manufacturers, BRT has meant the opportunity to tender for  lucrative government contracts. For passengers, BRT has meant the advent of a safe, regulated, subsidised, ticketed public transport system.
Although Johannesburg spear-headed the programme with its Rea Vaya system, most large cities across the country have followed suit, designing similar systems of their own. Over and above the challenges of building and implementing new public transport systems in already-established cities, the fledgling BRT systems have faced another major stumbling block: the minibus taxi industry.
"BRT is everything the taxi industry is not," explains Paul Browning, a consultant on transport policy and strategy. "The characteristics of an integrated public transport system based on BRT include large buses, scheduled operations, sophisticated fare ticketing, scheduled maintenance, depots for vehicles, and full legal compliance. Many of these exist in varying degrees within local bus operations, but none exist within the unregulated South African taxi industry. Basically, the two systems are completely incompatible, yet they need to be merged. Our country's history dictates that the taxi industry be given its fair share of the new system, and it is here that problems have emerged."
This is because the various taxi associations involved in BRT discussions continue to block progress for a variety of reasons, one of which is that in several cities no provision has been made for phasing out the old system and phasing in the new. This is especially true of Johannesburg. "Deputy Minister of Transport, Jeremy Cronin, equates Rea Vaya to the big bang theory," Browning quips. "The City of Johannesburg wants to switch from the current system to the new system. Basically, there is no transition period on the cards."
According to Browning, this presents a number of problems. "Taxi owners, drivers and associations are particularly concerned about a loss of income," he explains. "Their main question is, what happens if BRT doesn't work? They are insisting on guarantees and are unhappy with Government's response, especially in Johannesburg and Cape Town."
In theory, there are three phases to managing the change: financial guarantees, a transitional period and the end-state. At this point, however, negotiations have yet to progress beyond the first phase.
"As the current plan stands, Government is asking taxi operators to give up their businesses for shares in this new concept called BRT," elaborates Browning. "In response, taxi operators want to be assured they are not being cheated. They are questioning what happens if BRT doesn't work, or profits are not what government claims they will be. They want an incentive for change. Government's response is that the system will need to be run efficiently in order for profits to be achieved. That's business, and the systems planners see a perfect logic in this. The result is an enormous gap in mindsets, with taxi operators holding on to what they know, and government insisting: 'tough, it's time to change'."
The result of such disparate perspectives with no real solution in sight is Johannesburg's Rea Vaya system. The DoT's network planning and implementation process lists the business plan process as the fifth step in implementing BRT. Vehicle orders are the eighth step, and construction comes in at the 11th step.
"In the natural order of things, the business plan process should be completed before construction commences," says Browning. "You cannot spend millions on infrastructure and buses and still have no agreement in place with the operators of the system. Sound familiar? That's exactly what has happened with Rea Vaya because the taxi industry and Government simply cannot agree, even though construction on many routes is complete and 143 buses are already in service."
Port Elizabeth has approached the issue of upgrading its public transport system slightly differently. Instead of putting all its energy and focus into BRT, the city has developed an integrated public transport plan for Nelson Mandela Bay. The key ingredient in this plan is the transformation of the taxi industry based on financial guarantees, a transitional period and a final end-phase plan.
"Through concentrating on financial guarantees and a transitional period, the city of Port Elizabeth is allowing taxi operators a fall-back position if the new system does not work," explains Browning. "For example, the very fact that it is an integrated system means there is still a place for mini-bus taxis within the system. It is not all based on buses. The system will need to be regulated and conform to all the same criteria as BRT, but a taxi-owned operating entity can exist within the system. That way, if everything goes wrong, taxi owners can still walk away with their taxis, their investments."
Browning maintains that, as the system proves itself, a gradual shift will take place from individual ownership to collective ownership based on coordination rather than immediate integration. "This will allow an end-phase state comprising a fully integrated service with the operating entity jointly owned by buses and taxis," he adds. "There will have been no big bang theory, but rather a series of comfort zones in which promises on both sides can be tested and fine-tuned."
Browning's experience with taxi associations and governmental organisations has led him to conclude that it is extremely difficult for a body such as Government – which operates according to formal standards – to understand a body that does not, such as the completely unregulated taxi industry.
"What appears irresponsible and illogical to the formal sector is standard practice in the informal sector," he explains. "This gap needs to be bridged before any system can go forward, and one of the ways to do that is to focus on an integrated system."
Private versus public transport
Ibrahim Seedat, director for public transport policies at the DoT, sees a very different gap that needs to be bridged. As far as he is concerned, as long as the lion's share of the DoT's budget is focused on private modes of transport rather than an effective public transport system, the debates surrounding public transport are unlikely to go anywhere.
According to Seedat, a gap exists between policy and strategy much like the gap between rhetoric and where funds are actually invested. "If we follow the money, we will always get a much better picture of the reality than what mere policy suggests," he insists.
It is Seedat's belief that mass car use is still the focus of the DoT's transport strategies, rather than the implementation of a strong public transport system. "If we look at where the money hits the ground we can clearly see what South Africa's policies really are, whatever government's rhetoric states," he says. Despite Government's claims that spending on public transport infrastructure takes precedence over the needs of the private transport system, the bulk of the DoT's budget in 2005/6 was allocated towards freeway schemes.
"The 1950s and 60s saw the advent of South Africa's massive freeway projects," explains Seedat. "Unfortunately, while the shape of both our cities' needs and those of our citizens have changed substantially since that time, we seem doomed to shackle ourselves to an outdated system. Once in a generation, a budgetry window opens. The last overhaul of South Africa's transport infrastructure took place 50 years ago, in a very different social and political environment, at a time when the core focus for transport was the private car," he adds.
"But continuing to support this system today is a gross misallocation of funds. Approximately 30% of South Africa's transport is based on the private car; and while this is not a majority, it is a high percentage for a developing country. The car is important to us. However, it is not the future of mass transport in South Africa, and our road infrastructure clearly can no longer sustain the number of vehicles on our roads. Government's solution is to increase the capacity of our roads. Phase one of the Gauteng freeway project will cost R15 billion for a mere 185 km of road. Eventually, we will have spent R55 million on 561 km of road, which is all very well; except that it is extra road space we do not need."
Seedat qualifies this statement by once again pointing towards public transport. "Instead of an extra 561 km of road, imagine if we put that money towards 800 km of well-located, dedicated and exclusive public transport trunk routes: a network that would not only service more than 30% of the population, but actually entice car users away from private transport."
According to Seedat, if just 20% of current road users shifted from cars to public transport, the freeways would be unclogged without the need for more lanes or additional roads – and there would be money available for investment in an effective, widespread public transport system.
"Over and above the logic of focusing on a mass public transport system for the benefit of all South Africans rather than perpetuating a culture of private transport, there is the element of sustainability afforded by the creation of such a system. The job creation involved in freeway projects only lasts as long as the construction process; but a public transport system is a very different matter because it is essentially run by people. It is a competitive system that benefits a broad spectrum of society. It is the only real, sustainable solution open to us."
Melissa Whitehead, managing director of Urban Energy Conservation and Transportation (UECT), agrees with Seedat's assessment. "South Africa's transport legacy is focused on an over-emphasis on road infrastructure rather than public transport," she says. "What is our first response to traffic congestion? We build a road. This mindset needs to change, and Government must spearhead that change."
According to Whitehead, South Africa's public transport system is ineffectual because it is incredibly uncoordinated. Regulated and unregulated industries operating side by side but not working together or even communicating with each other, makes for an expensive, disjointed and ineffective system. "Which is why South Africans turn to cars," she says. "If we are to have any hope of fixing this problem, Government needs to take control of the entire network and implement one regulated and streamlined system. This is the only way an integrated public transport system can work."
No one can argue that there are major access issues when it comes to public transport services in South Africa. Because routes and time tables are not part of an integrated, harmonious system the service is uncoordinated, time-consuming and unreliable. And it is also unaffordable, gobbling up as much as 40% of the average public transport user's income.
So, while we love to blame the minibus taxi industry for posing the biggest obstacle to safe, reliable, accessible and affordable public transport in South Africa, it is not the only culprit. A long legacy of inappropriate transport policies needs to be addressed before real change can be affected.
Focus on Transport
February 1, 2010
Published by