Ford's new Ranger finally came into FOCUS, leaving GAVIN MYERS astounded at the clarity of its intention – to go straight to number one.
When we brought you our initial driving impressions of the new-generation Ford Ranger double cabs in the December 2011 issue of FOCUS, you may have had the distinct impression that I liked it … a lot. Fact is, the range made a great first impression and I couldn't wait to put it through its paces as an everyday workhorse.
Double cab bakkies tend to sit on the work/play fence more so than most other LCVs. Their practicality and load-lugging ability makes them perfect for the weekend warrior who has to carry loads as part of the daily grind. The butch, bold Ranger certainly exemplifies this mould. On test we had the 2,2 XLS 4×2 Hi-Rider – which, with its "titanium" mirrors and grille, and black accents on the door handles and around the load compartment adding to its already-raised height, is certainly one of the more imposing double cabs on our roads.
The mid-range XLS-spec features durable cloth upholstery; a six-speaker, single-CD MP3 radio with auxiliary and iPod connectivity; two dash-mounted power sockets; and driver, passenger, seat-side and curtain airbags (for a total of six). Certain features of the top-spec XLT were missed though, most notably Bluetooth connectivity and steering wheel-mounted controls. With its large centre consol and abundance of space, the interior is modern, fresh and airy. Worryingly, thread from the driver's side door trimming was pulling out.
From the driver's seat, it becomes apparent how far ahead of its competitors the Ranger is. The driving position, ergonomics and visibility are all perfect – the only time the vehicle's size (5 274 mm long, 1 821 mm high and 2 163 mm wide) might become an issue is when reverse-parking.
XLS versions are only available with the high-power version of the 2,2-litre four-cylinder diesel motor (with a six-speed manual transmission); producing 110 kW at 3 700 r/min and 375 Nm torque between 1 500 and 2 500 r/min. The unit is almost as quiet as a petrol engine at idle, and is very strong when on the move. There is a fair amount of turbo-lag when pulling off though, but power delivery is instant when on the move. FOCUS had the use of an XLT version fitted with a 3,2-litre five-cylinder engine a couple of weeks prior to the 2,2 arriving for testing, and although the 2,2 cannot match the bigger engine's sheer grunt, it is strong enough for most purposes. The 2,2-litre engine is claimed to consume 8,4-litres of diesel per 100 km and emit 235 g CO2/km.
The manual transmission is slightly less impressive – with a very short, notchy gear change action and very springy clutch, it takes a little getting used to. The six-speed automatic (which has identical ratios as the manual gearbox) as available on the 3,2 would make a nice option on the smaller-engined vehicle as well.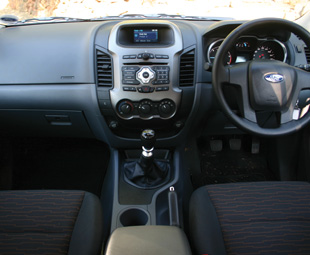 But one of this vehicle's greatest attributes is its chassis and suspension. Despite riding on a traditional ladder-frame chassis (twice as strong as its predecessor, it must be said) and with leaf-spring suspension at the rear – the front is fitted with a McPherson strut system – the Ranger offers ride and handling superior to any double cab I have sampled. The vehicle is solid and sure-footed in any condition, with or without a load, all the while offering almost car-like levels of comfort and noise damping. It was interesting to note that the good comfort and noise levels were more apparent in the XLS than the XLT, aided by its smaller 255/70R16 wheels and tyres as opposed to the larger 265/65R17s on the bigger-engined model.
For the work application, the Ranger double cab presents a rather impressive CV too. With its 2 925 kg gross vehicle mass, this vehicle accepts a 965 kg payload. The loadbox length of 1 549 mm, width (at floor) of 1 139 mm and depth of 511 mm equates to a 1,21 m3 volume. Also worth noting is the vehicle's water-wading depth ability of 800 mm – the deepest in its class.
Priced at R332 620, the Ranger is competitively priced in its segment and offers a lot for the money. Only the equivalent Toyota Hilux and ageing Nissan NP300 come in a little cheaper. The four-year/120 000 km warranty and five-year/90 000 km service plan (service intervals every 15 000 km) are aided by a five-year corrosion warranty and three years of roadside assistance – all adding further value.
It's immediately apparent on driving the Ranger and any of its competitors that the Ranger is streets ahead of the competition. It offers a combination of great value, towering ability, bold, modern looks and – thanks to its features, space and comfort – a great driving experience.
The new Ranger, the latest offering on the local double cab bakkie scene, is certainly the double cab to buy. The
2,2-litre engine itself offers a great blend of lugging ability and smoothness, and is probably the pick of the range. If it was ever to have the options of an automatic transmission and some high-spec XLT features, it would be perfect.
Focus on Transport
July 1, 2012
Published by