The Volkswagen Amarok range has been extended with a rough and tumble single-cab workhorse. GAVIN MYERS put the new vehicle through its paces at its world media launch.
Here's a proud boasting point for us South Africans; we love our bakkies. No really, we do – we are one of the world's largest single-cab pick-up/ute/bakkie markets. The one-ton segment currently accounts for 33% of our commercial vehicle market alone. We are also the first to get the new single-cab Volkswagen Amarok.
VW is hoping to capitalise on the success of the double-cab Amarok, which showed a 16% market share in May 2011 after nine months of local sale, and fared very well in customer surveys. With the new single-cab addition, VW is aiming squarely at South Africa's darling of the bakkie world – Toyota's Hilux – with the clear intent of garnering some of its 44% share of the one-ton market.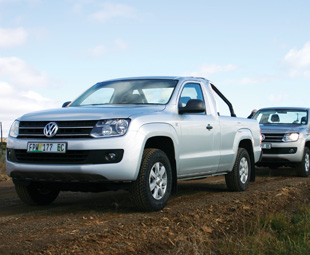 This is a big, important step for VW. To topple the mighty Hilux, the challenger knew it would have to get it right the first time. Certainly, it's off to a good start as far as first impressions go. Visually, the only difference between the double and single-cab versions is that one is sans a rear interior compartment. Front on, or at first glance from behind, you would not notice the difference unless you spot the black side mirrors. Part of the reason is that the full single-cab range also rides on a raised body, mounted to an extremely rigid ladder frame chassis connected by five cross members.
This is important as the Amarok SC has impressive load-carrying ability. Here it all looks very promising – it has the widest load box in its class at 1 620 mm, with width between the wheelarches of 1 222 mm, and a load box area of 3,57 m2. The payload is also class-leading, between 1 225 and
1 354 kg depending on model, while the tailgate can take a load of 250 kg. Towing capacity is also impressive, allowing for a 2 800 kg braked trailer.
Two variants are on offer, each with the choice of VW's 4Motion four-wheel drive system, and (for now) two engines. The Basic model is aimed squarely at the fleet operator. This is only available with the 90 kW, 340 Nm 2,0 TDI engine, while Trendline models – aimed at the individual looking for a vehicle with work and leisure capabilities – are also available with VW's 120 kW, 400 Nm 2,0 BiTDI motor.
Combined fuel consumption for the TDI is claimed at 7,6 l/100 km (199 g/km of CO2) and 7,9 l/100 km (208 g/km CO2) for the BiTDI. A two-litre TSI petrol motor will be available from September. However, on-road at least, neither engine felt as strong as the figures suggest, especially once off the very narrow (500 r/min with both motors) torque curves. In fairness, these were brand new vehicles, so the situation may improve once the engines have run in and loosened up. Otherwise, overtaking has to be well timed…
It would have been interesting to put the full load capacity to the test. Launch guests were able to get an idea, though, when each vehicle was loaded with bags of cement en route. Our 2,0 BiTDI was loaded with 700 kg. This softened the ride quite a bit (the Amarok is fitted with McPherson struts in front and a solid rear axle with heavy-duty leaf springs) and, admittedly, only marginally affected performance.
Things really became interesting, when the toys were brought into play. It's amazing how modern electronic systems allow such ease of driving, and the Amarok has electronic aids aplenty. A list of acronyms hints at what's available to assist the driver: ABS, incorporating off-road ABS; EDL (Electronic Diff Lock); ASR (Anti-Slip Regulation); MSR (Engine Drag Torque Control); HVV (Maximum Rear Axle Deceleration); Brake Disc Wipe; and optional ESP incorporating HBA (Hydraulic Brake Assist), Hill Start Assist and Hill Descent Control, trailer stabilisation, load sensing, and roll over protection.
There would never be space to go into detail on each system: all you have to know is that it all works exceptionally well – especially so when combined with the 4Motion 4×4 system. The test route consisted of off- and on-road driving in equal measure, and it is off the beaten track where the Amarok shines. The six forward ratios are well suited to mountain climbing, and the easy to use low-range, diff-lock and off-road ABS combination makes mince meat of most obstacles – the bakkie easily crawled its way up a mountain at tick-over. This with 700 kg of joy-riding cement, remember, though VW claims it can tackle inclines of 45 deg fully loaded.
Feature-wise, the Basic model comes well enough equipped with power steering, an upshift/downshift indicator, daytime running lights, a high-level brake light with integrated load box illumination (nice feature, that), driver airbag, transponder immobiliser system and rubber floor covering. Trendline spec adds (among others) 16-inch alloys with lock-nuts, rear diff-lock, passenger airbag, remote central locking and alarm, electric mirrors (heated) and windows, MP3 radio/CD with Bluetooth connectivity, Climatic air-conditioning, multi-function on-board computer and cruise control. Both are good value for money…
The Amarok SC Basic models are priced at R205 500 for the 4×2 and R257 400 for the 4Motion, while the four Trendline models available range between R265 800 and R335 000. Included in the purchase price are a three-year/100 000 km warranty, a six-year anti-corrosion warranty, and a five-year/90 000 km service plan. Service intervals are 15 000 km.
It is a good package, the Amarok single-cab. All offer impressive load-carrying capability and rough-stuff ability with comprehensive features at a good price, and are backed by impressive warranties, service plans and VW's well-entrenched reputation. If only the engines lived up to the rest of the package on-road. VW is aware the one-ton single-cab market will be more difficult to crack than the double-cab was, but it will doubtless do well in bakkie-crazy South Africa.
Focus on Transport
August 1, 2011
Published by