The sassy side of transport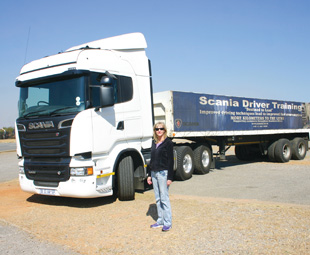 It's not what you would call classical music, but when singer Beyonce asks: "Who runs the world?", her back-up singers reply in chorus "Girls!". This sentiment rings true for girl-power the world over …
Of course, we've known for ages that the transport industry is increasingly becoming a proving ground for our local women.
Regular readers will know that one of FOCUS's resident leading women, Charleen Clarke, has been the envy of most of us in the office, having set out to conquer her goal of getting a code-14 heavy vehicle driving licence (and, in the process, becoming one of the very few in the trucking and transport publishing industry to hold one).
Tanya Behmer, sales representative on the rise at truck aerodynamic specialists Aero Truck, recently accomplished the same – just for the heck of it, because she had a habit of being roped in when moving customers' vehicles around the company's premises. "All here at Aero Truck think that my code-14 licence will help me with my music studies in New York," she jokes.
Sure, women have been driving trucks, buses, aeroplanes and trains for ages (usually as an occupation), but what's interesting to note is that, even in the car industry, women are gaining increasing power. A recent study by Frost & Sullivan shows that the empowerment of women is transforming the future of the automotive industry.
The report notes that, for the first time, American female driving licence holders have tipped the balance at 51 percent. Canada and the United Kingdom (which already sees that women are making more trips and driving more mileage than men) are set to follow by 2016. (See sidebar for the full story.)
Women are also making great strides in the critical road safety sector. Niki Cronje, group marketing head of Imperial I-Pledge, has been running the programme since 2011 – encouraging South Africans to take responsibility for their actions on the roads. But Cronje's passion for her job goes further. By heading up Imperial I-Pledge, she has also helped make a difference to the lives of thousands of children through the company's scholar patrol improvement project.
At the rate of 20 schools a month, Cronje and the I-Pledge team are re-implementing scholar patrol in schools and teaching both learners and educators the basics of scholar patrol, as well as kitting out the scholar patrol teams with visibility bibs and peaks, and refurbishing the zebra-crossings.
Another project close to Cronje's heart is the "Car Seats for Kids" campaign. Every year during October Transport Month – together with 94.7 Highveld Stereo's breakfast team and Wheel Well – I-Pledge endeavours to collect used car seats that are then re-furbished and given out to people who would otherwise not be able to afford them. To date, over 2 250 seats have been collected.
In the realm of automotive parts, product manager for seals at Federal-Mogul Motor Parts, Lucia Minnie, is also convinced that women need to take more of a leading role. "They call me Gasket Girl!" she laughs. "I love my gaskets. Put me in an industry like fashion, for example, and I'd be lost!"
Minnie has spent her working life within industrial and technically focused companies. Having joined Federal-Mogul
in 2010, she says her favourite part of the job is hitting the sweet spot in getting a product to market at exactly the right time. "The light vehicle market is a lot easier, but the biggest growth and excitement sits with commercial vehicles," she notes.
"There is greater complexity around commercial vehicles; it's a bigger challenge. There are more regular maintenance schedules and you have to know your products really well. The commercial vehicle market is where you need to cut your teeth," she adds.
Minnie says it best, noting that, even though they might sometimes have to work slightly harder to win respect, there is no reason a woman can't survive in the automotive industry. "There's definitely a lot of opportunity within the industry for women and they need to take advantage of it … Whether it's driving, running transport companies – anything."
To Clarke, Behmer, Cronje, Minnie and all the women throughout the industry – we salute you.
Way of the woman
Women are gaining increasing power in an important segment traditionally owned by men: cars. "Although it is hard to make predictions on trends related to car ownership, it is clear that 80 percent of car buying decisions are now influenced by women," explains Frost & Sullivan's partner and global director Sarwant Singh. "When buying a new car, women are practical, but they also tend to associate the purchase with aspirations of freedom and independence."
This will mean that all car categories will be more personalised and customised, as greater numbers of small city cars take to the road. At the same time, though, women are expanding into the sports utility vehicle (SUV) and luxury car segments that were traditionally dominated by men.
"Women prefer small and more manoeuvrable vehicles, but design, spaces, safety, quality, colour and sustainability are also important," says Singh. Women tend to base their purchasing decision on the status of the car itself or associated values such as comfort and colour.
"When it comes to volume brands, women are less likely to associate themselves with a brand, model or car variant (hatchback or saloon, for example). Luxury brands are, however, a different story, with women revealing themselves to be much more susceptible (than men) to those brands endorsed by celebrities.
"The pay parity between men and women is decreasing. There are more women with jobs, and, even in a developing market like India, this is accelerating rapidly. Finally, the number of women millionaires, and their presence in the world's rich list, is also growing exponentially," Singh concludes.
Focus on Transport
August 1, 2014
Published by