Thriving in tyres and transport
A diverse workplace and a competitive market, coupled with marketing responsibilities, are the order of the day for Yoliswa Nkomo, operations marketing manager for business to business at Michelin Tyre Company South Africa. She shares her experiences
The transport industry is male-dominated, but more women are considering a career in this industry. Nkomo is one such woman. She was interested in a career in transport because of the contribution this industry has made to the South African economy.
"The transport industry contributes significantly to the South African gross domestic product (GDP) and it's fulfilling to be part of the engine that keeps the economy going," Nkomo says.
Michelin Tyre Company South Africa is the right fit for Nkomo. She enjoys the fact that she is exposed to all facets of the business, which ensures that her marketing strategies are aligned with the overall business objectives, while at the same time having the opportunity to grow and meet people from diverse backgrounds.
"Michelin employs a lot of people from different cultural and educational backgrounds who have different types of expertise. This provides a great pool of knowledge, and I have learned a lot from my interaction with them," Nkomo notes. "Michelin Tyre Company South Africa is focused on empowering its employees, which allows us to propose and implement new solutions to our customers."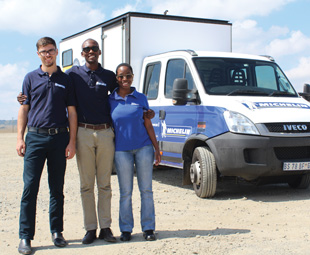 Nkomo's responsibility is to ensure the brand is top of mind for customers. "Michelin is a premium product in the truck and bus market and offers great value for money. The company invests in research and development to ensure that it has the right products that work in South African conditions. Obviously, what works in India or Europe, might not work locally," Nkomo explains
Despite her passion for Michelin, Nkomo's day-to-day activities remain a big responsibility. She notes that the environment is constantly changing and she is required to think outside the box. Strategies that worked previously do not guarantee success the second time around.
"The environment is very competitive as budgets are being scaled down. We therefore have to be innovative in the way we operate and approach the market. I'm constantly learning and growing, and I have to show a return on investment on all the marketing initiatives," Nkomo notes.
"I have ambitions to grow in my career and I have already mapped out where I would like to be five years from now. This plan provides a guide on the skill sets I need to develop and what qualifications I need to obtain. This is what motivated me to enrol for PhD at the University of the Witwatersrand.
"Very often women find it challenging to strike a balance between work, study and personal life. We sometimes try to do it all. What has worked for me is to prioritise." she says.
"It is also important to empower your team to be able to keep the engine going in your absence. The more empowered they are, the more excited and creative they become, and the more they do," she says.
For women who are considering a career in the transport and logistics industry, Nkomo has some simple advice: "Initially, there is a lot to learn, because it is a highly technical environment, but it is possible for woman to be successful. I have met incredible women who are successful and they really inspire me, because I know it takes a different kind of woman to succeed in this industry.
"I try and avoid living in a comfort zone; it's so easy to settle and be comfortable. In order to grow, we need to expose ourselves to things that can be uncomfortable. By doing so one tends to discover new strengths and abilities. One should not be scared to try something new, or to say yes to something that scares us, whether it's in our business or personal life."
For some women, this might be accepting a career in the transport and logistics industry.
"At the moment, women are limiting their career prospects by pursuing careers in only those industries in which a lot of women have already thrived. They need to consider all their options. We would like to see a lot more women in the transport industry," concludes Nkomo.
Focus on Transport
August 20, 2017
Published by