Toyota further supports minibus-taxi operators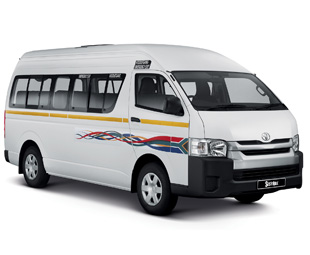 In an effort to support the viability of the minibus-taxi industry and ensure the safety of taxi commuters, Toyota South Africa Motors (TSAM) has introduced a complimentary three-year/60 000 km service plan for all new Ses'fikile taxis sold from August 1.
Says Andrew Kirby, president and CEO of TSAM: "The complimentary service plan will give all taxi owners and operators the opportunity to keep their vehicles in perfect running condition for longer, and will support their efforts to operate profitable and sustainable businesses."
As the largest supplier of minibus-taxis to the industry, Toyota has taken a number of steps to contain the price inflation of the Ses'fikile, given the deteriorating value of the rand and high local inflation rate.
Since the introduction of the Ses'fikile in 2007, Toyota has upgraded the vehicle's seating; introduced more cost-effective, locally sourced components; kept the vehicle compliant to all regulatory requirements; and subsidised Ses'fikile service/repair parts to the value of R5 million per year.
In addition, to date Toyota has invested more than R550 million in the Quantum Plant at its production facility at Prospecton in Durban.
Production of the Quantum was first localised in 2012 with a semi knocked-down facility, which was then upgraded to a full, completely knocked-down site in 2015. A further R11 million was invested in upskilling staff working at the Quantum Plant.
Toyota has also subsequently started with an aggressive localisation plan for the majority of parts and components, with the aim of mitigating the weakening rand/yen exchange rate.
Focus on Transport
August 17, 2017
Published by