Transformers and Toyotas in an underground city
What goes on under Johannesburg's feet? ANZET DU PLESSIS and MARCEL TROUT descend into the world's deepest mine to find out.
Walking the Mponeng gold mine before sunrise, you wouldn't guess that there is an entire city beneath your feet. Employees file quietly to change rooms, and the plant is lit by lights pouring out of massive, 50 metre high mine shafts. The whole place takes on a quietly romantic feel, as the whirr of the winder and the cheerful "good mornings" are the only sounds to be heard. In stark contrast with open pit mines, where vehicles over
6 metres high shake the earth, shaft mines appear to be asleep – from the surface, at least.
Some 90 minutes later, our whole perception of the Anglogold Ashanti flagship mine changes, as we are lowered 253 metres (830 feet) underground in "cages". The only mode of vertical transport, these are hoisted up and down the shafts by the winders at an average speed of 15 metres per second. Cages transport around 4 000 people daily, 120 at a time. As you are lowered, you try not to think about the 67 mm thick steel cable, the 40-odd people in the cage above and below you, the tons of dirt speeding past and the single person sitting up on the surface, controlling the lift.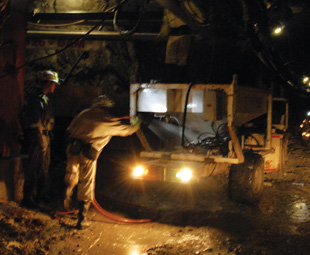 The system is perfectly safe. One of the oldest in use in mining, it's something that works because of simplicity. A large motor runs the winder, which has both an overlay and underlay cable so that one cage goes up while the other goes down. It's the responsibility of the driver in the control room to co-ordinate these movements according to the requests coming in from operators on different levels.
A smaller winder uses a skip mechanism to hoist 19 ton-skips in and out of the mine, and carries around 400 tons per hour.
As we are transported underground to discover the fascinating world of utility vehicles, it becomes clear that operating vertical transport is not simply a matter of dropping a bucket down a well. Each winder is operated by a complex set of bells – a language which all operators must learn. Three bells twice, for example, means the operators underground want to load people.
Underground, a complex labyrinth is navigated via traffic control systems. Levels numbered according to their depth differentiate between areas of the mine. Level 83, for example, is 830 feet deep. Level 120 is locomotive heaven. Here all the locomotives used to transport people, reef (iron bearing ore) and waste are run, kept, maintained and recharged. One level down – the projects – our ultimate destination.
The underground locomotives system is a small scale railway operation. Rails are maintained at all times, traffic is controlled via a system of rules, signs and radios (soon to be wifi), and a platform complete with barriers for pedestrians. At each switch, a number on the wall designates the intersection, and the network is complete with stop signs and booms.
The locomotives, up to eight of which run simultaneously, mainly carry reef. The chain of "hoppers", which each carry four-tons, are pulled by a battery-operated loco. Each loco tows up to eight hoppers – except for a special double locomotive, which pulls 14 hoppers. Regular locos pull around 72 tons of weight (including the heavy battery units of 60 cells and 127 volts). A worker in a guard tram, inserted just before the last hopper, guides the driver via a system of whistles.
Hoppers swivel independently of each other, which allows them to dispose of their contents down a 120 m cavern, onto a conveyer belt.
All track-bound transport is serviced monthly, and the serial number painted the colour specific to that month. Such simple, effective systems assist in keeping track of units. A fully equipped service shop – with tools, spares, chemicals, recharging stations for batteries – is always open.
The locomotives can also pull man-carriages to transport miners. Each carriage has, in jest, been named after a safety officer on the level.
A special vehicle, newly installed and yet to be used in this mine, is the Scharf Monorail Train. The monorail is exactly what it sounds like – a train that runs on a single rail. The rail is fitted to the tunnel ceiling, is operated by a single driver and has hydraulic lifts with hooks to carry seven of the four-ton hoppers at a time. Mponeng is not just one of the oldest gold mines in the Witwatersrand, but is the deepest mine in the world. Go down past level 120 into what the miners call "the projects" and you'll find a plaque awarded to the mine in 2009. The official title is "The deepest mine in the world", but the Projects (3,8 km deep) is the deepest man-made, human-sized place in the world. A Russian borehole (12 km) is the deepest artificial point. The Mariana Trench and Deep Sea shore are the deepest natural underground and surface places (respectively).
At 3,8 km underground, there are no more fancy track systems. Temperatures exceed 50°C, and a complex cooling system keeps machinery operational. Here, amazing vehicles operate. To get rigs underground, many are taken apart, but some are too large, and have to be secured to the winder cables and slowly lowered nose first into the deep.
Most surprising were the Land Cruisers, which have had minor alterations to equip them for underground life. They have only two gears, and an auto-engaging brake which prevents freewheeling. An ominous-looking red button engages the fail-safe brakes on the rear wheels. This is one of the vehicles that could not be brought down in pieces, and vertical transport engineer, Chris Storm, warns that it is a dangerous manoeuvre with expensive repercussions if done incorrectly. Losses up to R25 million daily are incurred if Mponeng has to be shut down. The Projects also has its own workshop, complete with a pit (used to work underneath the larger rigs). Here mechanics use chemical sensors to measure high levels of flammable methane in the air. Other than that, it's an ordinary workshop.
The most impressive rig here is the Atlas Copco Boomer 282. Equipped with two drill arms, the Boomer looks like a Transformer from the sci-fi movie of the same name. This tunnelling rig stands 3 metres high, weighs 17 500 kg without its operator and houses a COP 1838ME rock drill – a high-speed, heavy-duty drill. The diesel operated, four-wheel drive rig is hoisted off its wheels during operation, allowing it to squat steadily on the tunnel floor. Drilling is thus done with absolute precision.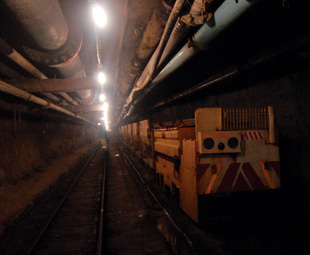 Other rigs include the MT2010 (Mine Truck) and ST1030 (Scooptram). Mine trucks, which haul anything from cement to waste, have electrically controlled engines, four-wheel drive and a single operator. These rigs work hardest and are built to be ultra-durable and easily serviceable.
The tunnels in the Projects accommodate one rig at a time. As such, all vehicles are equipped with a Schauenburg distance monitor, which can differentiate between people, rigs or locomotives within visual distance of the rig it is fitted to. Courtesy also seems to be an important traffic rule, as vehicles patiently pull over into alcoves (which exist for housing old vehicles, electric stations and closed up tunnels) when others are in sight. The Projects Mine Overseer, Gert Jacobs, seems to have right of way in his 4×4 Land Cruiser, but pulls over for large rigs. At intersections, a few short blasts on the hooter let other vehicles know you're there. No reply means you can proceed through the darkness.
The Scooptrams, or LHDs (Load, Haul, Dump), are essentially front loaders. As with the other rigs, they're powered by common-rail diesel engines, specifically the QSL9 Cummins. Hydraulic and cooling lines on the rigs must be maintained, and are positioned so as not to be exposed to the elements, but still accessible. The engines also provide electronic protection against overheating and oil pressure problems. Simplistic, high density design on mining rigs is essential to ensure easy access for services, which have to be done quickly and with minimal equipment.
All in all, the underground city is one where simplicity rules. Walls become traffic signs, basic but powerful devices work hard, and at the lowest point, a Transformer drill-rig is blasting away to ensure that gold mining will be possible – and feasible – for another 15 years to come.
Focus on Transport
September 1, 2011
Published by