Truck manufacturers – who will endure?
In his monthly review of global news for local truckers, FRANK BEETON takes a step back from his usual newsgathering to discuss the future prospects for global truck makers. Controversial? You bet!
Back in 2001, when preparing to write my first article on the global commercial vehicle industry, I did some research into its history. On consulting my copy of The Complete Encyclopedia of Commercial Vehicles, by Georgano and Marshall Naul, published in 1979, I discovered that more than 2 500 separate manufacturers had been active in the industry since 1886.
In more recent times, however, many formerly independent names have been absorbed into major groupings, while others just quietly slipped away. Pressures from low margins, intense sales competition, expensive compliance with ever-tightening environmental legislation, rapidly advancing technology and numerous global and regional economic crises, have caused a contraction in the number of participants – to the point where there are a great many less operating today.
One of the problems facing any commentator, looking at this industry from a global perspective, is the absence of a credible, independent, single source of information providing the absolute volumes of product produced and sold by each manufacturer, or group of manufacturers. One of the reasons for this is the lack of unanimity on the definition of a "commercial vehicle".
Ideally, we should be able to separate pickups (bakkies) and car-derived vans from broader analysis, but opinions differ widely on the parameters of light commercial vehicles (LCVs), with particular reference to the larger European integral vans and the Asian light trucks, which fit conveniently into the South African medium commercial vehicle (MCV) category.
One of the better reference documents that we have seen is KPMG's Competing in the Global Truck Industry, published in 2011. But the vintage of this study, and the fact that it only considers vehicles with a gross vehicle mass (GVM) of six tonnes and above, thus excluding significant chunks of the two categories mentioned previously, compromises its value to any 2014 commentary.
For this reason, we have decided to use the participant list from the South African truck market, as reflected in our Quarterly Reviews, as the basis for this analysis. In many ways, the local market is a microcosm of the global market, although its very small size (around one percent of the world total) must always be borne in mind when considering the broader picture.
The one problem with using this methodology is that it largely ignores the rapidly growing importance of several Chinese manufacturers in the global context. However, we will make every effort to ensure that our comments and predictions reflect the global perspective. Please also note that we have used light, medium and heavy commercial vehicle terminology as the segmentation model in this review, which would approximate to South African medium, heavy and extra-heavy categories, respectively.
Daimler
In terms of this particular article, the Daimler family is made up of Mercedes-Benz trucks, buses and vans, Freightliner trucks and vans, Fuso trucks, Western Star trucks, Thomas Built buses, BharatBenz trucks and Setra buses.
From most points of view, Daimler is held as the global leader in the commercial vehicle business, and its constituent brands cover all geographic regions and every segment of the global market. It has also adopted a policy of great transparency in the evolution of its global family, with no effort to disguise the inter-dependency of its brands, and the considerable mobility of products and components across these brands.
In recent years it has developed a successful rationalised global engine family for its heavy-duty products, and this is being progressively rolled out across Europe, North America and Asia.
Daimler is a technology leader in the industry, and its most recent innovation is Future Truck 2025, which has been used to demonstrate autonomous vehicle technology in a heavy-duty truck application.
There can be little doubt that the Daimler family is fully committed to its commercial vehicle business, and has a well-established and clear strategy that should position it for continuity into the future.
Its biggest challenge, however, is likely to be maintaining its grip on industry leadership, particularly in the face of growing Chinese influence, both inside and outside of global alliances. To counter this, Daimler may well consider additional acquisitions of smaller companies to bolster its global throughput.
In January, 2009, Daimler announced that it was to establish a truck joint venture with Beiqi Foton Motor Company, and in February, 2012, the Chinese government issued a business licence for the two companies to commence operating the US$ 1 billion
(R11 billion) 50/50 partnership now known as Beijing Foton Daimler Automotive Company, Limited.
Daimler had also established an earlier Chinese joint venture to build Vito, Viano and Sprinter vans with Fujian Motor Industry Group Company, and this has subsequently been renamed Fujian Benz Automotive Company.
Volvo Group
In slightly more than a decade, Volvo AB has risen to become one of the most influential groups in the global commercial vehicle business – a process that is not yet complete.
In a complex series of acquisitions, share trades and cooperative arrangements, the Group has acquired a product portfolio that includes Volvo Trucks and Buses, Renault Trucks, UD Trucks, Mack Trucks, Eicher Trucks, Prevost Buses and Nova Buses, in addition to some marine and construction-related products.
Initially, the individual brands appeared to retain considerable independence, but this has progressively evolved into a situation where component exchanges, particularly in respect of engines and transmissions, have become commonplace.
In 2012, the Group announced a new global structure, with clear lines of geographic responsibility allocated between the Americas (Mack), Europe/Middle East/Africa (Volvo/Renault) and Asia Pacific (UD). This arrangement is apparently evolutionary, with considerable crossover between brands still evident, but recent developments have given strong hints that the strategy is taking hold.
Early in 2013, it was announced, in a highly significant move, that Volvo had paid US$ 890 million (R9,9 billion) for a
45 percent shareholding in Dongfeng Commercial Vehicles in China. This association was a logical progression, given that UD Trucks and Renault Trucks already had connections with Dongfeng, but the implications of a Group association included the creation of a potentially world-leading alliance (in 2010, Dongfeng was already at the top of the >six tonne GVM world rankings with more than 300 000 unit sales).
Recent media reports have suggested that the formalisation of this relationship is imminent, and its subsequent rolling out into the global environment will be of immense interest to industry observers.
During the past two years, Volvo has introduced some revolutionary technology into the commercial arena, including the first series-production applications of independent front suspensions, and dual-clutch transmissions in heavy trucks.
The Group's main issue, moving forward, appears to be over-concentration by its principal brands at the upper end of the payload spectrum. This has been exacerbated by the loosening of equity ties between it and the Renault-Nissan light vehicle alliance.
Although some cooperation still prevails, the ready availability of European van and Asian light-truck products from Renault and Nissan can no longer be taken for granted, and alternative sources for entry-level products, such as Eicher in India and Dongfeng in China, are coming more sharply into focus.
With the enormous critical mass that will be brought into the Volvo family by DFCV, the Group's future seems to be secure, but we still anticipate some brand reshuffling to achieve a more even coverage of important market segments in the years to come.
Isuzu
Isuzu Motors is the first independent manufacturer to be reviewed in this analysis. A 45-year period of equity association with General Motors started in 1971, when GM bought a 34-percent shareholding in the Japanese company, and ended with the sale of GM's last shareholding in 2006.
Today, cooperation between the two organisations only persists in some marketing and product joint ventures. The 5,9 percent Isuzu shareholding, purchased by Toyota following GM's exit, is hardly large enough to be greatly influential, and has left Isuzu very much the master of its own destiny.
This Japanese manufacturer is a substantial business, having sold some 690 000 vehicles in the 2013 fiscal year, although this figure also includes pickups (bakkies). Nevertheless, Isuzu is a global leader in the light-truck market, has good coverage of the cruiserweight category, and a reputation for being a leader in diesel engine design and manufacture.
However, the operating characteristics of the domestic Japanese heavy-duty truck market calls for vehicles that differ somewhat from broader global standards of engine displacement, power output, drivetrain configurations, crew sleeping accommodation and payload capability. This makes it difficult for Japanese manufacturers outside global partnerships to provide competitive heavy-duty export products for overseas markets.
Isuzu's business profile would, in our opinion, make it an ideal candidate for inclusion in a broader global alliance, and it is notable that, in 2011, the company acknowledged that it had held discussions with Volkswagen (VW) over possible non-equity co-operation, involving "pickup trucks, diesel engines and larger trucks". Isuzu's strong global position in light and medium trucks, and its continuing North American business – despite erstwhile partner GM's withdrawal from the heavier truck market – would fit snugly into the VW business model (discussed further on).
However, with VW's well-publicised quest for global industry leadership, it is unlikely to team up with any smaller manufacturer on a purely cooperative basis, as this would reduce the benefit of incremental sales volumes being added to the VW family tally. We advise readers to be on the lookout for further developments.
Hino
In some respects, Hino is in a similar position to Isuzu, being a Japanese-domiciled manufacturer, without international allies in the commercial vehicle industry apart from a residual connection to Scania, which currently involves support for the Swedish product in Japan, and some joint truck marketing in South Korea.
However, Hino differs radically in that it is positioned wholly within the giant Toyota family, and, as such, seems very unlikely to enter any partnerships falling outside of that area of influence, and is apparently not vulnerable to any takeover threats.
Hino is a strong participant in the global light and medium truck market, and has even produced its own unique products to suit the North American preference for bonneted cruiserweights.
Hino has also paid more than average attention to the heavy-truck arena, when compared to other Japanese competitors, with the development of double sleeper cabs as an example, but faces a similar lack of suitable high-power engine options to compete internationally with vehicles in this category sourced from Europe and the United States (US).
Future in-house development of such options seems unlikely, given the Toyota Group's massive concentration on the light vehicle categories, and the extremely high development costs associated with creating solutions to the stringent environmental requirements of First World markets. Although the buying-in of components from independent suppliers cannot be ruled out, this option does not seem to fit well with general Toyota family DNA.
Volkswagen Group
Although Swedish heavy-truck and bus specialist Scania is next in the South African pecking order, it is now common knowledge that this manufacturer has recently moved wholly within the Volkswagen sphere of influence, joining MAN Nutzfahrzeuge and Volkswagen Commercials to form another potentially world-leading alliance of commercial vehicle enterprises.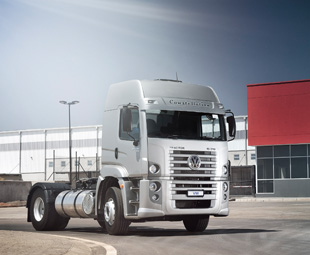 As currently constituted, the Group is strongly represented across most vehicle categories, including buses, in Europe and South America, while MAN has established a wholly owned medium/heavy truck presence in India.
In 2009, it also acquired a 25-percent-plus-one-share interest in leading Chinese truck manufacturer Sinotruk (Hong Kong) Limited, part of China National Heavy Duty Truck Corporation (CNHTC), for €560 million (R8 billion).
In terms of the accompanying agreement, MAN licensed its TGA truck, engine, chassis and axle technology for inclusion into a new SITRAK product series tailored to emerging markets, and undertook to provide Sinotruk with ongoing support for production and localisation.
The Indian and Chinese arrangements have plugged important gaps in MAN's, (and, by extension, VW's) geographic global coverage – although, up to now, only the Indian products have found their way into international distribution through the Group's official channels. Notwithstanding, the Group's global product portfolio is still strongly biased towards heavy trucks, buses/coaches, and integral vans, with some medium-truck coverage in Europe, and strong light/medium truck participation in South America.
With Volkswagen's well-publicised quest for overall global motor industry leadership, it seems likely that more comprehensive coverage of the global light and medium truck segments will be an early priority for the Group. This is supportive of the contact with Isuzu, mentioned previously.
Isuzu's great strength in these areas, and the potential benefit of its influence on VW's Amarok pickup, are compelling arguments in favour of a VW/Isuzu alliance. In return, Isuzu would presumably obtain access to MAN/Scania technology in the heavy truck arena, to the benefit of its HCV performance in markets such as Australia and South Africa.
In our view, these are still very early days for the Volkswagen Group's truck empire. The recent finalisation of VW's takeover of Scania will result in a higher degree of rationalisation between MAN and the Swedish truck maker than has been possible up to now, although this is likely to be well below the radar in terms of marketplace awareness.
The need to optimise market coverage may lead to some realignment of brand positions, and there is also potential to roll out the VW Brazilian Constellation and Volksbus ranges to a wider global audience, possibly using alternative branding. This group has enormous energy and potential, and may yet gather further manufacturers into its fold.
Tata
Independent Indian manufacturer Tata Motors, which absorbed the Korean Daewoo heavy-truck operation in 2004, has ploughed its own furrow in the commercial vehicle arena since shaking off the last vestiges of Daimler shareholding in 2010.
Tata established a diesel engine-building joint venture with Cummins in 1994, which enabled the replacement of some elderly Daimler-derived engine types. The Korean Novus heavy-duty range was subsequently extended downmarket to include cruiserweight models, powered by Iveco engines, reflecting the parent company's car-building relationship with the Fiat Group. In 2009, Tata revealed its new Bertone-styled medium-to-heavy-duty Prima "World Truck" Series, to be built in both India and Korea.
Tata remains the dominant player in the Indian domestic market, but is facing increasing competition from global players, including erstwhile partner Mercedes-Benz's indigenous BharatBenz products, the Volvo Group, through its Volvo-Eicher associate, and MAN.
The Tata industrial empire is vast, and seems fully capable of keeping its vehicle manufacturing subsidiary out of foreign hands. However, should Tata have ambitions to expand its export business outside of its present sphere of influence in and around the Indian sub-continent, South Korea and Africa, it may need to consider a partnership.
The Fiat/Tata relationship seems to have lost momentum, and Fiat Chrysler Automobiles is fully occupied with getting its own house in order, but some future cooperation involving Iveco still seems a possibility.
Iveco
Global Focus recently reported on the emergence of CNH Industrial as a major global force in the mechanised world. To recap, the group is now the holding company for the Fiat empire's capital goods manufacturing interests, and includes an agricultural equipment division (Case-IH, New Holland Agriculture and Steyr), a construction equipment division (Case Construction and New Holland Construction), and a commercial/industrial vehicles division (Iveco, Magirus, Iveco Astra, Iveco Bus (formerly Irisbus), HeuliezBus and Iveco Defence Vehicles).
It is also the home of FPT Industrial, the supplier of engines and powertrain components for automotive, industrial and marine applications to both Fiat-related and other independent brands.
As the commercial vehicle manufacturing member of this substantial family, Iveco would seem to have a secure future, and it also has an important opportunity to build business in North America in concert with Fiat Chrysler Automobiles. Parent CNH Industrial already has a substantial presence in North America, through its Case-IH, Case Construction and New Holland branded operations, so the addition of a commercial vehicle element should not be too difficult.
FCA's Ram Commercial Truck operation has already absorbed some of Fiat's European van products into its line-up, so a move upmarket using Iveco or Astra products must be under consideration.
While the North American obsession with "conventional" or bonneted cabs will need to be taken into account, the existence of Iveco's suitably configured PowerStar extra-heavy truck tractor in Australia provides one possible avenue to satisfy US requirements.
Although based in Europe, where it has a strong presence across most commercial vehicle categories, Iveco also has extensive operations in Asia and South America. In 2009, Iveco reportedly built and sold more trucks in China than in the rest of the world combined.
Iveco's single-partner Chinese joint ventures include Naveco Nanjing, producing Daily vans and the Yuejin range of 3,5 to ten tonne GVM cab-over-engine models, SAIC-Iveco Hongyan (SIH) building Genlyon, Tampa and Hongyan heavy trucks, and SAIC-Iveco FPT Hongyan manufacturing engines.
The recently introduced Iveco Leoncino cab-over truck design is built by Naveco to cover the GVM range from 3,5 to six tonnes, and is exported to Eastern European, Middle East and African markets.
The visually similar, but larger nine to 13 t GVM Iveco Vertis is built in Cordoba, Argentina, for the Latin American market, while the heavy-duty on-road Iveco 682 tractor, recalling an iconic Fiat model name from the past, is a tailored edition of the Chinese SIH Genlyon, for Chinese and international markets.
Iveco also recently announced an aggressive move into the South American passenger vehicle market, using a full range of bus and coach chassis built at Iveco's plant in Cordoba.
With these extensive offshore operations, and the strength of CNH Industrial behind it, Iveco looks well positioned to survive and expand its operations in markets where it is presently under-represented.
FAW
This Chinese group is a substantial business by any standard, with annual production running at nearly three million units, many of which carry the branding of joint-venture partners including VW/Audi, General Motors, Mazda and Toyota.
Unlike its own light-vehicle operations, and a number of rival Chinese truck manufacturers, FAW has chosen to keep its truck business separate from joint ventures with foreign partners. This has probably delayed progress to some extent in the export market, but it has left the company the master of its own destiny. The recent opening of an assembly plant at Coega in the Eastern Cape, following a 20-year presence in South Africa, is indicative of its determination to succeed.
FAW's product line-up is extensive, covering most market requirements, and, in our opinion, the group is destined to become a major force in the global commercial vehicle industry over time.
Powerstar
Beiben-Truck, the Powerstar product source, is a much smaller vehicle-building operation than FAW, with annual production at around 40 000 units, these being primarily heavy-duty trucks.
However, it is part of the huge and highly diversified Norinco Group, which is also heavily involved in armaments and military equipment manufacture. This association may be sufficient to insulate Beiben from the Chinese Government's oft-repeated call for greater consolidation of its domestic motor industry.
AMH/AAD
This group is the South African representative of South Korean manufacturer Hyundai, and its Kia subsidiary. The Hyundai family participates across all sectors of its domestic Korean commercial vehicle market, including buses, but its export activities are currently concentrated on HD Series light trucks shipped to neighbouring South-East Asian countries, Australasia and Africa.
Some Hyundai coaches were shipped to South Africa for use during the 2010 Soccer World Cup, but, despite their continuing presence, there has been no apparent follow-up attempt to capitalise on those initial sales.
The Hyundai family is growing as a global vehicle manufacturer, currently being ranked number four in the world pecking order, but there has been little indication, up to now, of any ambition to pursue a similar growth trajectory for its heavier commercial vehicle activities.
The recent announcement of local South African assembly of HD Series trucks for the African market, however, may be an early sign that corporate strategic thinking is shifting in that direction.
Fiat/Peugeot/Citroen
These three European-style integral van manufacturers are primarily major players in the light vehicle arena. Their futures are, therefore, not substantially dependent on the commercial vehicles that fall within the parameters of this article, so we will not venture any comment on their prospects for survival in this context.
DAF
Babcock DAF in South Africa is the sole representative of Paccar, the only remaining US-controlled family of multi-national truck brands. The group currently consists of Peterbilt, Kenworth, DAF and the last vestiges of the once mighty Leyland truck empire, although this name now only adorns Paccar's UK assembly operation.
Paccar's main areas of interest lie in North and South America, Europe and Australasia. Notably, the Kenworth brand is the long-running leader in the Australian heavy-duty segment, while DAF is a market and segment leader in a number of European countries, including the United Kingdom.
In terms of vehicle size, the Paccar product range is biased towards the upper end of the payload spectrum, although DAF medium trucks do well in the markets where they are sold. The group, however, has no presence in the light truck and European van areas of the global market. Whereas the American brands have traditionally embraced the "kit truck" philosophy using bought-in driveline components, recent efforts to popularise Paccar's own DAF-designed engines have met with some incremental success.
Paccar's business profile suggests that possible suitors looking for cooperation or outright acquisition cannot be ruled out, and there have been recent rumours that the omnipresent Volkswagen is showing some interest. Predictably, these have been denied on both sides, but VW's hunger for global leadership does tend to increase the frequency of such reports.
Paccar's trend towards increased in-house component sourcing, and the headlong industry race to greater complexity in First World markets will, however, place additional financial burdens on this traditionally profitable group, so its future may depend on fair winds in its principal markets, which have not been too prevalent of late in Europe. Our position would be to put Paccar on watch for further developments.
JMC
Jiangling Motors Corporation is another Chinese enterprise, which builds around 200 000 passenger and light commercial vehicles per annum. However, it has gained significance recently through its association with the Ford Motor Company, which now holds a 32 percent shareholding in JMC.
Regular readers will recall our earlier reports of Ford's apparent renewal of interest in the truck business, through activities in South America and Turkey. In April 2013, it was announced that Ford Otosan (Turkey) had licensed Ecotorq engine technology to JMC, and its affiliate JMC Heavy Duty Vehicle Co., Limited, for use in domestic Chinese and export commercial vehicle applications.
Notably, the two companies have cooperated in the Chinese production of Transit vans since 1995, and it follows that any expansion of Ford's trucking revival outside of South America, the Middle East and China may well involve a pivotal role for JMC.
VDL
VDL Bus and Coach is a specialist manufacturer of bus chassis and fully built buses and coaches, producing much smaller volumes than the other manufacturers covered in this survey. VDL's bus chassis manufacturing division has its roots in DAF's formerly spun-off bus operation, and it still draws some major components from Paccar.
As a stand-alone commercial vehicle entity, VDL would appear to be an obvious takeover candidate, but the VDL Group has diversified into other areas such as the contract mass assembly of light vehicles for major car brands, so its future is not wholly dependent on bus and coach sales.
International
Although not ranked in the South African market since the third quarter of 2013, Navistar International Corporation is the elephant in this particular room, and we need to include the American manufacturer in this discussion.
We have frequently expressed our dismay at International's sudden, and largely unexplained, disappearance as a vehicle supplier from the local truck market. This highly respected brand has been present in this country for nearly a century, and, until last year, it still maintained a significant presence, especially in the extra-heavy commercial vehicle (EHCV) segment.
We fully understand the difficulties which afflicted Navistar's pivotal engine manufacturing business in North America, and its need to stabilise its home business, but we do not understand why it has continued to develop new Caterpillar-branded products for Australia, where it had a minimal market presence, while seemingly abandoning the South African market where, in a good month, it regularly sold 100 units or more!
On the surface, Navistar International looks ripe for a takeover, and there have been rumours of predatory interest, once again from VW, which already has a link through MAN's 2008 licensing agreement that has enabled the building of Navistar's MaxxForce 11 and 13-litre engines for its US product range.
However, as pointed out frequently in Global Focus, the widely held perception of this company, as primarily a manufacturer of extra-heavy trucks, is somewhat inaccurate, because it also holds a significant presence in the lighter payload segments of the North American market, in school bus manufacture, and as a leading global manufacturer of diesel engines.
The Navistar Engine Group also includes the South American diesel engine manufacturing concern MWM International, supplying power units to a number of other prominent original equipment vehicle and equipment manufacturers.
However, Navistar's position as a major supplier of vehicles and power units to the US military may well be pivotal in determining its future, with the US government insisting on American ownership for security reasons.
Conclusion
Readers must please note that this article reflects the perceptions of one observer. Given the scope of the article, it is quite impossible to cover every possible angle, or to always foresee the decisions taken in a multitude of smoky boardrooms. It should also be noted that some significant manufacturers do not operate in our market, so they are absent from the discussion.
This does not indicate disrespect, but simply an effort to contain an already lengthy article. We must also recognise that merger and acquisition activity is sometimes limited by anti-monopoly legislation that sometimes extends across national borders.
Our knowledge of the Chinese business environment, with its many unique considerations, is also still in its infancy, so the opinions are offered with no malice, but after a great deal of consideration, and research. We do not expect everyone to agree with our views, and we look forward to the many debates and discussions that will inevitably follow.
---
Global FOCUS is a monthly update of international news relating to the commercial vehicle industry. It is compiled exclusively for FOCUS by Frank Beeton of Econometrix.
Focus on Transport
October 2, 2014
Published by