Truck Test on the horizon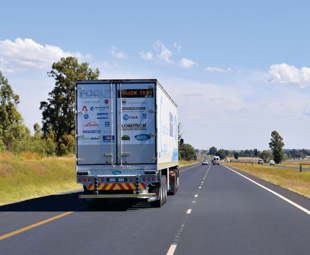 The final meeting for the preparation of Truck Test 2017 has taken place and excitement is in the air!
FOCUS and our Truck Test 2017 partners – Engen, Ctrack, TruckScience, Afrit and Sephaku Cement – are poised and ready to conduct yet another exciting Truck Test event this March.
The best news is that we've received a few last-minute entries (the more the merrier), which makes the test even more significant. It allows us to highlight many of the vehicles available to local buyers, who are looking for 6×4 truck tractors and are keen to find out what the various options have to offer.
Spoiler alert – we've even received an unexpected entry from a yet-to-be launched contender…
Those details will, however, have to wait for a future issue, because, this month, two of the country's most important original equipment manufacturers in the 6×4 arena give us some insight into their plans for Truck Test 2017.
The first is MAN Truck & Bus South Africa, which is entering two significant models from its long-haul catalogue, both of which have been introduced subsequent to the previous Truck Test in 2015.
"MAN will enter a TGX and a TGS model, with tautliner interlink trailers. This is a common application, for which both models are well suited," explains Ian Seethal, head of network development, marketing and communication, at MAN Truck & Bus SA.
A major drawcard is the fact that the TGX is a Euro-5 vehicle, which will allow customers the opportunity to compare the merits of both models. "For the first time in the history of Truck Test, MAN will be entering a TGX with Euro-5 selective catalytic reduction technology, which will be beneficial in that it will enable us to get a first-hand performance benchmark under local operating conditions," Seethal explains.
Undoubtedly a force to be reckoned with in the local 6×4 long-haul market (if its rising sales performance is anything to go by), Scania South Africa plans to use the platform provided by Truck Test 2017 as a basis for continuous improvement of the performance of its vehicles.
This year, these will be some of the most common Scania long-haul combinations on the market – the G460 CA 6×4 "fleet tractor", with an interlink trailer, and the R500 LA 6×4 "long-haul V8", also with an interlink.
Nomonde Kweyi, marketing and communications manager at Scania South Africa, reiterates the importance of the test: "Truck Test provides the readers, and our customers, with an objective view of statistics on the operational value each of the truck brands may bring to their business, by testing key variables. We are happy to see that Truck Test has made a return in the same successful format that was used in 2015, and we look forward to participating in the event!"
Focus on Transport
February 23, 2017
Published by