For a look at what the South African truck market can expect in the near future, FRANK BEETON discusses what went down at the Brisbane Truck show.
Regular readers of Global FOCUS will be well aware of our interest in the Australian truck market. In terms of size, segmentation and product "mix", it is, perhaps, the most similar to our own South African version. There are, however, important differences, including a greater bias towards Japanese and American brands, with less emphasis on European-source trucks, and a more advanced current ADR 80/02 emissions regime, approximating Euro 4 or the US EPA 07 standard. These variances make the Australian trucking scene an important "window" in which we can identify and evaluate new technology, trends and practices before they rear their heads in our own backyard.
In South Africa, there has been much recent debate over the relevance of truck shows. There is a body of opinion that sees participation in the Johannesburg International Motor Show (JIMS) or its Auto Africa predecessor, as less than optimal for heavier commercial vehicles, primarily because the 10-day exhibition is shared with the light vehicle community, takes truck people away from their day jobs for too long, and exposes (expensive) exhibits to wave upon wave of "tyre kickers" and brochure collectors. The alternative of adding a truck section to the more trade-focused Automechanika Johannesburg early in 2009 clearly did not work, particularly as it was held only a few short months after JIMS, so the debate continues. By way of comparison, Australia's premier biennial truck show, officially titled the Queensland Truck & Machinery Show (QTMS), ran for only four days (including a weekend) in May, and the 36 000 people who attended this year's event in Brisbane are likely to have shown a more appropriate level of interest in the exhibits than many of the quarter of a million or so JIMS visitors.
The success of the 2009 QTMS caused some raised eyebrows. Despite the global economic crisis, which has not left Australia untouched, only three prominent industry players declined participation in the show. One of these was Caterpillar, which was not entirely surprising, given that the manufacturer has announced its imminent withdrawal from the on-highway diesel engine business. The identity of the other two abstainers, Hino and UD (Nissan Diesel), did surprise somewhat, seeing that Hino Motor Sales Australia has declared its intent to wrest leadership of the local truck market from 20-year incumbent Isuzu, and UD Trucks Australia, now operating as a component of Volvo Commercial Vehicles Australia, is currently rolling out additional variants of its model range Down Under.
Of those that did exhibit, there was a fair sprinkling of alternative fuel vehicles. Here are some of the details:
The Truck of the Show Award was taken by Western Star's 6964 FXC truck-tractor.  The brand is distributed in Australia by Terry Peabody's Transpacific Industries Group, which also holds the MAN franchise, and is totally unrelated to Daimler's antipodean operation. The winning Star was fitted with a 600-hp (450-kW) Cummins Signature engine, driving through Eaton's RTLO-22918 18-speed transmission, to air-suspended Dana D52-190 rear axles, and rated for a gross combination mass (GCM) of 140 t. As a result of the independent representation arrangements, a significant percentage of Australian Western Stars are imported as "glider kits" and fitted locally with Cummins engines, as a customer preference alternative to the Caterpillar and Detroit diesel-powered units that can be ordered from the United States, and are the only available choices elsewhere in the world. This strategy has given the brand tremendous impetus in the local market, and in 2008, Western Star achieved third place in the over-16-t GVM heavy-duty segment.
Overall market leader Isuzu Trucks Australia was exhibiting compressed natural gas-fuelled models, demonstrating the experience that its Japanese parent has amassed with building vehicles for this fuel type since 1998. Australia reportedly has vast reserves of natural gas, and supply infrastructure has already been established for liquefied natural gas in Western Australia. As world oil demand recovers, and upward pressure is exerted on the local diesel price, the natural gas alternative is expected to come increasingly into the spotlight, especially on the eastern seaboard of Australia. The Isuzu models on show were the light-duty NPR 300 CNG and the medium-duty FSR 700 CNG, which are destined for extensive testing with fast freight operator Toll Ipec, in Canberra.
The iconic ACCO, once an International and now an Iveco product, has survived for more than half a century because it has been progressively adapted to meet market preferences. On show in Brisbane was an ACCO refuse compactor fitted with a 280-hp (210-kW) CNG-fuelled Cummins C-Gas engine and Allison 3500-series five-speed full auto transmission, one of 22 similar units on order for a South Australian operator. Another notable Iveco exhibit was a prototype of the local 6×4 bonneted PowerStar tractor, rated at 90 t GCM, but fitted with a 550-hp (410-kW) Cummins ISX engine in place of the model's normal Iveco Cursor power plant. Power is transmitted through Iveco's EuroTronic II automated 16-speed, and the unique Aussie market cab has been raised by 50 mm to achieve required cooling airflow.
Even the mighty Kenworth, long-time leader of the heavy segment in the Australian market, had slipped a LNG-fueled Cummins Westport ISX into their traditionally styled T908 6×4 premium conventional tractor. However, most emphasis on the stand went to the new K402 sloping-bonnet 6×4 model, available with a day cab or two sleeper options, and optimised for intrastate and interstate distribution using single-trailer, rigid or short, 19-m, B-double applications. Power is provided by a 450-hp (335-kW) Cummins ISX, driving through a manual or automated Eaton 18-speed overdrive gearbox. Final Kenworth exhibit was a T358 multi-axle rigid, with a 380-hp (285-kW), 8.9-l Cummins ISLe4 engine, suitable for 8×4 or 10×4 truck mixer applications, with up to 300 hp (225 kW) of retardation available from the compression engine brake. The sole representative of the European side of the PACCAR family was DAF's CF85 with high-rise forward control cab and 18-speed Eaton transmission behind its 12.9-l PACCAR MX engine.
UD's decision not to participate in the show was not emulated by other members of the Volvo Truck Australia family. The parent company's main show emphasis was on the fitment of new D11B and D11C engines to its 4×2, 6×4 and 8×4 FM model range, as a replacement for its previous 9-l power unit. The new Selective Catalytic Reduction-equipped 11-l power unit is Euro 4 compliant in its B version, with outputs stretching from 350 to 430 hp (260 to 320 kW), while the C-labelled variants elevate to Euro 5 standards across a power spectrum from 330 to 450 hp (245 to 335 kW). Truck-tractor derivatives come with Volvo's 12-speed I-Shift automated transmission as standard, while it is optional equipment on the balance of the range. American cousins Mack won the award for the best stand, and used it to display a CNG-fuelled Granite eight-wheeled truck mixer with 300 hp (225 kW) Cummins Westport ISL-G engine. Claimed to be "the most environmentally friendly concrete mixer in the world", this EPA 2010-compliant vehicle made the point by having its mixer drum decorated in a "hippy" scheme with colour swirls. The fitment of five CNG tanks and upgraded cooling reportedly added around 700 kg to the mixer's tare mass.
It is testament to one significant difference between the South African and Australian markets that the first show appearance by Mercedes-Benz's third-generation Actros barely troubled the editorial staff in the local technical press! The combination of the Aussie preference for American heavies, and fresh memories of the sensitive electronics in early Actros models, has long frustrated Mercedes-Benz's efforts to garner acceptable market share levels in that part of the world. Far more attention was paid to the Fuso stand, where the same radical Eco-D hybrid dump truck concept that was present at JIMS last year, was on view. Of even more topical interest was the Canter Eco-Hybrid, which, despite its far more conventional appearance, shares many of the concept's driveline components, and is due for retail launch in Australia early in 2010. Automatic transmission versions of the Canter family were also previewed just ahead of their Australian launch. Features include a six-speed full auto, twin caliper disc brakes all round, ABS, driver and passenger airbags, and air-conditioning.
MAN INVESTS IN SINOTRUK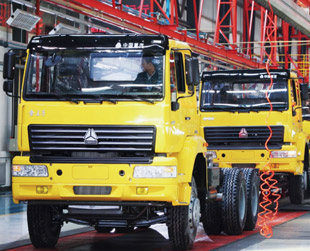 Ever since early 2006, when Global FOCUS first reported on the initiation of a joint venture between MAN and Force Motors of India (which subsequently emerged as MAN Force Trucks), it has been evident that the German manufacturer has every intention of expanding its involvement in the growing Asian markets. Subsequently, it was announced at the beginning of 2009 that MAN had increased its MAN Force shareholding from the original level of 30 to 50%. In the interim, the MAN Force CLA products, with their M2000-based cab, have established themselves in the Indian domestic market, and also found their way into the MAN product portfolio in some export territories, including South Africa.
However, meaningful participation in Asia means, inevitably, a substantial presence in China. Therefore, the announcement made on 15 July 2009, that MAN SE is to acquire a 25%-plus-one-share interest in leading Chinese truck manufacturer Sinotruk (Hong Kong), came as no great surprise (for readers unfamiliar with the "SE" abbreviation, this stands for Socitas Europaea, indicating a "European company", and replaces the former corporate title MAN AG, or Aktiengesellschaft). The value of the MAN investment is €560 million (R6.33 billion), and the accompanying long-term strategic partnership agreement includes technology and engineering exchanges, and access to Sinotruk's extensive Chinese sales network. MAN is to license its TGA truck, engine, chassis and axle technology for inclusion, by Sinotruk, into a competitively priced new product series tailored to emerging markets, and provide ongoing support with production and localisation. The volume target for this series, which is expected to enter production within two years, is reported to be 50 000 units by 2015.
Sinotruk's parent company, China National Heavy Duty Truck Corporation (CNHTC), built China's first indigenous heavy truck in 1960, and has been involved in a technology transfer arrangement with MAN's Austrian subsidiary Steyr since 1984. Sinotruk sold more than 100 000 heavy trucks in 2008, giving it 20% of the domestic Chinese market, plus the leadership position in several heavy-duty (14 t GVM and above) segments. Production activity is centred on Jinan, capital of Shandong Province. CNHTC had been involved in a previous joint venture (JV) with Volvo AB, but it has recently been reported that production had been suspended at the jointly owned facility, and that Volvo has reached an agreement with the Chinese manufacturer to withdraw from this arrangement. It is now thought likely that Volvo will pursue an alternative heavy truck-focused JV with Dongfeng Motor Group, which has extensive links with its allies Nissan Motor Company, and Nissan Diesel Motor Company.
It has been speculated that the MAN/Sinotruk agreement also includes access to the German manufacturer's international distribution network. If so, then a similar situation to that prevailing with MAN Force Trucks may see products from the Chinese joint venture appearing in MAN's traditional export markets some time after 2011.
GOOD MOVE?
In an age when other moving companies in the area are closing up shop, Washington DC removals firm, Two Marines and a Truck, is bucking trends and growing at a record rate on the back of glowing customer reports. Founded by two former marines, the firm has gone from one to 37 people in less than a year and now runs six trucks.
Incredibly, Two Marines and a Truck tells FOCUS that "most other US moving firms reportedly hire convicted felons". However, Two Marines and a Truck hires military veterans that take pride in their punctuality, professionalism and proficiency.
MIX TELEMATICS WINS SCANIA SUPPLIER DEAL
MiX Telematics, the global vehicle tracking and fleet management systems firm, has won approval as a supplier to the Swedish-based truck, bus, coach and engine maker, Scania. The deal covers MiX Telematics' flagship FM Communicator product, designed to help fleet managers find a wide range of operational efficiencies. The system captures and analyses vehicle and driver-related performance data.
NEW SAT NAV FOR TRUCKS
Garmin, which says it is the global leader in satellite navigation (sat nav), just launched what it thinks is the answer to every truck driver's nightmare. The firm's the new nüvi® 465TF is the first portable sat nav device designed to help truckers avoid narrow lanes and low bridges. The unit will integrate with existing telematics systems and a software developer kit is available for third-party systems.
In a similar vein, TomTom has lifted the lid on its Go 9000, a new connected navigation device for commercial vehicle fleets. The device stays with a person, constantly connecting them to the office. This means they keep in touch, regardless of the vehicle they are using, and the office knows where they are. TomTom say this can also help manage subcontractors as part of a wider mobile workforce.
Real-time traffic information and routing technology mean that field workers can find the best way to get to customers at any time of the day. A Bluetooth hands-free kit and text-to-speech technology means instructions can be read aloud or addresses can be entered by voice.
HAULIERS NEED BETTER RATES
British business must accept that it needs to pay more for road haulage because of soaring fuel costs, says the Road Haulage Association (RHA). It says the UK Treasury's diesel duty hike on 1 September make three increases in nine months, totalling 12%. By next April, duty will be up 16% in as many months.
"Duty is now a 25% tax on road transport," says Jack Semple, RHA policy director. The next tax hike comes on top of a R5.80-a-litre rise in diesel commodity prices since the spring budget, when the chancellor said energy prices would fall. Hauliers must have higher rates, says Semple, continuing that their customers should complain to the Treasury, not the operators.
STIMULUS CASH FOR SMITH ELECTRIC VEHICLES
Smith Electric Vehicles US Corporation, which is 49% owned by United Kingdom-based Tanfield Group, has been awarded $10 million (R78 million) in funding from the United States (US) government. This will part-fund a fleet of 100 demonstration vehicles comprising Smith Newton light trucks and the first fully electric Ford Transit Connect light vans for North America. The cash is part of a $2.4 billion (R18.72 billion) stimulus fund for low-carbon vehicles, announced by President Barack Obama. (See FOCUS August 2009.)
Smith Electric Vehicles US Corporation recently delivered Newton trucks to series of high-profile US customers. The firm will open a factory in Kansas City later this year, licensing its technology from Smith Electric Vehicles in the UK.
WORLD'S FIRST SPRINTER ANTI-SIPHON
TruckProtect has launched its Neck-It! Van after successful field tests. The firm says this is the only fuel anti-siphon device designed for vans. Available initially for pre-2008 Sprinters, the chromed steel Neck-It! Van unit uses the familiar and proven security assembly. It allows refuelling at normal forecourt speeds, with no splash-back.
"Judging from customer feedback van fuel theft, either by the tankful or simple regular skimming is a growing problem," says Russell Fowler, CEO at TruckProtect Ltd. "Whether parked outside private houses at night, or in a depot, diesel vans offer a huge opportunity for fuel thieves." The unit costs around £34 (R440) and fleet discounts are available.
NEW VW TRANSPORTER
Volkswagen (VW) has released some details of its new Transporter vans. The range includes kombi, chassis cab and window vans. The firm says it guarantees lower running costs, thanks to new common rail engines that also offer lower emissions, to Euro 5 standards. VW says it expects a 10% average fuel saving across the range. The new vans will be at the forthcoming Frankfurt motor show.
ELECTRIC TRUCKS TO CUT UNIVERSITY CARBON
English universities face cuts or caps to their funding from 2011 if they fail to cut their greenhouse gas emissions. This proposal is part of a consultation launched recently by the Higher Education Funding Council for England. Birmingham, Canterbury, Greenwich, Manchester, Oxford, Plymouth, Warwick and Western England universities have anticipated the change by buying Aixam Mega electric vehicles.
Typically, they will be used on garden and maintenance work. "Electric vehicles are an obvious way for universities to make savings, as part of their normal vehicle replacement programmes," says Lawrence Holland from Aixam Mega.
---
Global FOCUS is a monthly update of international news relating to the commercial vehicle industry. It is compiled exclusively for FOCUS by Frank Beeton of Econometrix.
Focus on Transport
September 1, 2009
Published by