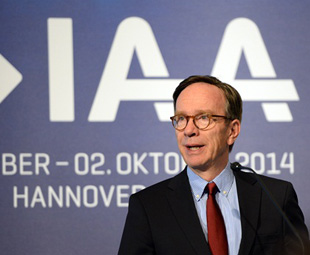 "With the intense drive towards innovation, the huge number of exhibitors and the more international nature of the show, everything is in place to enhance the IAA's standing as the world's largest, and most important, trade fair for mobility, surrounding commercial vehicles," says Matthias Wissmann, president of the Verband der Automobilindustrie (VDA) – the show's organiser.
He continues: "The 65th IAA Commercial Vehicles Show is ready to open – and visitors can expect a large number of exciting innovations. A total of 322 world premieres will be on display and the entire commercial vehicle world will be meeting in Hannover (Germany)."
"Of course the IAA focuses on the new heavy commercial vehicles and vans," Wissmann emphasises. "The value added by commercial vehicles is represented by another figure: the suppliers alone will unveil 226 world premieres at this IAA, and the manufacturers of trailers, bodies and buses are also present with a great many innovations."
He points out that the 1 216 international exhibitors make up 59 percent of the total. Wissman adds: "This is a new record. Two years ago the proportion was 55 percent." The foreign exhibitors come from 44 countries and together occupy 38 percent of the total area of almost 265 000 m².
Around 30 specialist events will complete the IAA programme … but more on those in the additional stories.
Focus on Transport
September 25, 2014
Published by