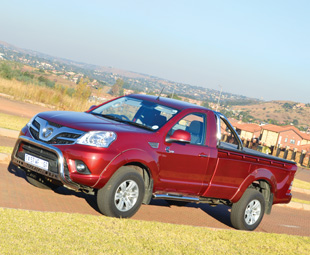 The Foton Tunland single cab passes through our hands, leaving GAVIN MYERS wondering why we don't see more of them on our roads.
In June 2013 we featured the Foton Tunland double cab. It really impressed us, despite lacking some features expected at the price and a tendency to overheat its clutch in heavy traffic. The single cab version is now also available to local buyers; the Tunland 4×2 Off-Road Luxury splashed over this page.
There is also an "On-Road" (workhorse) version that is R40 000 cheaper, on paper a competitive fleet proposition, but what of this "Off-Road" version?
First, it has the same bold, although from some angles gawky, façade – and lots and lots of chrome … The bold front grille and thick bull bar, roll bars and side steps (these specific to luxury-spec vehicles) are "in-your-face", but the overall appearance works.
On the inside, the Tunland single cab, like its double cab sibling, is well built. There was one intermittent rattle, but the materials used are good quality and the switchgear operates solidly. Our main gripe remains the odd trim finishes – an eclectic mix of satin-silver plastic, "lacquered wood" inlays, and thin "chrome" (yip!) strips. Happily, though, one or two quality issues we spotted in the double cab were not found in this version.
The odd finishes aside, the interior is a nice place to be. It is roomy (if, like me, you're average sized) and offers a decent array of storage spaces. The driver's seat is height adjustable, the passenger's seat is not; which can impact on space behind the seats. Nonetheless, the cloth-covered seats themselves are comfortable (the ride, too, is not bad – as single cabs go), and with the rake-adjustable steering wheel, the driver can find a relatively comfortable driving position. We did find that the thick B-pillars can create blindspots, though.
As with the double cab, Tunland Off-Road has the same "big-name" mechanical composition – Cummins engine, Getrag gearbox, Bosch fuelling system, et al. The engine is a lower-powered version of the 2,8-litre, four-cylinder ISF unit fitted to the double cab; producing 96 kW at 3 600 r/min and 280 Nm torque between 1 300 and 3 000 r/min in this application. Outright grunt might be down, but power delivery is smoother and the torque more sustained in this version. Foton claims this Euro-4-rated engine will consume eight litres of diesel per 100 km.
The engine is noisy, however, especially when cold. The five-speed gearbox is acceptable, operating with a notchy shift action, but was also a bit of a handful one particularly cold morning; requiring a double declutch on the up-shift until it had warmed up! When was the last time you heard that spoken about with reference to a modern vehicle?
Happily, again, there were no overheating problems with the clutch as experienced with the double cab. The single cab is only available in a 4×2 configuration with a limited-slip differential.
The vehicle has a large load box, measuring 2 315 (l) x 1 540 (w) x 440 mm (h), and a payload capacity of 1 130 kg. The quoted gross vehicle mass is 2 975 kg, while towing capacity is an impressive 2 500 kg. Luxury-spec models are also fitted with a neat Tonneau cover.
Safety equipment includes a chassis-mounted passenger safety cell, dual front airbags, anti-lock brakes with electronic brakeforce distribution (EBD), and auto-locking doors. It features height-adjustable headlamps with a "follow me home" function; air-conditioning; electric windows and mirrors; and an MP3, USB, auxiliary and Bluetooth-equipped sound system with steering-mounted controls.
While, like its double cab brother, the Tunland single cab isn't perfect, it is impressive. The double cab was the best-rounded Chinese vehicle we'd yet driven, and the single cab carries that mantle. At R249 950 it's also competitively priced. Naturally with Chinese vehicles, perceived reliability is an off-putting factor. Foton is addressing this with a three-year/100 000 km warranty, three-year/ unlimited distance anti-corrosion warranty and three-year roadside assistance.
Focus on Transport
July 1, 2014
Published by