South Africa is manufacturing and exporting one of the leading mine-protected vehicles in the world. CAITLYN MOONY takes a closer look at the RG31 and the company that manufactures it.
The symbol made by the index and middle fingers, held in the shape of a "V", has a variety of meanings depending on how it is used. If displayed with the palm facing towards the signer, it is generally accepted to be a vulgar gesture of defiance. Although the origins of this gesture are unclear, it is often said that it came about during the Battle of Agincourt involving the Brits and the French. Legend has it that the French threatened to cut off the arrow-shooting fingers of the British longbowmen once they had won the battle. However the English emerged victorious and supposedly defiantly displayed their still-attached fingers.
Another common usage is with the palm facing outwards. To most nations across the globe this stands for "peace" and "freedom". Although often associated with drugged-up hippies, it has historically been used as a symbol of strength and defiance against oppressors. Winston Churchill used it to symbolise "V for Victory" during the Second World War.
Lastly, if we take the symbol and show it in a horizontal position, pointing first to our eyes and then away, it generally means "I'm watching you".
But this is not purely a lesson in semiotics. All three of these gestures could easily be associated with BAE Systems Land Systems South Africa's RG31 mine protected vehicles. "How?" you ask? Well, one of the vehicle's main features enabling it to protect its occupants even when a mine is detonated directly underneath it, is that it is equipped with a V-shaped monocoque welded steel hull. The value of this is that if a mine detonates below the vehicle, the shape of the hull diverts the blast outwards to either side of the vehicle, rather than allowing it to shoot straight up. As the RG31 is used in missions where many mines and improvised explosive devices (IEDs) are encountered, it seems apt that it should be associated with victory, defiance and the phrase "I'm watching you", or rather, "I'm looking for you!"
Along with the V-shaped hull, the vehicle's interior design and customisable armouring gives it its highly effective wide spectrum protection against mines and IEDs. The air-conditioned armoured personnel carrier (APC) is capable of protecting its crew of 10 – including the driver – against AP rifle fire and anti-tank detonations.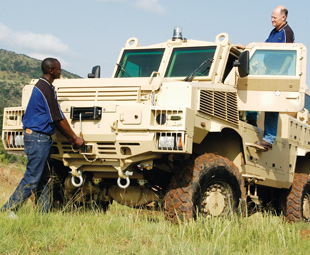 "Some detailed information on protection is obviously classified," explains BAE Systems South Africa's director of communications and corporate responsibility, Natasha Pheiffer.
If everyone was aware of each protection measure or the vehicle's capacity to withstand impact, it would make it simpler to overcome these measures. The company has expanded its expertise in mine protection over the last 40 years and has used this knowledge to develop the RG31, with the first vehicle being sold in 2003.
The vehicle has an automatic transmission, it has permanent 4×4 drive; and it has a two speed (high and low) transfer case. In order to ensure fast and safe entrance and exit, it is equipped with a large rear door and two front doors. The RG31's GVM is a heavy 17 000 kg, with a tare mass (including level 3 ballistic protection) of 14 610 kg and payload of 2 390 kg.
The vehicle's weight is one of its main criticisms as it makes it bulky to navigate off road and it has been reported that 72% of the world's bridges cannot hold this type of vehicle. The vehicle is capable of a maximum speed of 90 km/h and has maximum power of 205 kW at 2 500 r/min and maximum torque of 990 Nm at 1 500 r/min. The engine used is a Cummins QSB with a displacement of 6 700 cm3. The tyres are 365/ 85 R20 Michelin XZLs.
Not only is the RG31 uber cool in that it is saving lives all over the world, but it is also proudly South African. It is manufactured in totality here, and although some specialist parts are required from international suppliers, "BAE Systems aims to place as much work in South Africa as possible," says Pheiffer.
"A few vehicles have also been manufactured in the US under licence. The company is BEE compliant; with BAE Systems owning 75% of the company and BEE group DGD Technologies (Pty) Ltd owning 25%, and supports the community through investment in education for previously disadvantaged youth," she says.
Mine protected vehicles developed before the RG31 are used here in South Africa, but all RG31's are exported. Pheiffer reports that the US is the largest user of the vehicle.
"To date the US has reportedly acquired over 2 000 RG31s from Land Systems South Africa. Other countries who have bought the vehicle include Spain and the United Arab Emirates.
RG31s have also been sold to the United Nations (UN), which uses them in peace-keeping missions.
"Although the vehicle is largely a mine protected APC, it can be used for a variety of applications in the modern combat environment including ambulance, surveillance vehicle and mortar carrier," says Pheiffer.
In terms of training and testing, Land Systems South Africa provides training for all components of operating the vehicle, and the vehicles are tested on an official testing range outside Pretoria.
"We have several testing phases from simulation to real tests, including blast tests as well as all other standard tests which all vehicles go through," explains Pheiffer.
The RG31 is not the only vehicle BAE Systems Land Systems South Africa successfully produces – it also manufactures the RG41, a mine protected 8×8 armoured combat vehicle; the RG35, a new 4×4 or 6×6 mine protected multi-purpose fighting vehicle for both peacekeeping and conventional operations; RG34: A well protected 4×4 light vehicle with supreme tactical mobility; the RG32M, a 4×4 mine-hardened patrol vehicle currently in service with several forces and the RG32M LTV, a new 4×4 light tactical vehicle with enhanced mine protection.
The RG31 itself is probably one of their most successful products, and is widely recognised as the mine-protected vehicle of choice for peacekeeping organisations such as the UN. In combat, it has a proven track record in Iraq and Afghanistan. According to the Washington Post, 63% of US deaths in Iraq are caused by IEDs, making these vehicles absolutely vital. Many soldiers attribute their lives to the vehicles as they return from mission after mission unscathed. There have been reports of the vehicles and their occupants being damaged by substantial roadside IEDs, but on the whole, South Africa's RG31s seem to be doing a great job of giving mines and IEDs the double finger. 
Focus on Transport
September 1, 2010
Published by