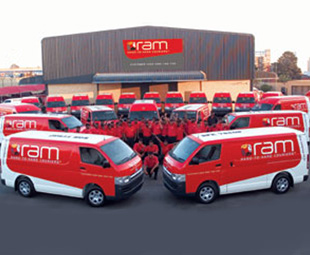 In the courier business time is money. Time isn't only precious when it comes to delivering a consignment; however, it's paramount at the back-end as well. The RAM Group of Companies, which includes RAM Hand to Hand Couriers, has cut the time needed to back up the IT systems supporting its business by 95 percent, using Veeam software, says group IT manager Lance Soller.
"Our IT platform is a critical part of our business," he adds. "We have 41 distribution hubs around South Africa and a fleet of over 1 000 vehicles, which we track in real time, all the time, along with the packages they carry. Losing our systems, even for a short period, would severely hinder our ability to operate."
Warren Olivier, Veeam's regional manager for Africa, adds some numbers to the picture. "A recent Vanson Bourne global survey estimated the average cost of an hour of downtime for enterprises at US$ 324,793 million, or nearly R4 billion; and, as more businesses need constant availability, that cost will only increase. Recovery time and point objectives of less than 15 minutes (for all workloads and applications) are becoming the standard."
RAM's backup delay started in 2008 when the company began virtualising its IT infrastructure to make the most of its hardware investment. It now runs 160 virtual machines (VMs) in five data centres. (In plain English – fewer computers, set up in five "networks", take care of the company's needs.)
Soller adds: "Our legacy backup tool, while brilliant for the original physical environment, was not designed with virtualisation in mind." Backup and recovery was slow and complex, with each VM backup taking up to three hours.
With the switch to Veeam Backup Management Suite, however, backup time fell from two to three hours per VM to just five to 15 minutes. Recovery speed also dropped from ten to two minutes.
Soller says that the monitoring, reporting and capacity planning capabilities of Veeam's solution have also been valuable. "Quite simply, we wouldn't know what the virtual environment was doing without Veeam. We can now plan our IT resourcing using defined metrics, rather than relying on a 'feel' for what's happening."
Focus on Transport
October 23, 2014
Published by