Viseon – a new name in busing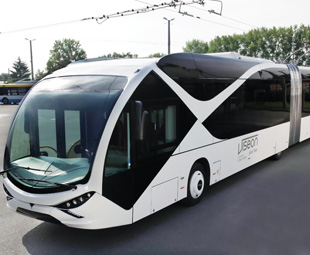 When MAN announced plans to close the Neoplan bus and coach plant in Pilsting, Bavaria, during 2008, the local residents would have been concerned about reduced employment levels. However, as so often happens when a committed workforce has its livelihood threatened, a plan was developed to protect work opportunities.
In this case, some former MAN managers formed their own new company, Viseon Bus GmbH, and took over the plant in 2009. MAN took a minority shareholding in the new company, and licensed it to continue building some Neoplan-branded products. Since then, the company has established itself as a supplier of city buses, including electric trolleybuses, luxury coaches and airport apron buses, and also as a customiser of passenger vehicles built by other manufacturers.
Following a lengthy period when trolleybuses had become a lesser force in global urban passenger transport, this mode is currently showing signs of revival, in an era where alternative driveline technologies, including hybrids and plug-in electric vehicles, have become increasingly fashionable. Whereas hybrid vehicles, by definition, carry their own on-board power generating units, and plug-in electrics require heavy and space-occupying battery packs, trolleybuses offer a simpler no-emissions solution, with direct transmission of current from the overhead power supply to on-board traction motors.
Viseon has recently introduced a new 20-metre low-floor single-deck articulated trolleybus, designated LT20, and has negotiated an order for 12 of these combinations from the Kind Saud University, in Riyadh, Saudi Arabia. The design is extremely striking, possibly even radical to some eyes, and a far cry from the boxy shapes that South Africans would have recognised back in the 1960s and 1970s.
Modular construction enables Viseon to offer the LT20 in different configurations, ranging from a 12 metre solo unit to a 21,15 metre four-axled bustrain accommodating 180 passengers. The high-powered air-conditioning system, dictated by Riyadh's climate which frequently reaches temperatures of 50°C, employs a 7 kW unit mounted under the driver's seat, and two 33 kW roof-mounted units positioned at the front and rear. These distribute cool air evenly into the saloon through four longitudinal flat channels mounted inside the roof. The efficacy of the air-conditioning is further ensured by double glazing, and air curtains at the doorways.
Passenger access is provided by three 1 200 mm wide double-door entrances, two in the front section and one just forward of the rear drive axle – the LT20 is a "pusher" design, driven through its rearmost axle. Ride comfort is managed by an electronically controlled pneumatic suspension system, incorporating a "kneeling" function, which reduces boarding height to 340 mm above ground level. The passenger capacity "mix" on the King Saud units comprises 44 seated/84 standing, plus additional wheelchair and pram/buggy provisions.
Motive power is provided by a 240 kW force-ventilated longitudinal three-phase asynchronous traction motor mounted at left rear, driving through a ZF AV132/90 portal axle, which enables a maximum operating speed of 70 km/h. The undriven centre axle is also sourced from ZF, while MAN supplies the front steering axle. Independent operation away from the overhead power supply is facilitated by the fitment of a Cummins 6,7-litre auxiliary power unit, driving a permanent magnet synchronous generator, developing 175 kW, which can maintain the operation of the battery charger, ventilator, compressor and air-conditioner, while powering the bus over short sections devoid of overhead infrastructure. Delivery of these vehicles is scheduled to be completed by the end of 2011.
Focus on Transport
September 1, 2011
Published by