Vive la France; vive la Peugeot!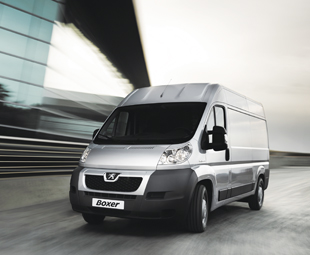 Okay, we all know the French cannot play soccer. But they certainly do an outstanding job of building vehicles. CHARLEEN CLARKE pays tribute to Europe's foremost producer of light commercial vehicles, Peugeot.
Cast your mind back 200 years – to 1810. It was a big year for the French – the country invaded Seville, Spain (which surrendered), French troops occupied Amsterdam and Napoleon annexed the Kingdom of Holland as part of the First French Empire.
It was also a big year for the French automotive industry because that's when two enterprising brothers, Jean-Pierre and Jean-Frédéric Peugeot, decided that they would capitalise on the industrial revolution that was rapidly gathering pace. They converted their father's corn mill, located in the east of France, into a steel mill and started a company with the rather long and complicated name of "la société Peugeot-Frères et Jacques Maillard-Salins". And thus was born an enormous global manufacturing giant – which, over the past 200 years, has produced anything and everything from saws, tools, salt and pepper mills, coffee grinders, bicycles, motorcycles and scooters to cars and commercial vehicles.
Fast forward two centuries. The company is now called Peugeot – a name it's held for some time. Its lion logo, introduced back in 1858 and modernised over the years, is instantly recognisable. Today Peugeot has a commercial presence in 160 countries and it was officially the 10th largest vehicle manufacturer (and the leading French vehicle producer) last year. With 700 000 units sold, Peugeot is the world leader in the coupé cabriolet market. It's doing a terrific job from an environmental point of view; 50% of Peugeots sold worldwide in 2009 had CO2 emissions of less than 140 g/km.
It can hold its head up high when it comes to technological developments too; Peugeot is synonymous with the development of the diesel engine, which it made available for the first time on a production model (the 403) in 1959. This was also the first car to feature an automatic cooling fan controlled by engine temperature. The popularity of diesel was instant, with the 403 being the first Peugeot model to pass the one million sales mark. The company is still recognised as a leader in the field of engine technology today; Peugeot won the International Engine of the Year Award last year (for its 1.6 litre THP engine) for the third consecutive year.
Peugeot has been producing bicycles and motorcycles since 1886, and vehicles since 1891. In the early days, of course, the company's monthly production run could typically be counted in double figures. Today Peugeot produces several thousand vehicles across 18 families of cars and light commercial vehicles each month.
While this French manufacturer has done an outstanding job of developing cars (as evidenced by the brand new RCZ Sports Coupé, which is about to make its debut in South Africa), Peugeot has also performed admirably in the commercial vehicle market. The company has been producing commercial vehicles since 1895, when it introduced the Type 13, and it has produced over five million light commercial vehicles (LCVs) to date. In fact, it's the LCV market leader in Europe. Which begs the question: any chance of the company replicating this feat in South Africa?
Alas, sans the presence of a bakkie, that's impossible. As we all know, South African motorists and transport operators smaak their bakkies stukkend (to all the rooinekke out there, this means they adore their pickups). As such, companies such as Toyota seem destined to rule the LCV roost in this country.
However this doesn't mean that Peugeot is not making inroads into this important segment of the South African market. Au contraire, this French maestro continues to penetrate the hearts, minds and fleets of local customers. "I am pleased with the progress that we are making," notes Jean Francois Bacos, Peugeot South Africa's managing director. "We can always perform better; we will never be complacent. But we cannot complain. Take June for instance – while the LCV market declined slightly, we still had a decent month in terms of sales."
Bacos believes that the company's product and service offering is of value to local commercial vehicle operators. "We have a very competitive product, in terms of pricing versus features offered," he tells FOCUS.
This range comprises the compact Partner, intermediate Expert and sizeable Boxer. The Partner is a compact panel van offering a passenger car-like ride, the Expert is a mid-sized panel van while the Boxer is a large panel van that can also be converted into a taxi or ambulance. Some Boxer panel vans fall within the medium commercial vehicle (MCV) class of vehicle.
"We believe that our range covers a variety of applications in the LCV and MCV markets," notes commercial vehicle product manager Ziyad Gaba. "Significantly these vehicles boast highly fuel efficient, low emission diesel engines. We believe that we are offering unprecedented performance levels in terms of driveability and environmental footprint." These are all Euro 4 engines.
Safety is another common theme. "A driver airbag is a standard feature across our commercial vehicle range. Furthermore, the ergonomic design of the cabin space ensures minimum effort for the driver, adjustable seats, easy driver controls and plenty of stowage space," says Gaba.
So the product range is in place. What is Peugeot doing to back up this range? "Our main aim is to increase the ability of our dealer network to deal with customers on a more professional basis, and build lasting relationships," says Bacos. "The focus is on training the dealers to be more professional and effective, and assisting them in improving the overall customer experience. By equipping the dealers with the necessary tools we are improving our after sales service. Our training is extensive and includes specialised modules focused on technical sales training."
There are dedicated commercial vehicle dealers in Tygervalley; Cape Town; Bloemfontein; East London; Pinetown, Durban; Nelspruit; Polokwane; Woodmead; Johannesburg and Isando, Johannesburg.
Given this network, Bacos believes that there is no reason Peugeot should not stamp its authority on the South African commercial vehicle market. "All the fundamentals are in place. We have the right people and the right product," he points out.
This global manufacturer with 55 million vehicles to its name is clearly on the right track. I think Jean-Pierre and Jean-Frédéric would have been so proud.
Focus on Transport
August 4, 2010
Published by