Volkswagen organises its truck and bus interests
In his monthly review of global news for local truckers, FRANK BEETON looks at Volkswagen's new trucking structure, reports on yet another technological innovation from Volvo, follows Daimler's autonomous technology across the Atlantic, and discovers an interesting new link between speciality vehicle builder Oshkosh and Scania.
That Volkswagen Aktiengesellschaft is a major contender for the overall leadership position in the global motor industry is all too obvious from recent trends. During 2014, the Volkswagen (VW) Group sold a total of 10,14 million vehicles, slightly behind Toyota's output of 10,23 million, but ahead of the 9,92 million sold by General Motors.
In 2013, Volkswagen sold 9,73 million, to also finish in second position behind Toyota (9,9 million) and ahead of GM (9,71 million).
The German group had originally targeted 2018 as the year in which it planned to assume global industry leadership, but its recent progress suggests that the event may happen even sooner, and 2015 promises to be a year in which the title could be up for grabs.
Volkswagen's strategy to reach Numero Uno has included expansion of the model ranges of its constituent brands, a stronger move into the North American region, and the acquisition of some other important vehicle manufacturers in the global industry. The latter element has played out most significantly in the commercial vehicle arena.
Prior to 2000, Volkswagen's interests in this sector were limited primarily to European integral vans and their spun-off products, and some unique light, medium and heavy trucks built in Brazil for the Latin American market.
ANTITRUST RULES KICK IN
However, in that year, Volkswagen purchased a stake in Swedish heavy truck and bus manufacturer Scania from Volvo, whose 1999 takeover attempt of its Nordic compatriot had been blocked by the European Union on antitrust grounds. This signalled the beginning of Volkswagen's increased interest in the commercial vehicle arena, which led, by 2014, to the absorption of both MAN and Scania.
In 2009, MAN took ownership of the Volkswagen Caminhöes e Önibus operation in Brazil, and entered into a wide-ranging relationship with leading Chinese truck manufacturer Sinotruk (Hong Kong) Limited, part of China National Heavy Duty Truck Corporation (CNHTC). In 2012, it took total control of its previous Indian joint venture with Force Motors.
Early in May, in a highly significant development, Volkswagen announced the formation of "Truck and Bus GmbH" as the holding division for all its commercial vehicle brands. This somewhat unimaginative name has been given to a potentially world-leading grouping, which will be led by Andreas Renschler, Volkswagen AG's Board Member for Commercial Vehicles.
It must be recorded, however, that this announcement followed a serious palace revolution in Volkswagen's inner sanctum during April, in which 78-year-old chairman of the board, Ferdinand Piech, apparently lost a power struggle with 67-year-old CEO Martin Winterkorn, and resigned.
FAMILY MEMBERS OPPOSE PIECH
Considering the fact that the Piech and Porsche families are reportedly in control of the majority of Volkswagen shares, this could only have meant that members of the family voted against Piech, who also happens to be Ferdinand Porsche's grandson. We are not sure that the final chapter in this particular saga has played out yet.
The Truck and Bus division hierarchy will include Winterkorn, Renschler, the CEOs of Scania AB, MAN Truck and Bus, and MAN Latin America, the chairman of the Volkswagen Group Works Council, Bernd Osterloh, and employee representatives from MAN, Scania and Volkswagen.
Interestingly, Volkswagen Commercial Vehicles, which is responsible for the Crafter van and lighter commercial models, is not included in the Truck and Bus division, but will continue to report to Andreas Renschler.
The presence of senior group executives in the management structure should ensure that "mid-sized and heavy truck and bus" priorities are fully recognised in Volkswagen's overall corporate strategy, thus making possible the stated objective "to become a global champion in trucks and buses, too, and, together with the workforce, to take this business to the top of the industry".
Thus the structure for Volkswagen Group's truck empire was created. Until now, the core focus areas and business profiles of its constituents have not been significantly disturbed, with only some low-key component exchanges having taken place. The need still exists to optimise global market coverage, which may lead to some realignment of brand positions.
The Indian and Chinese arrangements have plugged important gaps in the geographic global coverage of MAN, and, by implication, Truck and Bus, although, up to now, only the Indian-built CLA products have found their way into international distribution through MAN's official channels.
The Group's global product portfolio is, however, still strongly biased towards heavy trucks, buses/coaches, and integral vans, with some medium truck coverage in Europe, and strong light/medium truck participation in South America. The latter product range, in particular, would benefit from an expanded geographic footprint, and greater utilisation of components sourced from within the Truck and Bus family.
Volvo Introduces Automatic Traction Control
The slew of new technology applications emerging from Volvo Trucks continues. Starting as far back as 1954, Volvo pioneered the use of turbocharged diesel engines in trucks. In the mid-1960s, it introduced fully synchromesh range-change transmissions to the industry.
In 2001, Volvo introduced its own I-Shift automated mechanical design when this transmission technology was gaining a foothold in the transport sector, and this aggregate is widely regarded as one of the best of its type.
More recently, the 2012 introduction of a new FH Series flagship was notable for the first application, in a series production heavy truck, of "Individual Front Suspension", coupled with rack-and-pinion steering.
One year later, the latest version of Volvo's FM Series emerged with "Dynamic Steering". This combines an electric motor and electronic control unit with hydraulic power steering to reduce driver effort and fatigue, and provide exceptional on-highway directional stability. Last year, the process of innovation continued, with the first heavy-duty application of a dual-clutch automated transmission.
AUTOMATIC CHOICE?
In May, Volvo added another string to its technological bow with the introduction of "Automatic Traction Control (ATC)" as standard equipment on its construction-specialist FMX model range equipped with front axle drive.
This feature does not equate to the more usual type of traction control, which balances power between individual driven wheels to counter wheel spin, but in this case is applied to 4×4, 6×6 and 8×6 trucks working in potentially slippery operational conditions.
In these vehicles, traction at the rear axle or bogie is normally ensured by the driver's selective use of inter-axle and inter-wheel differential locks. However, situations can still arise where the rear wheels break traction. Under these circumstances this system automatically brings the front drive axle into play, so that the vehicle does not bog down.
By ensuring that the front axle drive is deployed only when necessary, Volvo's ATC system is claimed to preserve steering response quality, reduce fuel consumption and save wear of the differential units and tyres.
The ATC software is connected to the wheel speed sensors and when it detects any slippage, diverts power instantaneously to the front wheels through a dog clutch, thus avoiding speed or torque loss. If the driver suspects that conditions about to be encountered are particularly severe, he can still choose to pre-engage the vehicle's front and rear differential locks, at the possible expense of some fine directional control.
Freightliner's Inspiration takes Daimler's Future Truck 2025 Technology to America
Daimler Trucks has been pushing ahead with the development of autonomous, or self-driving, trucks on two fronts.
Last September, we reported on the unveiling, in Germany, of the Mercedes-Benz "Future Truck 2025" concept, which was the first publically revealed step by a major heavy truck manufacturer into that technological arena.
Based on a Mercedes-Benz Actros 1845 truck tractor coupled to the manufacturer's Aerodynamics Trailer concept semi-trailer, the "Highway Pilot"-equipped rig manifested as an articulated combination, which could, under certain circumstances, drive itself in an autobahn environment at speeds up to 80 km/h.
The initial, relatively conventional-looking concept vehicle paved the way for an altogether more radical and somewhat fierce-looking evolution, which formed the centrepiece of the Mercedes-Benz exhibit at the 2014 IAA International Commercial Vehicle Show in Hannover.
This second iteration of Future Truck 2025 added a "Blind Spot Assist" feature to the already extensive "Highway Pilot" suite of integrated technology first revealed at Magdeburg in July, 2014.
INSPIRED MOVE
In May, Daimler's American flagship truck brand, Freightliner, premiered its own autonomous "Inspiration Truck" concept vehicle at the Hoover Dam. This truck was licensed to operate legally on public roads in the state of Nevada.
To achieve this milestone, a modified version of Daimler's Highway Pilot system had been installed into a Freightliner Cascadia truck-tractor platform, and subjected to
16 000 km of pre-announcement testing in Papenburg, Germany.
Functionally, this vehicle is very similar to its European counterpart, in that it adapts to traffic speed, regulates its own speed and following distance, and has a stop-and-go function to accommodate traffic stoppages.
The enabling equipment includes a front bumper-mounted radar unit, with short- and long-range sensors, a dash-mounted stereo camera, Adaptive Cruise Control, and Active Brake Assist. In similar fashion to the European example, the technology interacts with pavement markings as well as surrounding traffic to ensure safe and legal operation.
CHANGING COLOURS
In order to transform the series production bonneted Freightliner Cascadia into the Inspiration Truck, some changes to the external appearance were made, including the incorporation of special headlamps, bonnet and side panels, reshaped door skins, and aerodynamically optimised wheel arches. The number plate, indicators and radiator grille are illuminated in blue when the vehicle is operating in autonomous mode and in white/yellow when it is being driven normally.
In addition to the obvious benefits of reducing fatigue for drivers, and freeing up their time to relax or carry out administrative duties "on the fly", Daimler claims that the autonomous system will cut fuel consumption by up to five percent, and reduce maintenance costs, because of the smoother adaptation to traffic flows.
The manufacturer also says that wider usage of autonomous vehicles has the potential to reduce traffic jams, improve infrastructure utilisation, increase safety margins and improve transport profitability.
Read our exclusive International Truck of the Year story on page 36.
Oshkosh – Powered by Scania!
Oshkosh trucks were a common sight on South African roads from the early 1970s up to the mid-1980s. They were assembled and distributed locally by the Barlows organisation, and, therefore, had a close association with Caterpillar earthmoving machinery, which was that group's main line of business.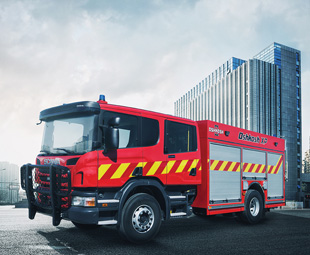 The initial Oshkosh product offering was the normal-control R-Series truck tractor, which was most commonly found hauling heavy machinery on low-bed semi-trailers, and was powered by a Caterpillar diesel engine. Subsequently, semi-forward control S-Series and full-forward E-Series models were added to the range, and a Cummins engine option was introduced for some models.
However, the prospect of fitting Atlantis Diesel Engines of European origin, which was dictated by local content legislation introduced in the early 1980s, was not welcomed by American truck manufacturers, and Oshkosh, like a number of its compatriots, exited the local market early in that decade.
The deployment of these trucks in on-road trunk haulage operations in South Africa was quite unusual, in that the Oshkosh Corporation, founded in 1917, has traditionally specialised in building vehicles for the fire, emergency, vocational and defence sectors.
The present product catalogue includes, amongst others, a host of special-duty military vehicles, concrete pumpers, tankers, snow ploughs, fire appliances, airport crash trucks, recovery vehicles, front, rear and side-loading refuse compactors, truck mixers and truck-mounted cranes.
Notwithstanding the historic links between Oshkosh and Caterpillar in South Africa, the American parent is an independent company and can source bought-in componentry from anywhere it chooses, and, in fact, it does specify Caterpillar engines in some products.
Somewhat ironically, however, given the reasons stated above for the brand's departure from the local market, we have recently learnt that Oshkosh has entered into an agreement with Scania AB, of Sweden, for the supply of low-emission engines and chassis that will be used in a range of Oshkosh off-highway and airport vehicles.
The engines will range in output from 410 to 575 kW (550 to 770 hp), and a Scania chassis will form the basis of a new Oshkosh firefighting truck intended for international markets.
AMERICA HERE WE COME?
In the announcement of this arrangement, a Scania executive pointed out that it would strengthen the position of his employer in the North American market. Given the broader picture, which includes Volkswagen's ownership of Scania (see the headline story in this column), there is room for speculation that the parent group may be using the Oshkosh connection as an exploratory early step into the American heavy trucking scene, where it is underrepresented at present.
It must also be remembered that Volkswagen-owned MAN has a "big bore" engine supply relationship with Navistar, which has dropped off the radar screen in recent years. We are left pondering, therefore, on the possibility of some future consolidation of Volkswagen-led interests in this arena, and its outcomes. Watch this space!
---
Global FOCUS is a monthly update of international news relating to the commercial vehicle industry. It is compiled exclusively for FOCUS by Frank Beeton of Econometrix.
Focus on Transport
July 2, 2015
Published by