Volvo makes a front-engined return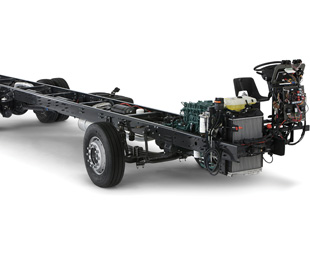 FRANK BEETON reports on an important new front-engined, ladder-frame bus from Volvo
One of the trends we have been following lately is the apparent revival of the front-engined, ladder-frame, full-size bus in global markets. This subject is of particular interest to South African operators, who have a long-standing preference for this type of bus chassis, in a world that has increasingly adopted rear-engined designs as the norm.
They would, therefore, have been encouraged by the recent efforts of manufacturers such as MAN and Iveco that have made new front-engined model announcements in India and South America respectively, and the launch of Ashok Leyland's technically innovative family of front-engined chassisless buses that took place earlier this year in New Delhi.
Since the withdrawal of its B7F front-engined chassis from the South African market in 2005, Volvo has seen its share of the local bus market shrink from 20 percent in 2004 to around five percent in recent years.
The B7F had followed a long line of front-engined Volvo chassis available to local buyers, starting with the B635 in the late 1950s, and extending through the B57/BB57 models that were still being sold by Lawson's Autodiesels through the 1970s.
Volvo as a brand left the South African market during the politically sensitive and demanding local content days of the 1980s, but was back with the B7F, together with its mid- and rear-engined siblings, just before the new millennium dawned.
The discontinuation of the B7F meant that the participation of Volvo Bus in the local market was restricted to servicing the coaching sector and those larger urban operators who had standardised on rear-engined service buses.
The resulting reduction in market share clearly illustrated the limiting effect of this decision, in a scenario where competitors such as Mercedes-Benz, MAN (including Volkswagen), Scania, Iveco and VDL continued to aggressively market their front-engined models. It seemed at the time that Volvo's hand had been forced by the lack of a suitable front-engined product from its global sources, and that it would continue to concentrate its efforts primarily on rear-engined buses and coaches.
Now we have become aware of a new Volvo product that has surfaced in South America, which may indicate a direction towards a renewed local marketing opportunity. Designated B270F, this front-engined, ladder-frame bus chassis with set-back front axle, at only 11 tonnes gross vehicle mass (GVM), is probably a little light for South African conditions. A careful navigation of the Portuguese specification, available on Volvo Bus Latin America's website, reveals some interesting deviations from the manufacturer's normal aggregate sourcing practice.
These include the use of a "bought-in" MWM International diesel, with Euro-5 compliant SCR emissions control, displacing 7,2 litres and delivering 201 kW (270 hp), the choice of two Eaton six-speed synchromesh mechanical transmissions, and a single-reduction Meritor rear-drive axle. Service S-cam drum brakes are actuated by a dual-circuit full-air system. Suspension is by parabolic steel leaf springs at both front and rear with an air option.
From the specification make-up, it appears that Volvo's Brazilian operation identified a marketing opportunity and launched a product two years ago specifically to meet it, using locally bought-in components where there are cost or availability benefits. With this as an established precedent, it would not be too difficult to follow a similar pattern for a heavier product with a GVM rating of, say, 18 tonnes.
After all, Iveco's S170 front-engined chassis for the South American market grosses at 17 tonnes, and the heavier Brazilian-sourced Volksbus front-engined model sold in South Africa by MAN has a GVM rating of 18 tonnes, so both manufacturers clearly believe that there is a viable market for a heavier unit of this configuration. Volvo may be tempted to follow suit.
It must be said that all this activity raises hope for the future of front-engined bus chassis in the broader global market, and we anticipate loud cheers ringing from a number of local boardrooms.

Focus on Transport
November 1, 2013
Published by