In his monthly review of global news for local truckers, FRANK BEETON ponders over the Volvo Group's new structure, updates the international van scene, and reports on Iveco's unconventional approach to achieving even lower emission levels for its diesel engines.

On October 4, 2011, the Volvo Group announced the new organisational profile for its global business, which is illustrated in the accompanying diagram. This includes a substantial restructuring of truck operations, described in the announcement as follows: "Having previously been divided into four different brand companies – Volvo Trucks, Renault Trucks, Mack Trucks and UD Trucks – marketing, sales and brand responsibility for the truck companies will now be conducted in three new geographic, organisational units reporting directly to (CEO) Olaf Persson".
The three geographic areas were named as the Americas, Europe/Middle East/Africa and Asia/Pacific, with each region holding the global responsibility for individual house brands: America for Mack; EMEA for Volvo and Renault; and APAC for UD.
The Volvo Group, as it stands today, had its origins in 2001, when French vehicle manufacturer Renault sold its corporate truck interests to Volvo AB and acquired a 20% shareholding in the Swedish company. Volvo was then tasked with managing the global trucking interests of the Renault-Nissan alliance, which comprised of Mack in the United States and Renault's RVI (Renault Vehicules Industriels) operation.
Following a period during which the future of Nissan's former truck and engine-building affiliate, Nissan Diesel, had seemed uncertain, Volvo commenced a full acquisition process of the Japanese company in 2006 and this operation was renamed UD Trucks Corporation in 2010. Last year, the Renault-Nissan consortium also substantially scaled down its shareholding in the Volvo Group, but still retained 6,8% of its share capital and 17,5% of its voting rights, together with the position of controlling shareholder. In recent years, the Volvo Group has also established relationships with Samsung in Korea, Eicher in India and DongFeng in China.
Up until now, there has been very little perceptible rationalisation between Volvo, Mack, Renault and UD products. Some base engine commonisation was implemented in Volvo, Mack and Renault models, but this was cleverly concealed by differentiated labelling. However, during 2009, the group announced its "medium-heavy" global engine strategy, as the first sign that it was prepared to introduce some transparency to its rationalisation process. Subsequently, UD's new Condor series of 4×2 cruiserweight goods vehicles has appeared in the domestic Japanese and some export markets, powered by clearly-identified GH5 and GH7 manifestations of the Volvo global engine family, thus setting an important new direction for inter-group co-operation.
The October announcement takes this process to the next level. However, it also poses some interesting questions about the rollout of this strategy with regard to the cross-supply of brands between the three areas of responsibility. Although the published statement contains no hint of brands being restricted to their controlling geographic areas, the fact that Mack is clearly identified as "American", the EMEA territory shares responsibility for Volvo and Renault, and UD is firmly in the APAC camp, suggests that, with a more rationalised range of product, there is little logic in having them all competing equally for market share in each area of responsibility.
Currently, Mack shares the North American market with Volvo-branded product, UD has a substantial footprint in Africa, while Mack and Volvo also compete with UD in Australia. Then there are also interesting possibilities for Eicher and Dong Feng products outside of their home markets in India and China, and they have already established some independent export marketing structures outside of the Volvo Group.
How much of this is likely to change? It all depends on how Volvo intends to roll out this strategy. As Global Focus has pointed out several times in the past, merger and acquisition activities can only be justified in the long run by increased critical mass and reduced costs through asset sharing.
The trick is to avoid cutting the resulting group's historical marketing "cake" into more, and smaller, slices. Daimler Trucks' philosophy is becoming quite clear: it will use common structures wherever possible to sell and support its Mercedes-Benz, Freightliner, Western Star and Fuso ranges. This enables a "horses for courses" approach to be adopted in individual markets, cherry-picking the most suitable models from each range to obtain optimum collective group market coverage.
This approach is not always popular with all the constituent manufacturers in a global family, as it can result in quite rapid shifts in the fortunes of individual model ranges, and displacement of previously successful models by easier-to-sell alternatives from other house brands – sometimes through the influence of external factors such as differing currency exchange rates. The fully-integrated business model requires firm corporate discipline and direction from the top.
We will be observing Volvo's progress with its new strategic direction with considerable interest.
Global Van Update
Two issues back, we broke news of Nissan's new NV400 heavy panel van family, as an important component of the manufacturer's strategy to double its light commercial market share in Europe within the next three years. At the time, technical details were scant and we had to rely on information published for the Opel Movano and Renault Master siblings, which emanate from the common product platform that underpins all three manufacturers' European joint venture vans. To recap, "NV400" is the designation within Nissan's new nomenclature system for the model that used to be known as the "Interstar". Now, additional detail has become available, so we are able to fill in the gaps left in the previous news item.
Firstly, the NV400 is differentiated from its sibling competitors by a unique bonnet, front wings, headlights, grille and front bumper. The Gross Vehicle Mass range extends from 2,8 to 4,5 tonnes and the NV400 is available in three wheelbase lengths, four different overall lengths, three optional heights and has load volumes ranging from 8 m³ to 17 m³.
Bodywork choices include panel vans, combis, crew vans, box-bodies, tippers and dropsides, while chassis/cab units can be supplied for customised body fitment. As stated previously, this product family is available with a choice of front- or rear-wheel drive, the latter with single or dual wheels, and this has dictated the use of differing rear suspension layouts, according to the preferred drive and wheel configuration. Front suspension, in all cases, is by MacPherson struts, while an Electronic Stability Programme is standard equipment on rear-drive variants.
The common power unit on all models is a Renault-developed 2,3-litre four-cylinder, direct-injection diesel, which offers Euro-5 compliant ratings of 74, 95 and 110 kW (100, 125 and 150 hp), driving through six-speed manual or automated transmissions. Other features include automatic air-conditioning, automatic lights and wipers, daytime running lights, parking sensors, cruise control with speed limiter, trip computer, Bluetooth connectivity, and USB/ iPod playback. Options include a rear-view parking camera and an enhanced TomTom navigation system.
Meanwhile, Ford has also confirmed our earlier supposition that it is to build and market the European Transit van in North America from 2013. In order to do this, it will invest $US1,1 billion in Ford's Kansas City Assembly Plant, which will also cover preparations to build an additional shift of the next generation F-150 pickup at the facility. The Transit investment will include a new integrated stamping facility, located on an adjacent property in Liberty, Missouri, to turn out full-size body panels.
In the last issue, Global Focus reported on Ford's expected strategy of replacing its best-selling E-Series integral van on the North American market with a Transit derivative. This has now proved to be an accurate prediction, although it has also been reported that some E-Series body styles will continue to be available after the Transit introduction. It seems to make commercial sense that Ford will not completely abandon this 50-year-old design prematurely, despite the Blue Oval's increasingly successful adoption of the "One Ford" strategy, which includes the use of rationalised international products for as many global markets as possible.
The Great EGR vs SCR Debate Rages On …
As the global imperative for ever-lower emissions gains momentum, so technology has evolved to achieve the desired outcomes for diesel engines, while still progressing issues of possibly even greater immediate importance to vehicle operators – namely fuel consumption and technical reliability.
Quite early in the process, two distinct lines of thought developed; the first being to employ exhaust after-treatment, dubbed "Selective Catalytic Reduction" (usually abbreviated to SCR) in the trucking community. In addition to a Diesel Particulate Filter (DPF), which, as its name implies, reduced levels of Particulate Matter (PM), this employed injected urea-based Diesel Exhaust Fluid (also known as AdBlue) together with a SCR catalyst, to eliminate excessive levels of Nitrogen Oxide (NOx) from the exhaust system further downstream.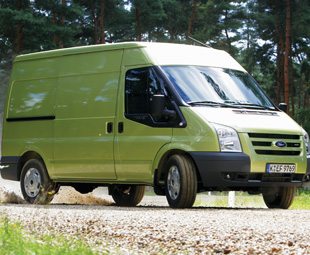 The major objections raised to SCR centred on the additional mass and complexity that was added to the vehicle by the urea-based fluid infrastructure, including a tank and a pump, and the need for the driver/operator to monitor and replenish the fluid, at a cost, when it dropped to minimum levels. This argument was used to promote an alternative technology known as "Exhaust Gas Recirculation" (EGR), where a proportion of the engine's exhaust gases were passed back through the combustion process for a second time.
The reduced oxygen content in the recycled exhaust stream resulted in lower combustion temperatures and reduced NOx emissions, but countered with an accompanying increase in particulate matter. The management of the latter problem was assigned to the particulate filter, which is also a fixture in EGR installations.
This is, of necessity, an extremely brief and simplified explanation of the two technologies. Suffice to say that both have their advocates and, up until now, most engine manufacturers have been able to choose their preferred route to meet First World legislative minima.
With the impending enforcement of more stringent Euro-6 emission standards for new truck models in Europe from 2013, however, it started to appear that engine builders would be obliged to use a combination of EGR and SCR to make the required step forward. Indeed, it is notable that the OM 471 engine that will power Mercedes-Benz' new Euro-6 compliant Actros incorporates both technologies.
For the record, the Euro-6 regime includes the following aspects that must be taken into account by vehicle and engine manufacturers:
• New world-wide transient and steady-state test cycles that include cold start and normal running temperature components. The transient cycle will be in two parts, one in which a cold engine is used, and a second following a stationary rest time;
• NOx emissions reduced by 80% compared to Euro-5;
• PM mass reduction of 66% compared to Euro-5, and the further introduction of a particulate number limit that will result in an overall reduction of 95%;
• Introduction of an ammonia emission limit;
• Inclusion of crank-case emissions;
• Enhanced emissions durability requirements of up to 700 000 km, or seven years, for the largest vehicles;
• A further enhanced On Board Diagnostic system performance.
However, not everybody has accepted the need to combine EGR and SCR to achieve Euro-6 compliance. Earlier this year, Italian manufacturer Iveco announced, quite firmly, that it could, and would, meet the required standard without resorting to EGR.  To do this, Iveco and Fiat Industrial group sibling engine builder, Fiat Powertrain Technologies (FPT), have developed advanced "SCR Only" technology which is claimed to achieve a NOx conversion efficiency of more than 95% – which is said to be about 10% better than previous industry best practice.
The philosophy behind this was to concentrate on optimising the engine's fuel economy, while keeping PM emissions at low levels and leaving an enhanced SCR process to deal with the NOx emissions.
In announcing its Euro-6 compliant Tector and Cursor engine line-up, Iveco has increased the swept volume of some Cursor models. Notably, the Cursor 8 has been replaced by the 8,7-litre Cursor 9, and the Cursor 10 has evolved into the
11,1-litre Cursor 11. Features of the new engine family include a single-box Zeolite-based compact SCR system, multiple-event common-rail fuel injection with pressures up to 2 200 bar, electronic control on variable-geometry turbocharger-equipped Cursors, flap-type engine brake valve, and closed-circuit engine breathing systems with high performance oil separation.
In the SCR system, AdBlue dosage is precisely controlled, and new after-treatment hardware has been introduced to produce the extremely high claimed levels of efficiency.
Iveco and FPT concede that EGR remains an appropriate technology for engines intended for a service life significantly in excess of 1 000 000 km, but have elected to concentrate on this optimised combustion and after-treatment strategy for the Tector and Cursor families.
---
Global FOCUS is a monthly update of international news relating to the commercial vehicle industry. It is compiled exclusively for FOCUS by Frank
Focus on Transport
December 2, 2011
Published by