Volvo's VM – a closer look
In his monthly review of global news for local truckers, FRANK BEETON discovers some fascinating new detail in Volvo's VM range for South America, speculates on the apparently limiting effect of Euro 6 on the power race, and brings the global Cummins story up to date.
In the October issue, we briefly mentioned Volvo's recently-announced, fourth-generation VM truck range intended specifically for Brazil and Latin America. We saw this as a further manifestation of the company's willingness to develop diversified products for important regional export markets. This is particularly significant given Volvo's potential aspirations to global market leadership once the intended partnership with Dongfeng in China is put to bed.
The original line-up carrying the VM designation was first introduced ten years ago, and has notched up some 42 000 unit sales since then. Subsequent to our previous coverage, however, more detail about the new VM range has come to hand, and this has revealed some very interesting specification content, which has made the subject well worth a second look.
As we reported earlier, the latest VM is a forward-control (cabover) truck, which, after production commences in December, will be available in 4×2, 6×2, 6×4, 8×2 or 8×4 configurations, with gross vehicle mass (GVM) ratings of up to 29 tonnes. The latest line-up has been expanded to include two four-axle configurations, which are intended for medium-distance concrete mixer, dumper and regional distribution applications.
The really interesting facet of the VM specification detail, however, is the extensive utilisation of bought-in components by a manufacturer who, more typically, uses a high percentage of aggregates from in-house resources. The bought-in items include diesel engines from MWM International Motores (a Navistar group company), six-, nine- and 10-speed transmissions from Eaton, Meritor rear axles, and Brazilian-manufactured SIFCO front axles.
Power outputs range from 164 kW (220 hp) to 246 kW (330 hp), and the engines are available in Euro-5-compliant form for sale in Brazil and Chile, and Euro-3-compliant versions for Argentina, Uruguay, Peru, Ecuador, Venezuela and other Latin American territories.
The abovementioned Eaton transmission line-up is supplemented by Volvo's own 12-speed manual unit, while the manufacturer's I-Shift automated unit is scheduled to be added to the catalogue from the second quarter of 2014.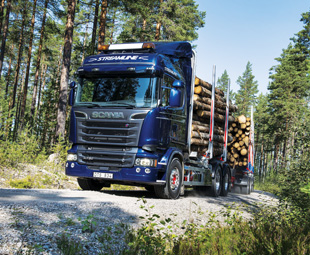 The VM cab has been adapted to incorporate new styling cues including V-shaped LED daytime running lights and more robust bumpers, which create a recognisable family similarity to the new European Volvo models, while the cab interior has been updated with new fabrics, patterns and panelling.
While reporting on the announcement of Volvo Bus Latin America's new front-engined B270F medium-sized bus chassis in FOCUS November, we were also surprised by the level of bought-in components appearing in that design. However, now that we have noted a similar strategy being employed for the VM, using essentially the same selection of Brazilian-based major aggregate suppliers, we can more fully understand the direction being taken by the Volvo Group in South America.
The importance of that market in volume terms, and its unique operational characteristics, has clearly justified the use of outsourced proprietary components that are acceptable to the local operating community. Clearly, the standard European pattern of truck design sophistication is not considered appropriate for that region, and Volvo has elected to follow the distinctive pattern of locally sourced components employed successfully by a number of other Brazilian-based suppliers. We believe that this is a significant development, and could hold important implications for Volvo's product planning for other global markets during the years ahead.
Has Euro 6 put the lid on the power race?
During the frenetic period of new product activity that preceded the final implementation of Euro-6 emission standards at the end of 2013, and also included the 2012 Hannover IAA Show, Global Focus indulged in considerable speculation around possible developments in the race for the "World's Most Powerful Truck" title. It seemed, at the time, highly likely that at least one European manufacturer would use the opportunity to overtake incumbent leader Volvo Trucks, as the 551 kW (750 hp) version of its FH16 flagship had assumed ascendency in September 2011.
For the record, the previous leaders of this race over the past decade had been: Scania's 537 kW (730 hp) V8 Series, introduced in April 2010; Volvo's 522 kW (700 hp) FH 16 with D16G engine, announced in September 2008; MAN's 500 kW (680 hp) TGX with D28 engine from 2007; Volvo's 492 kW (660 hp) FH 16 from 2006; and Mercedes-Benz "Black Edition" Actros, with 456 kW (612 hp) of
OM 502 power, launched in 2004.
Despite our insistent bleating, it didn't happen! One by one the new products appeared and the power race status quo was maintained. Significantly, even Volvo's own new FH Series flagship, launched with much fanfare in September 2012, only promised Euro-6 compliance with its 13-litre powerplant option, while offering the more powerful 16-litre FH model at the Euro-5 emission level.
However, during October, Scania duly announced the Euro-6 version of its 537 kW (730 hp) V8, and has claimed this to be the most powerful truck engine complying with this standard, suggesting that the Volvo D16G750 has yet to take the final step up in emission mitigation.
In this highly competitive environment, where virtually every European truck manufacturer had introduced radically new (or substantially revised) products, it seemed logical to expect the emergence of a new power race leader, knowing that such an achievement would have added considerable spice to the brand's promotional platform.
Although it was not really surprising that the 2014 European "Truck of the Year" title was awarded to the new Volvo FH, it was presumably left to the combination of ride and handling features, such as Individual Front Suspension and rack-and-pinion steering, to convince the judging panel.
It was also evident that the specification "packages" that were used by all European brands to achieve Euro-6 compliance had gone far beyond new engine technology to include the fine tuning of drivelines, aerodynamic aids, and reduced tare mass, in order to reach the required balance of low emissions coupled with acceptable fuel economy.
Thus it seems that progressing anywhere beyond the 550 kW (750 hp) threshold to new levels of developed engine power was tricky under Euro-6 parameters. The imperative for greater power outputs is also less critical in markets such as Europe, where most countries limit truck and trailer combinations to 44 tonnes all up mass, which can be quite easily handled by lesser power outputs. However, there are some individual markets, such as Sweden and Finland, which sanction domestic 60 tonne limits, while special operations under permit could gross up to 90 tonnes.
In Australia, on the other hand, multi-trailer road train rigs running on public roads in the outback can operate at up to 200 tonnes gross combination mass (GCM), but the current ADR 80/03 emission standard applicable in that country only approximates to Euro 5, so the compliant "old tech" engines with greater power outputs can continue to be sold until more stringent regulations come into force some time in the future.
We would still not bet against one or other manufacturer achieving Euro-6 compliance with a more powerful engine some time in the near future, but, in order to protect our damaged credibility, we won't put any timing estimates out there. At least, not for now!
Cummins's new engines
There was a time when proprietary, or "loose", engines were commonplace in the global truck industry. It was quite possible, back then, for a vehicle brand to offer a range of products, while hardly producing any of the hardware itself. There was a famous anecdote related to this subject credited to the late Henry Ford II. When discussing the Trans-continental heavy truck range that his company was marketing in Europe in the late 1970s, he was asked by a journalist to name which part of the truck was made by Ford. His response: "The profit!"
That situation was typical of the "kit truck" era, and the culture was particularly well established in the United Kingdom (UK) and the United States (US). UK engine specialists included the likes of Gardner, Perkins, Meadows and Rolls-Royce, whereas the US equivalents carried names such as Detroit Diesel, Caterpillar, Hall-Scott and Buda.
One name conspicuously absent from those lists is possibly the most famous engine builder of all: Cummins. Originally established in Columbus, Indiana in 1919, Cummins Inc. is globally recognised as a leading manufacturer of diesel engines, having opened its first offshore plant in Scotland in the 1960s. As a major supplier of diesel engines to numerous heavy-duty commercial vehicle manufacturers in the US and Europe, however, Cummins identified a potential risk to its traditional business in the emergence of global truck building groups, and their strategies of "vertical product integration", which progressively led to increased use of engines built in-house.
The company subsequently embarked on a new direction to exploit opportunities for heavy-duty engines in emerging markets such as China, Eastern Europe, Turkey and Russia, with their increasing levels of environmental awareness and tightening emission controls. In pursuance of this strategy, Cummins has subsequently established joint-production or technology-sharing alliances with Shaanqi and Dongfeng in China, Kamaz in Russia, Scania, Iveco and New Holland in Europe, and Tata Motors in India.
The second element of Cummins's new strategy was to increase its focus on products positioned lower down the mass and displacement spectrum, in both traditional and new markets. This took shape with the announcement, late in 2006, of a 50:50 Chinese joint venture, Beijing Foton Cummins Engine Company (BFCEC) Limited, which was set up to manufacture high-performance 2,8- and 3,8-litre ISF diesel power units for light trucks, pickups, multi-purpose and sports utility vehicles. BFCEC has subsequently also added the larger Cummins ISBe 4,5-litre diesel to its production programme, and is supplying engines to the domestic Chinese and export markets.
Back in the US, Cummins also supplies the diesel engine options offered by Chrysler's Ram brand in its full-size pickups. The rolling out of its revised corporate strategy has resulted in Cummins being able to offer a global automotive engine range spanning the displacement spectrum from 2,8 to 18,9 litres.
More recently, Cummins has announced the launch of a new global heavy-duty engine platform, the G Series. This takes the form of an in-line, six-cylinder diesel power unit, derived from the newly-launched QSM12 industrial engine, with displacements of 10,5 or 11,8 litres. This engine family incorporates a number of lightweight features, including a sculptured cylinder block with high levels of rigidity, as well as a sump and valve cover made from composite material, resulting in a mass of just 862 kg.
Other features include a high-pressure, multiple-event fuel injection system, single overhead camshaft, and roller valve train. Designated ISG11 and ISG12, the G Series units are available with on-road power settings ranging from 213 to 382 kW (290 to 512 hp), and torque outputs of up to 2 305 Nm.
Initial product availability is set for early 2014, when emission compliance to Euro-3 and Euro-4 standards will be available, while Euro-5 and Euro-6 versions will be produced later in the product cycle. Targeted applications for the G Series include long-haul, regional and vocational trucks, buses, coaches, fire appliances and recreational vehicles. Initial production for global markets will take place at the aforementioned BFCEC.
Cummins has also announced the development of the new ISV5.0 5,0-litre V8 diesel for North American pickup, delivery vehicle, medium truck, school bus and motor home applications. This engine is intended to be offered as an alternative to V8 or V10 petrol engines in these vehicle categories. Lightweight design features include a compacted graphite iron cylinder block, forged steel crankshaft, aluminium alloy cylinder heads, and composite valve covers.
The engine has a dual overhead camshaft layout, and uses high-pressure common-rail electronic injection, piezo injectors, a variable-geometry turbocharger, cooled Exhaust Gas Recirculation and Selective Catalytic Reduction to achieve EPA2010 emissions compliance. Available power outputs range from 149 kW to 205 kW (200 to 275 hp), and production is due to start in Columbus from the fourth quarter of 2014.
These recent developments clearly illustrate that Cummins is making substantial progress with its corporate strategy, despite the fact that the company remains a substantial player in the US heavy truck market, through its recently signed, long-term supply agreement with Navistar, covering engine supply and the provision of emissions after-treatment technologies.
There are also continuing "approved alternative" supply arrangements with PACCAR, Volvo and Daimler Trucks, as some of their clients still specify Cummins "red metal" in place of their own power units.
In the alternative fuel arena, Cummins has been associated with Canadian specialist company Westport in developing and marketing natural gas-fuelled versions of its engines since 2001. The expanded global footprint achieved through involvement in non-traditional geographic areas and market segments has also provided opportunities for growth. Cummins's future progress will be followed with much interest.
---
Global FOCUS is a monthly update of international news relating to the commercial vehicle industry. It is compiled exclusively for FOCUS by Frank Beeton of Econometrix.
Focus on Transport
December 2, 2013
Published by