GAVIN MYERS expected much from the new Vito, but a week with the 111 Tourer Pro only reinforced his initial impressions from the vehicle's launch …
Once known for its bulletproof vehicles, that were built from rock and designed to run forever, Mercedes-Benz sort of lost its way sometime just before the turn of the millennium. It's well known that the company took on a "profits above all else" approach to business, and, as such, its vehicles were worse-off for it …
During the last decade and a bit, the company has worked extremely hard at returning to its original values. The best build and material quality became non-negotiable and vehicles bearing the three-pointed star were again, more than ever, objects of stature and status; which is why I remain somewhat perturbed by the latest Vito – it has everything you'd expect from a modern Mercedes-Benz, and everything you wouldn't …
You'd expect it to look good – and it does. It is unmistakeably a contemporary Mercedes-Benz, and has a stately presence befitting a vehicle of its size – even with the black plastic bumpers of our Pro-spec test car.
You'd expect it to drive well, too – and it does. The 111 has the smallest engine offered at 1,6 litres. Nonetheless, once it gets into the torque band – above 1 500 r/min – it manages well, though steeper gradients and heavier loads will require extra shuffling of the notchy six-speed manual gearbox.
The 111 delivers 84 kW at 3 800 r/min and 270 Nm between 1 500 and 2 500 r/min. Mercedes-Benz claims you can expect fuel consumption of 7,9 l/100 km around town, but we managed a more realistic ten.
It also rides very well, quite softly, in fact – which might have been expected due to the fitment of independent front and rear suspension. It's also sure-footed on the road and visibility is good, aided by the wide mirrors.
You'd also expect the Vito to be packed with high levels of convenience and safety features. In addition to the expected anti-lock brakes and electronic stability program (adaptive, including trailer stabilisation), standard fitment includes adaptive brake lights, attention assist, crosswind assist and headlight assist. You also get heat-insulating glass, semi-automatic air-conditioning (in the rear as well) and full audio connectivity.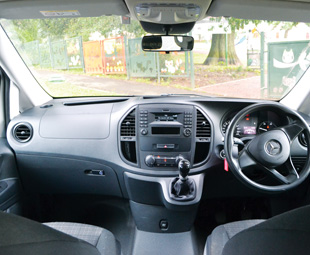 So, what wouldn't you expect? As with the launch vehicles (see FOCUS November 2015), our Vito test car had numerous squeaks and rattles emanating from behind the dash, the large sliding doors and rear rows of seats. The extensive use of hard, cheap-feeling black plastic also detracts from the "Mercedesness" of it all – though it does seem that it'll stand the abuse the car is intended to endure.
It somehow feels less substantial than its rivals. Even compared to its predecessor, the Vito feels as though it's been built to a budget. For a vehicle costing R546 984, that's not an appealing notion, though the 40 000 km service intervals and five-year/120 000 km service plan certainly are.
This is not at all to say that the Vito is a bad vehicle … but, considering its rivals from Hyundai, Ford and Volkswagen, it just reminds one of a Mercedes from the "profits above all else" era.
Focus on Transport
April 7, 2016
Published by