Workhorses gain sophistication
Medium Commercial Vehicles (MCVs) are precisely defined by the National Association of Automobile Manufacturers of South Africa (NAAMSA), as those with Gross Vehicle Mass (GVM) ratings falling between 3 501 and 8 500 kg.
Operationally, these MCVs offer nominal payload capacities of between 1,5 and nearly five tons, and fit neatly between the bakkies of the Light Commercial Vehicle category, and the heavier 4×2 trucks that make up the Heavy Commercial Vehicle segment between 8 501 and 16 500 kg GVM.
The daily range of duties carried out by MCV units is extremely diverse, and includes city, suburban and rural deliveries of fast moving consumer goods, providing support to public utilities, the construction and domestic maintenance sectors, passenger and casualty transport, staff transport, fast freight, truck rental and vehicle recovery. Fleet sizes vary considerably, ranging from one-man service providers, to huge, nationally deployed mixed fleets.
During the period of
its official existence as a discrete market category since 1988, the MCV segment has regularly led the entire local market for vehicles over 3 500 kg GVM. In the first quarter of 2000, its share of this market peaked at exactly 50% of the total, and although the trend has been gradually downwards since then, MCVs' leadership position only came seriously under threat from the premium payload Extra Heavy (EHCV) category from 2008. At the end of the first quarter of 2011, MCVs accounted for 36,5% of the total truck market, confirming the high level of importance attached to this class of vehicles by South African operators, and occupied second place in the overall rankings behind EHCVs, which held slightly more than 42%.
Currently, NAAMSA recognizes four segments in the MCV market, namely freight carriers, tippers, panel vans and buses. Unfortunately, the vagaries of the less than perfect eNaTIS vehicle registration system allow for the unrecorded aftermarket conversion of freight carriers into tippers, and vans into buses, resulting in a less than accurate statistical breakdown, but it is possible to determine that the MCV market is divided roughly in the ratio of 64:36 in favour of conventional light truck chassis types over integral panel-van derived models. The latter category, consisting mainly of European products, steadily increased its share of the total MCV market between its arrival in 1994, and 2007, whereafter the trend leveled out. The truck chassis category, mainly made up of Japanese and Indian sourced units, has experienced consistent growth in the absolute numbers of units sold, and has recently consolidated its share of the total market.
During the first quarter o
f 2011, nine manufacturers reported a total of 2 313 sales to NAAMSA in the MCV category. Leading the field as volume supplier was Mercedes-Benz, with 613 units, achieving 26,5% penetration. Of these, 493 were variants of the Mercedes-Benz Sprinter integral van family, while the balance of 120 units came from Mitsubishi Fuso's Canter range of chassis/cab models.
Second place overall was occupied by Hino Trucks, with a combination of Toyota-badged Dyna and Hino 300 Series models, all in the chassis/cab category, recording 552 sales for 23,9% penetration. Third place fell to General Motors South Africa, or, more correctly Isuzu Truck South Africa, which supplied 350 of its N Series chassis/cab units, to achieve a market share of 15,1 %, while the fourth-placed supplier was UD Trucks Southern Africa, whose recently refreshed range of chassis/cabs recorded 262 unit sales, for 11,3% penetration.
The balance of the sales, in order of magnitude, was divided between Volkswagen Group (224 units), Tata (196 units), Peugeot (59 units), Iveco (39 units), and Fiat Group (18 units). It should be noted that, for undisclosed reasons, Iveco has not reported any monthly sales volumes to NAAMSA since January, and Nissan SA has apparently abandoned participation in this market segment, having recorded its final sales in July 2010.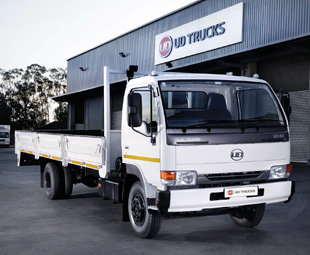 Historically, most MCV models have been extremely basic in specification and were perceived as "workhorses". However, it has recently become apparent that product offerings in this market category are gaining in variety and sophistication. Features such as all-wheel-drive, automated transmissions, electronic stability programmes and double-cab layouts have become increasingly common with each new range introduction.
This indicates that many MCV units are used to deliver services, rather than goods, and are driven by salesmen or artisans, who are not professional drivers. MCV-class vehicles also provide the point of career entry for many professional drivers, and the technology serves a useful purpose in guarding against mishandling and abuse. The trend towards greater sophistication is expected to become increasingly prevalent as we move deeper into the second decade of this century.
Focus on Transport
June 1, 2011
Published by