World truck market heads-up
In his monthly review of global news for local truckers, FRANK BEETON reveals some interesting global truck market statistics while defining South Africa's relative position, looks at Iveco's latest European cruiserweight, continues the story of Kamaz's Daimler-related developments, and bemoans the continuing local uncertainty surrounding the iconic International brand.
The subject of South Africa's standing in the global market for commercial vehicles often comes up in discussions about manufacturers' ability, or even willingness, to provide specific products to suit local preferences and conditions. Just recently, some interesting statistics were made public by market forecasting specialist LMC Automotive at its global truck conference held in London. These are useful in providing a world perspective.
LMC's volumes reflect the global market for trucks with a gross vehicle mass (GVM) above six tonnes, which does not line up perfectly with the local Naamsa reporting model, where we measure sales above the 3,5-tonne GVM breakpoint. Nevertheless, the approximation is close enough to allow readers to reach some meaningful conclusions on the subject.
According to LMC, the global market expanded from 2 496 000 units in 2012, to 2 553 000 units in 2013, resulting in year-on-year growth of 2,3 percent. The regional breakdown for the two respective years is reflected in the following chart:
Apart from refreshing our collective memory of the global pecking order, the above tables are of particular interest in that they clearly illustrate the negative year-on-year growth experienced in Europe during 2013, as well as the poor performance of the Indian market last year. The weak European sales volumes flew in the face of market stimulation provided by a prolific series of recent new model introductions ahead of 2014's full enforcement of Euro-6 emission standards. The outcome is clearly indicative of the magnitude of the economic challenges facing Europe at present.
The lackluster performance of the Indian market is also significant, given that global truck manufacturing groups have been lining up to enter that market in recent years, challenging the long-standing dominance of Tata and Ashok Leyland at home. Looking ahead, LMC reportedly believes that the total global market will grow to around 3,5 million units by 2018, driven by a recovering Europe (including strong Russian demand), and steady growth across all the other regions.
South Africa's position is that in 2013 (as reported in last month's FOCUS) the local market above 3,5-tonnes GVM surprised on the upside by growing by just more than 11 percent year-on-year, to reach a total of 30 922 units. This performance was well above the global average in terms of growth, but still only good enough for a
1,2 percent share of the global sales volume total, as reported by LMC.
While this is an improvement over global participation ratios as low as 0,5 percent, that have been reported in earlier years when the market has not performed well, it still gives South Africa very little leverage when negotiating for special consideration in vehicle specification makeup. This, in itself, supports calls for rapid improvement in local fuel quality, to free our manufacturers and importers from the trap of serving a market with growing expectations of vehicle sophistication, to address safety and productivity issues, while fuels with a sulphur content of 500 ppm are still the most freely available.
Iveco's latest Eurocargo
One of the most recent European new model launches, referred to in the previous article, was that of Iveco's Euro-6 Eurocargo. To set the historical background, the "Cargo" name entered the Iveco universe in 1986, when the company purchased a controlling interest in Ford's European commercial vehicle operation, and the series was rebadged "EuroCargo" in 1991.
In 2003, Iveco completed its buyout of the Ford CV operation, and replaced the capital "C" in EuroCargo with a lower case letter, simplifying the name of this important cruiserweight range to the current "Eurocargo".
The most significant change to the Eurocargo series in 2013 was the adoption of new Euro-6 FPT Industrial Tector diesel engines ("FPT" stands for Fiat Powertrain Technologies, the group's specialist power unit supplier). These come in four-cylinder 4,5-litre Tector 5 and six-cylinder 6,7-litre Tector 7 formats, occupying the output spectrum from 118 kW to 235 kW (160 hp to 320 hp).
The engines incorporate exclusive and patented Hi-eSCR technology, which uses adaptive AdBlue dosing according to exhaust gas condition, and an electronically governed exhaust flap to provide optimised SCR warm-up, as well as improved engine braking performance. These engines employ a
1 600 bar, second-generation common rail fuel system with multiple event injection, to improve fuel consumption and reduce particulate emissions.
The Eurocargo range covers the GVM spectrum from six to 19 tonnes, offering a choice of five-, six- or nine-speed manual, six- or 12-speed ZF Eurotronic automated, or five-speed Allison fully automatic planetary transmissions. Braking systems employ discs on both axles on 4×2 models, activated through air/hydraulic or full air control systems (the latter applies above the 10-tonne GVM mark).
Suspension choices include reinforced parabolic steel, semi-elliptical/air combinations or electronically controlled pneumatic springing. Specification options include enhanced vehicle stability control, hill hold, and hands-free telephone usage. The cab configurations include short day cab, low- or high-roof sleeper, or a six-passenger crew cab. The new Eurocargo, like its predecessors, will be built at the former OM site in Brescia, Italy.
Kamaz moves forward with Daimler partnership
The Kama Automobile Plant is Russia's largest indigenous truck manufacturer. Its Kamaz products are sold into a domestic market reported to be the largest in Europe. During 2013, Russian sales of commercial vehicles over 1,5-tonne GVM, including imported used trucks, ran at an annualised rate of around 285 000 units. Analysts have predicted that the category over six-tonnes GVM is set to reach a total of around
230 000 units by 2020, with the "mix" skewed towards the heavier end of the payload spectrum.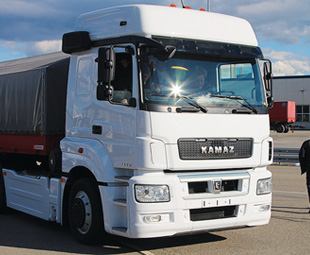 Late in 2008, Kamaz entered a strategic partnership with Daimler AG and, in June 2010, the German manufacturer and the European Bank for Reconstruction and Development jointly acquired 15 percent of Kamaz's total shareholding.
In June 2012, the relationship was expanded to include a licensing agreement covering the supply by Mercedes-Benz of Axor truck cab components to Kamaz. With its own outdated in-house cab design being overshadowed in its home market by European and American competitors, the Russian manufacturer had identified the need for an urgent interim solution, before developing its own more modern replacement.
Subsequently, the Kamaz 5490 prototype on-highway truck-tractor was exhibited at the Comtrans show in Moscow during 2011. This unit was fitted with the Axor cab, and was also equipped with a Mercedes-Benz 320 kW (428 hp) OM457LA Euro-5 diesel engine and a Daimler HL6 drive axle.
The show exhibit has subsequently evolved into a definitive model, designated M1842, after some remodelling of the Axor cab by a South Korean consultancy. One hundred pre-series vehicles have already been built and full production of this model is reportedly about to commence.
The short-term roll-out plan is to expand the M1842 base into a full range of three-axle tractors, tippers and chassis suitable for flatbed applications. Three cab derivatives, namely a day cab, a single sleeper and a high-roof double sleeper, are to be developed off the basic Axor design. The OM457LA engine (in 360, 401 and 428 hp ratings) and HL6 rear-drive axle specification of the 5490 prototype is to be carried over to all these variants.
The balance of the specification will include Kamaz's own ladderframe chassis and front axle, and WABCO rear air suspension. The Mercedes-supplied mechanical components are to be shipped in from German plants, but cab erection and painting is to be carried out in a new facility at Naberzhnye Chelny, as production ramps up. Transmission options from ZF include the 16S221 16-speed Ecosplit mechanical gearbox or 12-speed ASTronic automated unit.
Navistar – The good, the bad and the uncertain
Like many people in the South African truck industry, Global Focus continues to be puzzled by the uncertainty surrounding the fate of International trucks in South Africa. While we have reported extensively on the recent trials and tribulations afflicting parent Navistar International Corporation – which were mainly related to EPA2010 emissions compliance issues in North America with its MaxxForce diesel engine range – we fully understand the importance of securing the company's domestic United States market business as a first step in any recovery plan. However, we cannot rationalise the manner in which the International brand, which has been active in South Africa for nearly a century, was allowed to drift out of the local new vehicle market during the final quarter of 2013, seemingly with no explanation offered.
Navistar's recent litany of ill-fortune started with the termination of its long-running arrangement with the Ford Motor Company to supply PowerStroke diesel engines for the latter's F-Series Super Duty pickups and van models. This had run from 1982 to 2009, but was terminated after the settlement of a legal dispute between the two companies over quality and warranty issues.
Just prior to that settlement, however, the industry was abuzz with news that iconic yellow metal manufacturer Caterpillar Inc. had agreed to co-operate with Navistar on engine platforms, and the introduction of a Cat-branded vocational heavy-duty truck in the North American market. This resulted in the formation of a 50/50 joint venture, named NC², which was also intended to pursue global commercial truck opportunities overseas, with target markets identified as Australia, Brazil, China, Russia, South Africa and Turkey.
Shortly thereafter, plans also emerged for global cooperation with Jianghuai Automobile Company (JAC) in China. This recognised the growing importance of China as a market and manufacturing base for both trucks and engines, and provided for the consolidation and expansion of the Mahindra Navistar Automotives Limited joint venture in India, which had first been established in 2005.
However, in September 2011, there was a surprise announcement that NC² was to become a wholly-owned Navistar subsidiary, which, presumably, ruled out subsequent direct involvement from the Caterpillar company, other than its continued sourcing of the Cat-branded vocational trucks for the North American market and the offshore use of "Cat" branding on certain products – such as the series of International-built truck-tractors for the Australian market.
Subsequently, Navistar International Corporation also announced the sale of its shares in Mahindra Navistar Automotives Limited, and Mahindra Navistar Engines (Private) Limited, to its erstwhile Indian partner, Mahindra & Mahindra Limited. Thus, over a short period, a highly promising global expansion strategy seemed to have disintegrated, with only the JAC arrangement, covering the Chinese manufacture of Euro-5 MaxxForce engines, still in force.
There has been some recent good news from Navistar, however, in that two of its home grown products won awards at the American Truck Dealers Convention and Exposition held in New Orleans during January. The Cummins ISX15-powered International ProStar was named "2014 Heavy-Duty Commercial Truck of the Year", while the International TerraStar was voted "2014 Medium-Duty Commercial truck of the Year".
The former award endorsed Navistar's earlier decision to engage with Cummins on increased engine supply and the development of emissions countermeasures technology, while working towards full EPA 2010 compliance for its own larger displacement MaxxForce engine range.
The TerraStar is powered by Navistar's own MaxxForce 7 engine, coupled to an Allison Optimized 1000 Series automatic transmission, and was recognised by the judging panel of journalists for its rugged construction and specification durability.
There was also more positive news reported in that Navistar International Corporation had reduced its net loss from more than $US3 billion (R32,29 billion) in the 2012 financial year, to just $US898 million (R9,665 billion) in the year ending October 31, 2013. Unfilled firm orders also improved by 26 percent in the year-on-year comparison.
From a South African viewpoint, we noted that considerable confusion had arisen from the renaming of Navistar's local operation as NC² Trucks Southern Africa. This seemed to indicate that some form of Caterpillar involvement was imminent, but this did not materialise. At the 2011 Johannesburg International Motor Show (JIMS), a new range of cruiserweight MetroStar models, sourced from the erstwhile Mahindra International JV, was introduced with much fanfare. These models would have greatly expanded International's local market coverage, but the subsequent dissolution of the Indian JV seems to have put an end to this project.
In 2013, vehicle assembly at International's Apex facility was terminated, with no alternative arrangement in view. Finally, during the third quarter of 2013, local stocks ran out and the brand disappeared from the Naamsa reporting system.
At the time of writing, we have heard whispers of a comeback for the International brand, as part of a yet to be announced joint venture. As the weeks and months pass by with no concrete news, the task of re-establishing the brand locally will become more challenging. Currently, the dealer network is still functioning, and providing product support in the market with service and parts. However, without the availability of new vehicles to ensure brand continuity, prospects for maintaining this network and the key personnel needed to run it will, in our opinion, become increasingly challenging.
---
Global FOCUS is a monthly update of international news relating to the commercial vehicle industry. It is compiled exclusively for FOCUS by Frank Beeton of Econometrix.
Focus on Transport
March 2, 2014
Published by