Nissan South Africa is celebrating a quarter of a century of the Hardbody name in the country this year. To commemorate the occasion, it has introduced a special 25th anniversary pricing plan, as well as a six-year/150 000 km warranty as standard – on all NP300 Hardbody models.

But that's not all … Nissan will also release special edition versions of the iconic one-tonne bakkie as part of the celebrations. These 25th anniversary special edition NP300 Hardbody models will be available from September, with details of content and quantity to be confirmed closer to the time.
"Twenty-five years is a significant milestone in many instances in life, whether it is a birthday, coronation or marriage celebration," says Freddie Louw, chief marketing manager for the light commercial vehicle business unit at Nissan South Africa.
"In the car world, celebrating 25 years of a nameplate as iconic as the Hardbody is a truly glorious experience and we are extremely proud of the NP300 Hardbody's strong performance both locally and internationally over so many years."
Since the inception of the Hardbody nameplate in 1988, it is estimated that over 224 000 examples have made their way to South African owners, over 77 000 to government and at least 144 000 have been exported – taking the total number of locally built Hardbody bakkies to an estimated 445 000.
"The new class-leading warranty, 25th anniversary pricing structure and special edition NP300 Hardbody models strengthen the NP300 Hardbody's ties with purveyors of reliable, tough and durable bakkies," says Louw. "We salute the NP300 Hardbody and look forward to its continued success for years to come."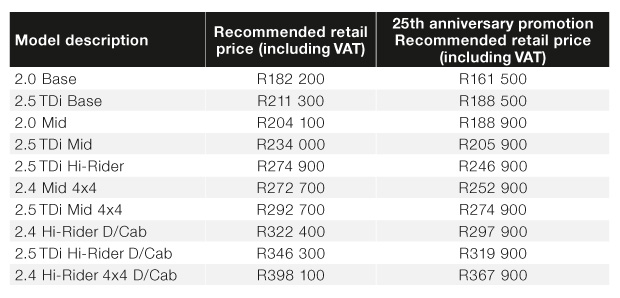 Focus on Transport
July 24, 2013
Published by