A feast of new (large) Eurovans
In his monthly review of global news for local truckers, FRANK BEETON updates the file on European integral vans, unpacks the stimulatory effect of the introduction of Euro 6 on aggregated European truck sales, details Volvo's new low-entry FE cruiserweight, and takes a look at some seriously low mass new truck wheels.
In last month's Global Focus, we reported on the anticipated ending of the van cooperative venture between Daimler and Volkswagen that has placed millions of Sprinters and Crafters on the roads of the world, since it was first established in 1995.
These two models form part of a wider category of products known generically as "large European integral vans". In recent years though, their popularity has spread beyond the borders of that continent to other regions, most notably North America, where they are now increasingly seen as a more attractive alternative to the equivalent indigenous products.
In that market, some of these vehicles have been adapted to suit American preferences with local branding and larger displacement petrol engines, while others retain their original nameplates and specification profiles.
Around half-a-million units in this product category are sold in Europe each year, making it a very substantial business indeed. It is also reputed to be highly profitable for its participants. It has also become fertile ground for cooperative ventures between various manufacturers, as evidenced by the highly successful Mercedes/Volkswagen partnership, because applications dictate that these vehicles all look very similar. This allows partners to enjoy the benefits of cost sharing through building products with varying degrees of commonality, but with little risk of losing individual brand identities.
This product similarity also leads to "bunched" launches and upgrades, as each brand strives to keep its siblings, or competitors, from gaining any marketing advantage from new features or specifications.
Mercedes-Benz introduced its upgraded Euro-6 Sprinter in mid-2013, followed at the end of the year by Volkswagen's Crafter at the same emissions level, and, during the past few weeks, we have noted a number of further newsworthy events.
Early in April, Iveco announced that it would be launching a totally redesigned, third-generation Daily in June, 2014. The Daily is unusual in this category, in that it is a stand-alone product and does not have any "badge-engineered" siblings.
Despite the fact that parent company Fiat also participates in this category, its Ducato van is a totally different product, with front-wheel drive, whereas the Daily has retained a rear-drive configuration since it was first introduced in 1978.
The new model will also retain the Daily's traditional ladder-frame construction, which facilitates the offering of a chassis/cab derivative for light truck applications, and it features improved handling and carrying capacity.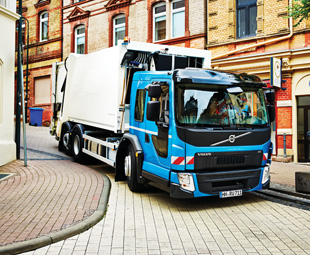 Reconfiguration of the wheelbase/length relationship has resulted in reduced rear overhang dimensions and a choice of 11, 18 and 20 m³ volume capacities. New suspension layouts have been developed for those derivatives with gross vehicle mass ratings up to 3,5 tonnes, as well as single rear wheel models.
A fuel economy improvement of more than five percent over the previous model is claimed, and the driver experience has been improved in the areas of comfort, noise insulation, interior ergonomics and improved air-conditioning.
Iveco has also said that there will be a number of spin-off minibus derivatives of the new Daily to suit urban and rural passenger transport operators. Production of this new Daily series will still be located at Suzzara in Italy, and Valladolid in Spain.
Fiat's Ducato will also emerge as a new sixth-generation product in July, 2014. Exterior styling is altered with a new grille and headlights, while inside there will be new trim, a tablet interface and more comfortable seating. Three versions of the 2,3-litre Fiat Multijet II diesel engine provide power outputs in a range from 82 to 112 kW (110 to 150 hp), with optional automatic stop-start technology.
Tare mass has been reduced through the use of composite materials in the rear suspension, while the feature list includes Bluetooth compatibility, digital radio, hill-hold, electronic braking assist, electronic stability with rollover mitigation, MP3 playback, reversing camera, satnav and five-inch colour touchscreen.
Options will include lane-departure warning, road-sign recognition, traction control and hill-descent control. The range will offer vans in eight load capacities, four lengths and three height dimensions, as well as chassis/cab derivatives.
As is generally known, the Ducato van shares much of its DNA with Peugeot's Boxer and Citroen's Relay (also known as the Jumper in some markets), these products being collectively known as the "Sevel Sud" family.
Peugeot recently announced its new front-drive Boxer specification in some detail and, in common with the latest versions of its two siblings, it features revised frontal styling. Similar qualitative and specification improvements to those previously noted for the Fiat Ducato are also claimed in Peugeot's announcement, but some additional design detail is revealed in respect of daytime running lights, a redesigned front scuttle, new sliding side door mechanisms and strengthened rear doors.
Power options for the Boxer range from Peugeot's 2,2-litre HDi engine, with outputs of 81, 96 or 110 kW (110, 130 and 150 hp), using a newly revised fuel injection system, to the 3,0-litre HDi developing 130 kW (180 hp). Design features of these engines include a four-cylinder layout, cast-iron cylinder block, aluminium 16-valve cylinder head and double overhead camshafts.
The more powerful 2,2-litre variants have specific piston cooling and engine control unit mapping, while the 3,0-litre power unit has a common-rail, fuel-injection system operating at pressures of between 450 and 1 800 bar.
The Boxer range occupies the market space between three and four tonnes gross vehicle mass (GVM), with a choice of three wheelbases (3,0, 3,45 and 4,04 metres), four vehicle lengths, and three overall heights, and panel van capacities ranging from 8 m³ to 17 m³. Chassis/cab variants are available with three-seat single or seven-seat crew cabs, and can be utilised for dropside, tipper, and a number of specialist conversion applications.
The other large European van grouping is led by Renault, with spun-off products sold with Nissan and General Motors branding. Renault's flagship van is the Master, and the latest restyled version had its world premiere at the 2014 Commercial Vehicle Show held in Birmingham, United Kingdom, during April.
The primary focus of the launch announcement was directed towards new 2,3-litre dCi diesel engines with outputs ranging from 81 to 120 kW (110 to 165 hp), The 100 and 120 kW (135 and 165 hp) versions are equipped with twin turbochargers, and are claimed to offer exceptional operating economy.
Safety features include electronic stability control with a load adaptive function, hill-start assist, grip enhancement in conditions of snow, mud or loose sand and a trailer sway mitigation function.
The Master range consists of more than 120 derivatives, in four lengths and three heights, including panel van (eight to 22 m³ capacity), crew cab, platform cab, chassis/cab, tipper, dropside and box-van variants. It is available with front or rear-wheel drive. Single rear wheel van variants can accommodate europallets within their confines. The new Master is to be built in Batilly, France, and will become available during the European summer.
Nissan's equivalent NV400 has a similar rake of improvements, but emphasis has been placed on a rationalised 2,3-litre turbodiesel fitment. Additional security equipment includes a deadlock, power rearview mirrors, alarm system, remote locking, and immobiliser. Rear drive models are standardised with dual rear wheels. New features include front electric windows, FM audio with MP3/iPod compatibility, USB/AUX socket with Bluetooth connectivity and cargo floor securing hooks.
Opel/Vauxhall also launched its latest Movano equivalent in Birmingham, highlighting two-year servicing intervals, in addition to a similar specification profile to its Renault and Nissan siblings. German introduction for this model is planned in the late European summer of 2014.
Euro-6 implementation stimulates European truck sales
Regular readers of Global Focus will have noticed the very substantial number of new and revised product introductions that were implemented by European truck manufacturers during the two-year period preceding the full implementation of Euro-6 emission standards in January 2014.
Some manufacturers introduced completely new product ranges and families during this timescale, while others made substantial technical changes to their line-ups.
The European Automobile Manufacturers' Association (ACEA), recently published statistics illustrating the stimulatory impact of these introductions on the combined European Union (EU) and European Free Trade Association (EFTA) countries during the 2013 calendar year, as compared to the immediately preceding twelve-month period.
The market for trucks above 3,5 tonnes GVM (excluding buses and coaches) totalled 313 766 units in calendar 2013, which exceeded the equivalent 2012 volume, of 295 455 units, by a margin of 6,2 percent.
However, the persistence of difficult economic conditions across Europe, during 2013, meant that some highly significant countries did not experience positive year-on-year market growth, despite the encouraging overall picture. These included Belgium, France, Germany, Italy, and Sweden, whose 2013 market totals declined by margins of 9,7 percent, 1,6 percent, 0,2 percent, 8,3 percent and 12,7 percent, respectively.
Deeper analysis of the ACEA data also revealed that much of the improvement in sales volumes was concentrated in the later months of the year, after a slow initial start.
In a direct comparison between the single month of December 2013, and the outcome for the equivalent month one year earlier, the margin of year-on-year growth for the combined EU and EFTA countries was no less than 118,1 percent. Outstanding single-country, three-digit growth performances in the same timeframe were recorded by Denmark
(223,1 percent), Greece (333,3 percent), Ireland (341,7 percent), Lithuania (203,7 percent), Portugal (280,1 percent) and the United Kingdom (219,5 percent).
It was interesting to note that new truck sales, in the comparison between the 2013 and 2012 calendar years, had their greatest concentration above the 16-tonne GVM breakpoint. In that heavy-duty sector, the measure of year-on-year growth was
8,3 percent, and the best performing individual markets were situated in Greece (55,8 percent improvement), Ireland (41,7 percent), the United Kingdom (31,1 percent), and Portugal (27,8 percent).
This outcome must have been particularly pleasing to those manufacturers that had made such enormous efforts and investments to create Euro-6 products that were also capable of producing improved operating economies, and the huge promotional efforts that had preceded their initial delivery to end-users across the continent.
Volvo's new low-entry FE
Following multiple new product launches over the past two years, Volvo Trucks has now added a low-entry, walk-through cab version of the FE series to its European catalogue. Last July, we detailed the latest version of this medium to heavy distribution specialist range, when it adopted the D5 and D8 units from the Volvo Group's global engine family.
This latest FE low-entry cab (LEC) derivative is aimed specifically at refuse collection and city distribution duties. It features low-cab entry (530 mm), flat floor, excellent visibility, and accommodation for up to four people – making it easy for crew to board and alight in multiple-stop operations.
Technically, the FE LEC is powered by the 7,7-litre Volvo D8K engine with output options of 185, 210 or 235 kW, (250, 280 or 320 hp), but it is of interest to note that the manufacturer is offering a choice of its own I-Shift automated transmission or Allison's fully automatic in this model.
In Europe, traditional practice has been to equip refuse collection vehicles with fully automatic transmissions, but Volvo is championing the use of its own automated mechanical unit in this case.
There is also a "kneeling" function built in to the front suspension, which can reduce the cab entry-step height by a further 90 mm when the parking brake is applied, although the abbreviated specification provided with the launch announcement does not disclose if this feature is associated with air or mechanical suspension.
Cab doors open to 90°, facilitating access and egress, and operational safety is enhanced through the provision of a comprehensive set of external mirrors and the availability of extra side windows behind the B-pillar and a reversing camera. Payload mass can also be displayed via an adaptor in the instrument panel. The LEC configuration is available in 4×2 and 6×2 formats, the latter utilising a steered trailing axle.
Alcoa's new wheel technology
Alcoa Wheel and Transportation Products of Cleveland, Ohio introduced its new Ultra ONE alloy wheel for heavy-duty trucks at the Mid-America Trucking Show held in Louisville, Kentucky, during March. The manufacturer claims this to be the world's lightest heavy-duty truck wheel, weighing in at just 18,1 kg, which, it says, is some 47 percent lighter than an equivalent 22,5 inch x 8,25 inch steel rim.
The Ultra ONE is also 2,3 kg lighter than the lowest mass wheel previously manufactured by Alcoa, and this has been achieved through the invention of a new alloy. Called MagnaForce, it is said to be 17 percent stronger than Alcoa's 6061, the previous industry standard.
Alcoa claims that the use of this wheel has the potential to reduce the unladen mass of a typical American eighteen-wheeler (i.e. 6×4 truck tractor and tandem axle semi-trailer) by 635 kg, although the benefit would be even greater for a typical South African interlink (26 wheel rims) or an Australian B-double (up to 34 rims).
The mass saving is particularly important in First-World markets, where emissions legislation has obliged truck manufacturers to add equipment, such as urea tanks, to their products. The lighter wheels are an important factor in restoring payload capacity within any given GVM or gross combination mass parameter.
Other benefits of alloy wheels include reduction in unsprung mass, which positively influences handling characteristics, corrosion resistance, aesthetic appeal and the fact that they do not require stripping and repainting. They also are easier to handle than heavier rims; a benefit that can be readily appreciated by anyone who has ever been obliged to change a truck or trailer wheel at the side of the
road!
---
Global FOCUS is a monthly update of international news relating to the commercial vehicle industry. It is compiled exclusively for FOCUS by Frank Beeton of Econometrix.
Focus on Transport
June 2, 2014
Published by