Khaki, kortbroek … and technology!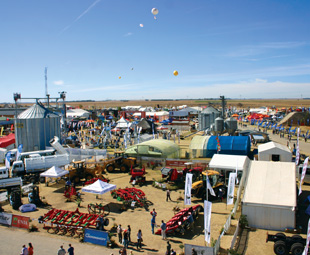 Particularly paradoxical. That's probably the best description of Grain SA's Nampo Harvest Day this year. On the one hand, some of the visitors looked frightfully sweet, all decked out in their khaki and kortbroek (short pants). Yet, as CHARLEEN CLARKE reports, Nampo 2014 was also about celebrating technology …
Nampo is a truly strange and wondrous thing. First up is its location: it's truly in the middle of nowhere. After all, tell most people you're going to Bothaville and their response is always the same: "Where?"
Then there is the almost magical success of the event. Visitors to Nampo are there to spend big bucks. As Malcolm Gush, general manager of truck sales at Volvo, noted wryly on his stand: "People are not going to travel all this way for no reason."
As such, visitors to the show haul out the chequebooks and collectively spend millions – each and every year. When you look at the visitors, they often don't look as though they're capable of spending millions (bedecked in their khaki and kortbroek). But,
of course, just wander over to the impromptu airport at the exhibition grounds and you'll soon learn not to judge a book by its khaki cover. Hundreds of farmers fly into Nampo in their own aeroplane or helicopter. Shame, the one poor chap who I chatted to had a real dilemma on the day of his visit. He simply couldn't decide whether to use his aeroplane or chopper …
No article on Nampo would be complete without mention of the food. Hand-written menus are plakked (stuck) up on the wall, advertising a variety of delicious fare – such as steaming hot vetkoek and jaffles. Just outside the showground is a pub called Die Moerse Lekker Plek (the very nice place). During Nampo show days, it bursts at the seams, with brandy and Coke sales reaching an annual high. The fights that occur, after a couple of hours of copious consumption, are legendary too. One day, the owner of the bar will almost certainly sell tickets.
But it's not all about fun and games and bliksemming the farmer from the next dorp. As already mentioned, Nampo is also about doing business – and it was very clear this year that the farming game is becoming more sophisticated.
As such, technology is integral. And there were plenty of technological innovations at Nampo this year. I even saw a tractor on the CASE stand that operated perfectly well … without a driver!
Naturally, the automotive industry was out in full force. Ford's stand was especially popular, because the company fired up the Ford Racing Dakar Ranger – as driven by Chris Visser in the 2014 Dakar in South America, every hour – the thunderous noise of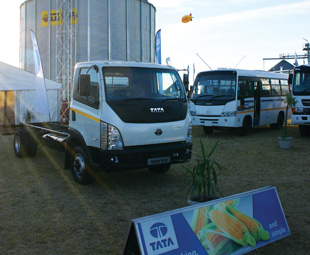 this V8-powered Ranger saw many a farmer chasing over to marvel. "The farming community is important to Ford, and it's important for us to engage with them," says Ford marketing manager, Gavin Golightly.
Ford launched its Ford Transit panel van and chassis cab at Nampo this year. The Transit is a new addition to the Ford fleet, complementing the existing Transit Custom and Tourneo Custom. The Transit will be available in three versions: bus, panel van and chassis cab, all of which will make use of the 2,2-litre Duratorq engine, seen in the Custom.
With a 13 790-litre capacity and 207 cm high load area, the Transit van can be the perfect transport partner, for either goods or people. In chassis-cab trim the vehicle can also be customised to fit a number of roles. "The new Transit is an exciting vehicle for us," says Golightly. "It marks an expansion of the Transit line-up in South Africa."
Scania launched its brilliant new fleet management system … talk about technological innovation. You can read all about it on page 44 of this issue of FOCUS.
UD Trucks was also, once again, out in full force at this year's Nampo, and the company used the opportunity to introduce new truck models. The first were the two new Quon GW26 450 6×4 truck-tractor models, which are available in a standard and high roof version.
"The new GW26 450 follows in the footsteps of the legendary UD 440 – a truck that cemented UD Trucks' ultimately dependable reputation in the market," says Jacques Carelse, managing director of UD Trucks Southern Africa. "The GW26 450 is a long
distance commodity mover, offering a comfortable ride, low noise levels, advanced safety features and a powerful engine that provides high levels of fuel economy and durability."
UD Trucks also introduced its new UD 90 ATM heavy commercial freight carrier, which is now available with an Allison automatic transmission for a more powerful, efficient and productive performance, as well as ease of driving.
Also on show was UD Trucks' versatile medium commercial vehicle (MCV) range of trucks, which has, over the years, built a strong reputation as some of the most reliable and durable trucks on the road. Although it may not be one of the newest models available on the market today, it has a very loyal following among some of the biggest operators in the industry.
"In this, its run-out year, the UD35, 40 and 40L will continue to prove their worth by saving owners considerable amounts on diesel, maintenance and running costs. And we believe that the UD Trucks MCV range ensures that operators get the best lifecycle costs from their fleet," says Carelse.
The UD team was thrilled with the response of visitors to its stand. "We are very pleased with the outcome of this year's Nampo Harvest Show, as we definitely had an increase in visitors, a lot of interest in our products and several solid leads," says Carelse. "We've also had extremely positive feedback on our new corporate branding displays and the layout and theme of our stand, which once again offered us the opportunity to welcome and host customers in true UD style."
Engen also had huge prominence at Nampo. It sponsored staff to man the gates and sell tickets at the show – something it's done for 36 years – so there were Engen flags everywhere! The company also launched a new 20-litre container for its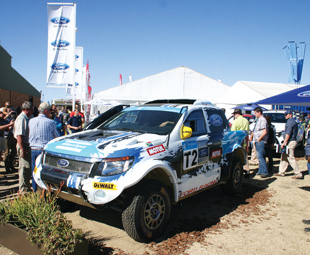 lubricants. "It will replace all current 20-litre pail variants – the 20-litre tin, jerry can and plastic round buckets," explains Paul Leask, agricultural lubricants sales manager at Engen.
While South African companies were extremely well represented at Nampo this year, it was interesting to see a number of international players there too. There was a substantial French contingent (ten companies), and an Indian tractor company called Escorts launched its Farmtrac range of tractors. They are available both in 2WD as well as 4WD variants.
Visitors came from America, Argentina, Brazil, Denmark, France, Hungary, Italy, Israel, India, Canada, Ukraine, Turkey and various African countries.
And they all converged on an unknown bit of farming land near the unknown town of Bothaville. Pretty incredible isn't it?
• Our Nampo coverage extends over the next ten pages. Read and enjoy!
Focus on Transport
June 1, 2014
Published by