Mercedes-Benz is gearing up to launch its very first premium double-cab bakkie and the visitors at Nampo this year couldn't hide their excitement
The two different concepts for Mercedes-Benz X-Class bakkie were displayed to Nampo visitors though a virtual reality preview.
Mpumelelo Zulu, X-Class project leader at Mercedes-Benz South Africa (MBSA), says visitors were very impressed with the preview and MBSA has already received several enquiries from people wanting to stay informed about its launch.
"This bakkie is part of Mercedes-Benz's 'going global' strategy. We have a strong presence in luxury cars, vans and trucks, but we also want to be noticeable in the pickup segment," says Zulu.
"Nowadays, a bakkie is much more than a workhorse – it is more utilitarian but has creature comforts that customers are used to in other vehicles. So, now we are going to move into the double-cab segment with the X-Class."
Zulu explains that the two concept designs of the X-Class displayed the different sides of the bakkie, which are separated only by customised accessories in order to fit the customer's on- and off-road needs.
Zulu says the reason why South Africa will be a major target market for the X-Class is because the country sells more than 100 000 bakkies annually.
"There are two unique selling points for the X-Class. First, it will be bringing a premium vehicle to the double-cab segment. Second, customers will be getting the Mercedes-Benz experience of luxury that no one else can offer. It's the first of its kind," says Zulu.
Zulu says MBSA was pleased to be able to show the X-Class to its customers in the agricultural sector, who are a big part of its target market. "The X-Class is especially equipped for farm work and farm family life. It's versatile in the sense that it will be able to carry sheep and bales, but you can still get the whole family to church in luxury.
"With the right accessories this vehicle will be at home on dirt terrain. It can pull a 1,1-t payload, and has a towing capacity of 3,5 t. At Nampo we were able to get some good insights into the accessories that our customers prefer when going off road, and we know we will be able to accommodate those needs," says Zulu.
Zulu says: "It was also important for us to be present at Nampo for the families that have versatile lives. The X-Class will work hard and play hard together with its owners.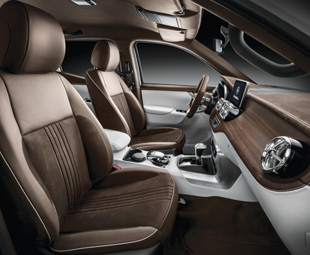 "Customers will be able to go off road without having to worry about the suspension and getting the vehicle scratched, while they will also be able to get from the office and home safely and in style."
The X-Class will be launched internationally in a couple of months and in South Africa in the first quarter of 2018. "Decisions on pricing have not yet been made and we don't yet have a market-share target.
"People think because it is such a luxury vehicle it will cost R1 million, but this is not the case. It will look like a million bucks, but it will be competitively priced. We want to go above and beyond what our competitors are offering," says Zulu.
The X-Class will be produced in two plants.
The one in Barcelona, Spain, will produce the vehicle for Europe, South Africa and Australia and the
plant in Cordoba, Argentina, will produce for Latin America.
Zulu says: "The X-Class will be tested in different environments and temperatures. It will need to achieve one million kilometres, as all of our vehicles do, before going onto the road. Testing has already started in South Africa and other countries.
"We are looking forward to the next Nampo, when the X-Class will be here to knock the agricultural community off its feet."
Focus on Transport
June 12, 2017
Published by