A greater selection of Volvo Euro-6 engines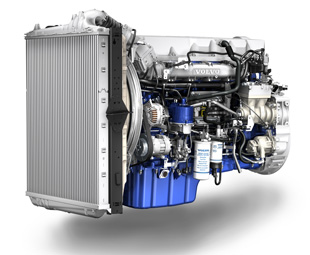 Volvo Trucks has introduced new Euro-6 engines for its vehicles ranging from the smallest medium-duty five-litre engine to a heavy-duty 13-litre variant. Starting in 2014, Volvo's trucks will also be available with a 16-litre Euro-6 engine and the I-Torque driveline for the 13-litre derivative.

The company has been selling Euro-6 engines since September last year, with a D13 unit providing 338 kW (460 hp) of power. But the arrival of its new D5; D8; D11 and D13 engines in June, makes its "green" powertrain offerings even more versatile.
"Our experience, gained from emissions legislation the world over, provided the input for our choice of fuel-efficient, cost-effective and less complex engine technology," says Astrid Drewsen, product manager for drivelines at Volvo Trucks. "We are very pleased with our Euro 6 offering, especially since environmental care is one of our core values."
In order to comply with the Euro-6 emission standards, Volvo came up with two solutions for its medium and heavy-duty engines using the company's tried and tested catalytic emission control Selective Catalytic Reduction (SCR) system. The SCR unit's catalytic coating and the AdBlue injection system have also been improved.
For the heavy-duty engine range – the D11, D13 and upcoming D16 – Volvo Trucks combines its SCR solution with non-cooled Exhaust Gas Recirculation (EGR) and a diesel particulate filter. As for the medium-duty D5 and D8 the company combines a cooled EGR system with a particulate filter and SCR.
"We know that total fuel economy is very important to our customers," says Drewsen. "And we have a combination of technology and service offerings that will be difficult for our competitors to match."
Focus on Transport
May 30, 2013
Published by