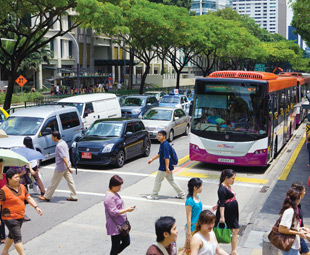 Rio Tinto's Alcan leads the way in light-weight, all-aluminium bus and coach body building.
Rio Tinto company, Alcan Extrusions and Automotive Structures, has developed the EcoRange system for lightweight, all-aluminium bus and coach body construction. Using standard structural components and bolted connections based on proven aluminium and composite design, this system is claimed to consist of a package of technical solutions and methods optimising the benefits of high-performance aluminium extrusions, aluminium panels and aluminium-bolted connections. In May, 2008, Alcan received an order from  Gemilang Coachworks in Malaysia for 500 EcoRange sets – to be built into low-floor city bus bodywork on Scania's K230UB chassis for SBS Transit in Singapore. These vehicles went into service during the ensuing two years.
In 2006, Rio Tinto Alcan signed a cooperation agreement with Volgabus of Volzhsky in Russia, leading to the construction of more than 400 buses using the EcoRange system. In April this year, Volgabus placed an order for a further 164 EcoRange component sets, which it will use to build two equal batches of new low-emission city buses for operation in Moscow and St. Petersburg. These 14.7 m, three-axle vehicles will be fitted with power trains consisting of Deutz 210 kW engines, with gearboxes and drive axles from ZF. The buses will be built in Volgograd for delivery before September 2010, and will each feature two aluminium roll-over safety rings and three passenger access doors.
Focus on Transport
June 1, 2010
Published by