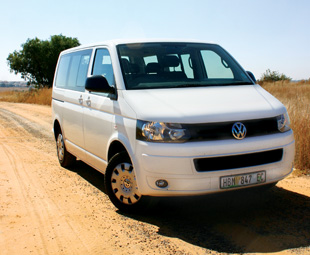 A Volkswagen Kombi can only mean sunny skies, smiles and serenity – GAVIN MYERS, and the rest of the FOCUS team, pile in to experience this themselves.
This year, the FOCUS team took a little road trip of its own, in Volkswagen's (VW's) T5 Kombi, down to the Nampo show in Bothaville. The 04:00 wake-up was countered with the allure of the open road and a day of fun in the hot Free State sun (see page 24).
The 450-odd km roundtrip allowed us the perfect opportunity to place the Kombi under long-distance scrutiny. Our model was the smaller 75 kW, 250 Nm, SWB version. That 2,0 TDI engine may seem slightly underpowered for a large vehicle (there is also a 103 kW, 340 Nm version), but the bulk of our highway cruising-speed trip was tackled in an unflustered manner.
Around town, too, the Kombi's power was more than adequate. It's also exceptionally fuel efficient, VW quoting 7,3 l/100 km on the combined cycle, which we easily matched.
This engine is mated to a five-speed manual gearbox that keeps it on its 1 500 to 2 500 r/min torque plateau in most situations; so there is enough urge in reserve for swift progress and easy overtaking.
From the driver's seat, the Kombi's big mirrors and generous glasshouse allow great visibility and ease of manoeuvrability. The big windscreen lets a lot of light into the cabin, meaning front occupants often contend with quite a glare and a lot of warmth. The driver is faced with a large, raked steering wheel and dash-mounted gearlever, while his seat is height adjustable.
Most fittings and features are within easy reach from the driver's seat, other than the controls for the eight-speaker MP3 radio. There are no remote buttons on the soft-touch steering wheel.
As an eight-seat people mover aimed at families and fleets alike, the Kombi needs to provide the expected levels of comfort and convenience, allied to durability and hardiness. The second and third rows of seats are made up of folding/removable benches, the former split 2:1 for easy access to the latter through the dual sliding side doors. Passengers in the second row are treated to an abundance of space, while things are marginally tighter out back in the SWB model.
Both rows also have their own air-conditioning vents and controls, roll-up sun blinds on the side windows and swivelling, roof-mounted reading lights. With the passenger compartment being quiet and well damped, with road noise penetrating only on very rough surfaces, it all adds up to make a very comfortable passenger transport experience.
Most touch points are relatively hard, but do not feel cheap or appear to be susceptible to scuffing. The floors are also PVC covered and, if you use your Kombi for the transport of goods instead of people, the 3 000 kg gross vehicle mass and 4 900 kg gross combination mass results in a 1 018 kg payload.
Volkswagen has taken passenger safety into serious consideration, kitting out the Kombi with: electronic stabilisation program (ESP) with brake assist (BAS) and hill-hold control, anti-lock braking (ABS), electronic brake-force distribution (EBD), engine brake control (EBC), traction control system (TCS) and electronic differential lock (EDL).
Four front airbags are also fitted and there are three-point seatbelts throughout. A worry is the position of the brake pedal, which is too high and slippery as well – one's foot can slip off while braking if you're not careful …
The VW T5 Kombi comes standard with a three-year/120 000 km warranty, a five-year/60 000 km AutoMotion maintenance plan, and a 12-year anti-corrosion warranty. Service intervals are also set at an impressive 15 000 km.
Priced at R434 900, this entry-level Kombi is a little more expensive than some of its rivals. Nevertheless, you get the impression it will last as long as every generation preceding it. Long live sunny skies, smiles and serenity.
Focus on Transport
June 1, 2014
Published by