Driverless tractors and highflying boere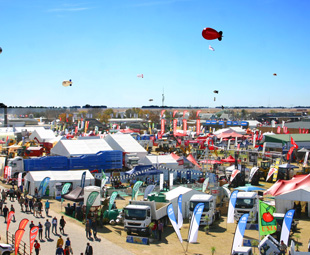 Grain SA's Nampo Harvest Day 2014 proved that the farming game is becoming more sophisticated … But don't take our word for it; see for yourself! A Nampo special will be aired on DStv's Ignition, channel 189, on June 14 (at 1:00, 11:00 and 17:00) and on June 15 (at 9:00, 15:00 and 21:00).
Until then, here's a short overview of what went down …
In her report back, FOCUS editor Charleen Clarke notes that Nampo truly is a strange and wondrous thing. "First up is its location: it's truly in the middle of nowhere. After all, tell most people you're going to Bothaville and their response is always the same: 'Where?'," writes Clarke.
The secluded location, however, isn't hindering the show's success. "Visitors to Nampo are there to spend big bucks. As Malcolm Gush, general manager of truck sales at Volvo, noted wryly on his stand. 'People are not going to travel all this way for no reason.'," Clarke adds.
And the boere (farmers) really do have their fair share to spend, as shown by the dirt airport nearby – which is covered by hundreds of aeroplanes and helicopters used by many of the farmers to fly into Nampo.
"Shame, the one poor chap who I chatted to had a real dilemma on the day of his visit," notes Clarke. "He simply couldn't decide whether to use his aeroplane or chopper …"
The show was teaming with some innovative technology, with Clarke witnessing a tractor on the CASE stand that operated perfectly well … without a driver!
Various automotive industry players also introduced some new products and services at the show. These included Ford (that launched its Ford Transit panel van and chassis cab) and Scania (that introduced a new fleet management system), while UD Trucks launched two new Quon GW26 450 6×4 truck-tractor models and its new UD 90 ATM heavy commercial freight carrier.
This year's Nampo, however, had too much to offer for this titbit report … Be sure to catch more on the agricultural trade show in our June edition of FOCUS and the DStv programme on June 14 and 15.
Focus on Transport
May 29, 2014
Published by