In his monthly review of global news for local truckers, FRANK BEETON details the latest version of Daimler's best-selling truck worldwide, describes the latest four-wheel-drive version of Navistar International's TerraStar, watches Daimler attack the Indian market, and evaluates emerging threats to Kenworth's position as Australia's leading heavy truck brand

When the world's Number One manufacturer of trucks introduces a new generation of its best-selling global product, it's time to pay attention! Last November, Mitsubishi Fuso Truck and Bus Corporation, the nominated light-duty truck competence centre for the Daimler Trucks Group, launched the eighth generation Canter into the domestic Japanese market. This followed the model's completion of Daimler Trucks' standardised development programme, spanning a period of four-and-a-half years, and 3,2 million kilometres of worldwide testing. The new Canter is claimed to be the first light-duty truck to comply with Japan's JP09 Long-Term Emission Regulations, and to have the lowest fuel consumption in its class.
Features of this all-new Canter series include the 3-litre Fuso 4P10 diesel engine with engine brake, driving through a Duonic dual-clutch transmission. Last year, when initial details of this M038S6 six-speed gearbox were released, it was claimed to be the first commercial vehicle application of a dual-clutch transmission, these units being usually found in high performance passenger cars. Highlighted features of the transmission, which is capable of being operated in both manual and fully-automatic modes, include a park facility, non-wearing wet clutches, and a low-speed creep/hill-hold function.
Although not confirmed as such in Daimler's launch announcement, it is suspected that the 4P10 engine fitted to the latest Canter may be the first manifestation of a long-term powertrain co-operation agreement signed between DaimlerChrysler (as it was then), and Fiat Powertrain Technologies, during June 2007. At the time, it was reported that the Fuso Canter light truck would be equipped with FPTs F1C diesel engine. The engine was described as a 3,0-litre common-rail unit, rated at 132 kW (177 hp) output at 3 500 r/min rotational speed, with a maximum torque rating of 400 Nm (295 lb-ft) at 1 400 r/min. The agreement called for an initial volume, from 2009 onwards, of some 80 000 engine units per annum, increasing into the future, and these were to be used in Canters supplied to the Japanese, European and other major markets.
The new Canter range was also launched in North America during March, 2011, prior to being rolled out in Europe, Australia and other international markets. This is the first time that the pet name "Canter" has been used by Mitsubishi Fuso in North America. Features being highlighted in the launch release include the use of urea-based BlueTec emissions control, incorporating Selective Catalytic Reduction and a Diesel Particulate Filter, the twin-clutch transmission, and the completely new interior and exterior design. The current Canter range, which is exported to many parts of the world, extends up to 8 tons Gross Vehicle Mass, and employs engines as large as 4,9 litres, developing 130 kW (175 hp) and putting out 530 Nm (390 lb-ft) of torque. It remains to be seen if the new 4P10 engine/Duonic transmission combination will be tasked to handle these heavier applications, or whether Fuso will continue to offer a larger engine option in some markets.
Now TerraStar Drives on All Four
In America, trucks that have some specific task other than the carriage of general freight are known as "vocational trucks", or "work trucks". At the recent Work Truck Show held in Indianapolis, Navistar added
a 4×4 version to its recently-introduced International TerraStar Class 4/5 model line-up. The TerraStar is powered by International's own 6,4-litre MaxxForce 7 V-8 diesel, which delivers 225 kW (300 hp) and 900 Nm (660 lb-ft) of torque, and is reportedly developed from the Power Stroke unit previously supplied to Ford for its F-Series Super Duty models. Compliance with the latest EPA10 emissions standard is achieved through the use of Exhaust Gas Recirculation, and the engine is built around a lightweight compacted graphite iron cylinder block. Power is transmitted through an Allison 1000 Series automatic with Shift Energy Management and Load-Based Shift Scheduling. These features optimise engine/transmission integration, and automatically select between "economy" and "performance" profiles according to the payload being carried and road grade conditions. Other TerraStar features include good visibility from a spacious three-seater cab, which can also be supplied in extended or crew configurations, tilting bonnet for ease of engine access, and a multiplexing electrical system to facilitate body and equipment control integration.
When the TerraStar range was originally launched one year ago in 4×2 format, observers noted that Navistar was moving decisively to fill any potential gaps left in the US medium truck market after the withdrawal of General Motors. Since initial launch in March 2010, this product has attracted orders for more than 2 000 units. Readers will remember that, following the events surrounding GMs entry into Chapter 11 Bankruptcy Protection in the US during 2009, there were negotiations with both Navistar International and Isuzu Motors concerning the possible sale of GMs medium truck business. In August 2008, the talks between GM and Navistar were terminated, and those with Isuzu ended less than a year later. Then, on 8 June 2009, GM announced the closure, by the end of July, of its medium-duty truck operations.
This left enormous uncertainty over the future of the US market for this type of vehicle. Isuzu Motors had been active in the US with its own truck products for a quarter of a century, selling around 30 000 of its own brand and "badge-engineered" Chevrolet and GMC trucks through more than 500 Isuzu and GM dealerships annually, and had become the market leader for low-cab-forward trucks during that period. It was predictable that other manufacturers would soon take advantage of any resulting gap, and Isuzu also had to move to secure its own position after GM stopped building its trucks in US plants. Subsequently the Japanese manufacturer formed a production alliance with American speciality vehicle builder Spartan Motors, and has made arrangements to continue sourcing Vortec six-litre V8 petrol engines and six-speed automatic transmissions from the "new GM" to satisfy the enigmatic US demand for this type of power train in its NPR series products. The disruption of this area of the US market caused by GMs withdrawal has not yet fully played out and will bear watching closely over the next few years.
Daimler's Decisive Indian Moves
Last year, Daimler AG sold its long-standing 5,34% stake in Indian manufacturer Tata Motors to groups of investors for a reported consideration of US$ 359 million. The German company had held shares in Tata since 1954 and was the technology provider for the initial range of indigenous commercial vehicles produced by the Indian manufacturer. However, Tata has subsequently pursued an increasingly more independent course, including the establishment of a diesel engine partnership with Cummins, the acquisition of Daewoo's South Korean medium and heavy truck manufacturing operations, and the establishment of engine sourcing arrangements with Iveco, the latter as part of broader corporate co-operation with Fiat. With the Tata relationship effectively over, Daimler has been moving progressively into the Indian commercial vehicle market for its own account. This process started in mid-2006 with the importation of heavy-duty Mercedes-Benz Actros tippers for sale to the Indian mining industry, and the setting up of an arrangement with Sutlej Motors Limited covering the provision of luxury coach bodies for fitment to rear-engined bus chassis. Construction was then started on a new commercial vehicle plant at Oragadam, near Chennai which is due to come on stream in 2012, and the Japanese-sourced Fuso truck range was introduced to India at the beginning of 2010.
With this as background, Daimler has now announced that it will sell its medium and heavy trucks in India under a new brand – BharatBenz. This will become the fifth brand in the Daimler Trucks portfolio after Mercedes-Benz, Freightliner, Mitsubishi Fuso and Western Star. The use of this generic brand name will allow Daimler to select appropriate models from its various international product ranges to suit Indian conditions. It is reported that the light-duty segment will be covered by Fuso's Canter platform, while heavier vehicles will be drawn from the Mercedes-Benz catalogue. Local Indian production of BharatBenz trucks is due to commence at the 160-acre Chennai site during 2012, following an investment of some €700 million in brand, product, facility and aftermarket services development.
Kenworth Under (Australian) Threat?
Last December, Global Focus unpacked PACCAR Group company Kenworth's most recent efforts, through its extensive 2011 product range, to safeguard its long-running dominant position in Australia's "heavy duty" truck market segment for vehicles over 15 tons GVM, which is roughly equivalent to South Africa's "Extra Heavy" category. Much of Kenworth's success "down under" can be ascribed to its local manufacture of unique models, recognising Aussie trucker's preferences for American driveline aggregates, while also closely conforming to local operating requirements and the specific regulatory environment. This successful strategy was typified by the continuing evolution of K-Series cabover (forward control) models since 1971, despite the almost total absence of US market demand for this configuration.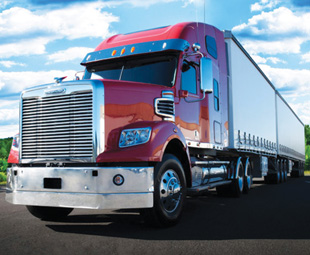 Inevitably, long-term success always attracts the unwelcome attention of potential challengers. Kenworth has worked extremely hard to protect its reputation by providing the levels of product support demanded by its Australian customers, and its continuing dominant position in this most challenging of market segments is testament to its success. However, other global truck manufacturers will be bringing enormous resources to bear in an effort to unseat the current market leader, and it comes as no surprise that one of these is the global Number One, Daimler Trucks Group. After failing to achieve the desired level of success in the Australian truck market with European product offerings, this all-powerful alliance is now employing a more flexible approach, increasingly through the promotion of its Asian and American product lines, Mitsubishi Fuso and Freightliner.
Freightliner products fit well with Australian preferences, and the latest Evolution version of the Argosy cabover has undergone numerous detail revisions to enhance its local sales performance in length-sensitive B-Double applications. However, many Aussie operators still prefer bonneted "conventionals" where they can fit overall length limitations, and Freightliner's latest Coronado has been developed to exploit this niche. The specification profile includes "OH" on-highway and "SD" severe duty versions, and a host of power options, including the Detroit Diesel DD15 member of Daimler's global engine family, with outputs ranging from 373 to 418 kW (500 to 560 hp), or outsourced Cummins ISX and Signature power units with ratings from 362 to 448 kW (485 to 600 hp), the latter with torque delivery up to 2 279 Nm (2 050 lb-ft). Initial transmission options include manual or AutoShift versions of Eaton's 18-speeder, with the more advanced UltraShift Plus reportedly on the planning horizon, and other features include optimized 50°C ambient cooling, one-piece moulded fiberglass forward tilting bonnet, aerodynamic mascot (no kidding!), stainless steel grille, trapezoidal headlights, lightweight aluminium cab in day, mid-roof and raised roof sleeper configurations, optional driver's airbag, and EzyRider seats. The Coronado rides on Meritor axles with optional load capacities, suspended on parabolic taper leaf springs at the front, and a choice of air or steel suspension at the rear bogie. Gross Combination Mass ratings top out at 106 tons for the OH model, and 140 tons for the SD version.
Daimler is not the only rival covetous of Kenworth's position. Ever since the demise of the original International Harvester Company in 1986, and its replacement by Navistar International and the International Truck and Engine Corporation, International trucks have maintained a greatly diminished
presence in Australia, compared to their earlier pre-eminent position. In 1992, Iveco Trucks Australia acquired the local former International Harvester assets, including the well-established distribution network, and the rights to its indigenous ACCO range of trucks. ITA also assumed responsibility for the distribution of US-sourced International trucks, but the range offered was carefully balanced so as not to disadvantage their European stablemates. However, the recent establishment of the NC² Global LLC joint venture by Navistar International and Caterpillar, and its nomination of Australia as a target market for trucks, brought this arrangement to an abrupt end. It was also announced that NC² would establish a truck assembly facility at the existing Caterpillar manufacturing site located at Tullamarine, Victoria.
There is no doubt that NC² is after a substantial slice of the Aussie market, and it has wasted no time in launching the first two Cat-branded models into the fray. These CT610 and CT630 bonneted 6×4 units can be seen as "interim" products, because their C13 and C15 ACERT engines comply with the superseded ADR 80/02 emissions standard, and for this reason, only vehicles that had been built to this standard since production start-up at Tullamarine in June 2010, and completed before the end of that year, can be released into the market. However, with the level of commitment already being shown, no-one doubts that their fully ADR 80/03 compliant successors will not be far behind. The CT610 specification includes a 350 kW (470 hp) engine output, Eaton RTLO-18918B 18-speed manual overdrive transmission, Meritor RT46-160 rear bogie, 6,5 ton front axle, steel/air suspension package, 4 445 and 5 150 mm wheelbase options, and 57 ton GCM. Its CT630 "big brother" features 410 kW (550 hp) output, Eaton RTLO-20918B 18-speed manual overdrive gearbox, the same Meritor front and rear axle set and suspension media, four wheelbase options ranging from 4 750 to 5 560 mm, and GCM ratings up to 90 tons.
The Australian media interprets the target market for the CT610/630 lineup as regional single semi-trailer, truck and "dog" (drawbar trailer), and linehaul B-Double (interlink) applications, within the usual overall length limitations of normal control chassis. However, the implied potential for Cat to spread the influence of the NC² alliance much deeper into the Australian heavy duty segment, and possibly beyond, is clear for all to see. The business model followed by the likes of Kenworth to secure dominance of this segment requires no rocket science – it revolves simply around offering the appropriate products and levels of support, and NC² has the advantage of starting almost from a clean sheet of paper. Add to that Asian JVs in China, with Jianghuai Automobile Company (JAC), and in India, with Mahindra International, and a stated intention to manufacture and sell on-highway trucks in Brazil, China, Russia, South Africa and Turkey, as well as Australia. The widely-held expectation that Cat would bring its extensive distribution and dealer network, created and developed to support its world-renowned earthmoving equipment, to the table, has proved to be well-founded. In markets such as Australia, this prospect is even more attractive given Caterpillar's recent history as a successful proprietary diesel engine supplier to the road transport industry. Let the battle commence!
---
Global FOCUS is a monthly update of international news relating to the commercial vehicle industry. It is compiled exclusively for FOCUS by Frank
Focus on Transport
May 2, 2011
Published by