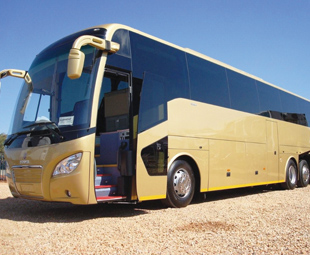 Scania has won a prominent position in select bus and coach markets across the globe, including South America, Europe and the Far East. The manufacturer's phenomenal local successes are largely responsible for Southern Africa rapidly becoming another of Scania's key markets.
Robbie Virgili, national sales manager for the bus and coach division of Scania Southern Africa, says that Scania won the tender to supply 143 buses to Johannesburg's bus rapid transport (BRT) for very specific reasons. It could be relied upon to deliver Euro 4-compliant products in record time and offer exceptional after-sales support.
Together with its body-builder partners, Scania offers prospective customers a wide variety of luxury coaches, inter-city coaches and rural buses. "And all our new bus chassis have the latest electrical platform, as found on our P-, G-, and R-Series trucks,"  Virgili explains.
One of Scania's most exciting bus and coach projects is the new Higer luxury coach. This new product is manufactured and assembled in China at a plant fully equipped with Scania tooling and staffed with Scania personnel to ensure a quality product worthy of the brand. The Higer is part of Scania's one-stop-shopping concept, enabling customers to source a ready-made luxury coach of the highest quality within a much shorter delivery time.
"Wherever the Higer coach is exported, local Scania dealers will stock spare parts and accessories for the coach body such as windshields, windows and mirrors, as well as for the chassis and engine. This will ensure optimum up-time for customers and operators everywhere," says Virgili. "At Scania Southern Africa we are striving to offer a one-stop shopping concept, where we do the whole deal for the client," he continues. "We can already offer the client finance and insurance from Scania Finance, repairs and maintenance, driver training and a wide range of chassis to choose from. The natural next step is to offer a complete coach entirely backed by Scania. Our goal is to be able to offer our clients the convenience of having bus-body issues attended to at any one of our depots through out the country with the same ease as they would when servicing the engine."
Scania's clients are eagerly awaiting this latest addition to the manufacturer's stable.
"Driving this coach is a whole new experience," explains Tony Vukman, owner of Kaylin Tours. "The Higer has a rear axle turning mechanism that extends the life of a coach's tyres and makes turning in city roads much easier. The handling is great on long- distance trips because a driver has the choice between automatic and a manual gearbox; the tip-tronic function means that the clutch does not have to be engaged to change gear, which makes driving much easier."
Says Sonja Le Roux, managing director of local coach and bus operator, Coachman, "We await the arrival of Scania's new Higer luxury coaches with eager anticipation. Our mouths are watering at the prospect of supplementing our existing luxury fleet with the two Higers we have on order. Because we already have Scania coaches in our fleet we know the manufacturer is reliable, its products excellent and its back-up service unparalleled."
Izak Coetzee, sole owner of Future Coaches, agrees with Le Roux's assessment. "The foundation of any good operator is business integrity, client service, honesty and a quality product. We strive to give our clients the best service possible and rely on the team at Scania to help us achieve this goal."
Tour groups spend a huge portion of each day travelling between airports, hotels and tourist destinations. "Coach transport is not just a way of moving between two points, but part of the overall travelling experience," explains Coetzee. "From our perspective, the new Scania Higer 48-seater makes each trip an unforgettable experience for our clients."
Focus on Transport
February 1, 2010
Published by