A truck so smart it almost has eyes …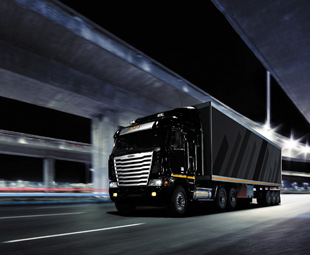 The Freightliner division of Mercedes-Benz South Africa (MBSA) Commercial Vehicles introduced its new generation Argosy to customers amid great pomp and splendour in the dunes of Swakopmund in Namibia in February.
Freightliner has been a leading force in long-haul trucking in South Africa since 1996, and has been a consistent top seller in the over 400 horsepower 6×4 truck tractor market in recent years. The American brand has had success in its market segment due to its low un-laden mass, spacious sleeper cabs and proven heavy-duty drivetrain.
Known for its apt 'Run Smart' motto, the Freightliner offers performance excellence by maximising the payload while also lowering overall cost per kilometre due to exceptional fuel economy, ease of maintenance and long term reliability.
"Our vehicles are not only cutting edge in terms of technology, comfort, safety and fuel efficiency – we are also leaders in sustainable mobility solutions," says MBSA vice president for Commercial Vehicles, Kobus van Zyl.
Freightliner product manager Duncan Prince adds: "We are constantly looking at innovative ways to make our exceptional products even better. One of the most significant changes in the new generation Argosy is the inclusion of the Eaton Fuller Ultrashift plus transmission."
The new transmission is available in 13- or 18-speed configuration. "Benefits of Ultrashift plus includes a two-pedal instead of a three-pedal set up," says Prince. "This means the truck driver is not required to control the clutch on pull away."
A gradient sensor allows the truck to determine whether it is on a gradient or flat surface, and automatically defaults to an appropriate starting gear to pull away so the truck can get up to speed with as few gearshifts as possible – but not at the expense of clutch life.
"This effect of this," says Prince, "is that the truck now almost has eyes, allowing it to see the road. It computes gradient, accelerator position and available engine power, then selects the most appropriate gear for the prevailing conditions. The new transmission shift logic is much smarter than anything we've had up to now and makes better decisions as to what is the optimal gear shift option."
The end result for the truck owner is lower wear and tear as well as more efficient fuel consumption, even with an only partially-skilled driver at the wheel. Faster gear shifts also conserve momentum, which in turn conserves fuel.
Dynamic braking is also improved by the new transmission. "When the truck is running against the engine brake, the Ultrashift plus transmission raises the engine shift downshift by about 20 r/min over the existing transmission, offering 15 to 20 percent more usable braking capability," says Prince.
The New Generation Argosy has an ergonomic new cab, offering more comfortable, high-back seats and better insulation to give drivers a quieter ride and more protection against temperature extremes on the long road. A new high-tech grille increases airflow to the engine compartment. Electric windows, previously only available on premium models, are a standard feature.
All Detroit Diesel Series 60 models of the new generation Argosy come with a 5-year, 800 000 kilometre warranty at no additional cost. "The extended warranty as standard execution is a clear commitment by Detroit Diesel to their product in South Africa," says Prince.
Focus on Transport
March 1, 2012
Published by