Acknowledging the ambassadors of the road
Bus and truck drivers need to be able to do so much more than just physically drive their vehicles. They need to be competent on many levels. Scania knows that a properly trained and motivated driver can significantly reduce a vehicle's operating costs. That's why the company established its driver competition back in 2003.
Scania's driver competition is an international one with a sub-Saharan Africa component, project managed by Gideon De Swardt of Scania South Africa. The competition is once again taking place this year, with eight preliminary rounds between May and September, and then a very exciting national final, scheduled for October at the Nasrec grounds in Johannesburg.
The preliminary rounds will be divided according to regions: Cape Town, Free State, KwaZulu-Natal, the North-Eastern region and Gauteng will make up the South African regions. There will also be three cross-border regions: Namibia, Botswana and Tanzania.
In the past, the competition was open only to Scania truck drivers, but this year it is open to both truck and bus drivers of all brands. Drivers can enter in one of two ways – either online on the Scania website, or by filling in a form and questionnaire that can be obtained from any Scania dealer.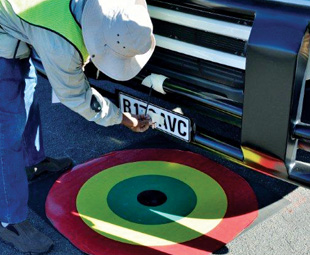 There will be two substantial prizes up for grabs – one for the winning driver, and one for his (or her!) employer.
De Swardt explains: "The competition's main purpose is to honour the driver. However, it also highlights the fact that a healthy, well-trained and motivated driver can influence up to 75 percent of a vehicle's total operating costs. If he knows how to operate a vehicle within its designed parameters, the driver can improve fuel consumption, reduce wear and tear on tyres and brakes, bring down insurance premiums due to fewer accidents, and, of course, optimise the vehicle's uptime."
Alexander Taftman, product and marketing director, Scania South Africa, adds: "The slogan for this competition is: 'Can you do more than your vehicle?' Our aim is to educate drivers, and the industry in general, about the importance of a driver being able to 'read' their surroundings and foresee potential hazardous situations, and then know how to react should these situations arise.
"Drivers in South Africa face many challenges – heavy traffic volumes, poor road conditions and knowing what to do if they are the first to arrive at an accident scene, or when they are approaching a vehicle that is on fire. They also need to know how best to ensure their own safety, as well as that of their cargo and other road users."
In South Africa, truck drivers are not respected the way they are in Sweden, for example. Taftman concludes: "These guys have a dangerous job and they sacrifice quality time with friends and family to work long, lonely hours. This needs to be recognised and rewarded."
Focus on Transport
May 22, 2014
Published by