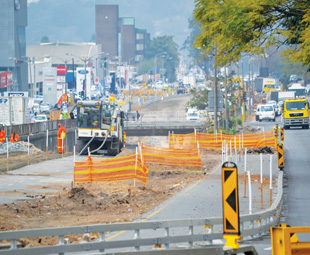 The KPMG saga has stirred up a hornet's nest, which gives me the opportunity to bring public transport into the debate
It isn't only accountants and auditors who need a wake-up call. Developers put up 40-storey buildings and expect everyone to travel to and from them by car. Engineers pour concrete all over the country in the form of wider roads and unnecessary rail projects.
Lawyers draw up contracts for oversized locomotives and buses, and useless websites are published that attempt to inform commuters when the next bus is going to arrive.
It's time we realise that South Africa is in junk territory, and that an almost superhuman effort is required from all citizens. Leaders in all disciplines should be doing far more to ensure that our limited resources are spread more evenly throughout society. Waiting for someone else to do it is no longer an option.
Some history: a report from the Durban City Council dated November 8, 1974, and signed off by the heads of two departments – the city treasurer, Ossie Gorven, and the general manager of the transport department, Noel Flanagan – was entitled "Joint report on the financial and technical implications of re-introducing electric trolley buses on Durban services".
It was a response to pressure from a small group of people – called the Movement for Improved Passenger Transport (MIPT) – to have the re-introduction of trolleybuses investigated properly.
The report found that it would cost between R38 000 and R115 000 per kilometre to put up overhead wires and the associated power supply, depending on the area. The report assumed that 742 km of routes would have to be electrified, giving a then staggering figure of R68 million (but only R4,1 billion in today's money).
Compared with the R22 billion being spent on Go!Durban, it would have been a bargain. MIPT never suggested that the entire city should go electric, but, perhaps it should have!
Fast forward to 2015 – KPMG produced a report "to determine the impact that the Gautrain system has had on the Gauteng province". Ominously, it stated: "…this study will support (the Gautrain's) plans to extend the services of the Gautrain".
The report stated: 21 000 car trips eliminated, property values up by R18 billion, a 52-percent reduction in carbon footprint and R6 billion "added" to the provincial economy. Even if these statistics are correct and relevant (which I doubt), they do not support Gautrain expansion.
I would rather believe a more recent Masters' thesis by Nobuhle Shange on the topic "Is … public transport … failing the poor: A … case study of Johannesburg", dated May 2017. Awarded by a Czechoslovakian university (once again, where are our local universities?) her thesis concludes that the Gautrain has merely "perpetuated inequality".
Here's a chance for KPMG to partially redeem itself. Don't donate R23 million to charity, rather do an unsolicited investigation into the feasibility of electric trolleybuses on the Moloto road, north of Pretoria.
The Passenger Rail Association of South Africa (PRASA) needs to cancel the R57-billion "loan agreement" with a Chinese bank to finance the development of the Moloto Rail Development Corridor (The Citizen, October 2).
A duo-trolley service will do a better job at much lower cost. And if we really need to keep the Chinese happy, we can buy the trolleybuses from them.
---
Vaughan Mostert lectured on public transport issues at the University of Johannesburg for nearly thirty years. Through Hopping Off, Mostert leaves readers with some parting food for thought as he continues his push for change in the local public transport industry.
Focus on Transport
November 19, 2017
Published by