This tractor will not twist your neck
While it might not be the tractor readers of FOCUS are generally used to, we thought the innovation behind this particular model was too good to not share…
German commercial vehicle converter, Paul Nutzfahrzeuge GmbH, has premiered its custom-made and practice-oriented, agricultural-vehicle solutions at the Agritechnica 2017 show in Hannover – one of which is this special Deutz TTV 9340 Agrotron large agricultural tractor.
You may have noticed from the pictures that the complete driver's cab of the vehicle can be hydraulically lifted, lowered and turned clockwise up to 200°!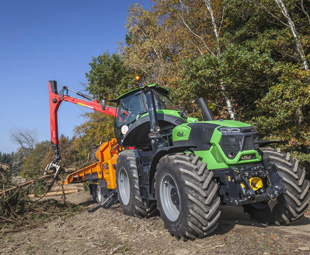 The tractor's hydraulic lifting and rotating system – a completely new development – offers numerous advantages, especially in that it combines value for money with a level of performance that compares with much more expensive, special machines.
The new lifting and rotating system provides a major safety advantage, relieves the operator and increases the efficiency during implement operation, says the company.
The complete driver's cab, including the fenders, is lifted via joystick by a horizontally mounted hydraulic cylinder by approximately 350 mm and is moved by 750 mm to the rear.
In the raised working position the driver's cab can be turned clockwise from zero to 200° via joystick control. Within this wide turning range, the cab's position is infinitely adjustable.
It can thus be continuously positioned (at speeds of up to 15 km/h) without the operator having to change his seating position. This provides the operator with an outstanding overview when working with large-sized front
and rear attachments.
At the same time, overall safety is significantly increased during driving and pushing operations, as well as during reversing.
The conversion also means that a single tractor can be used in an enhanced field of application, particularly when operating rear-mounted or towed implements.
This retrofit conversion is possible for agricultural tractors without any restrictions, up to the biggest 42-inch agricultural tyre size options (710/70 R 42). The original cab suspension and chassis are maintained.
Focus on Transport
November 16, 2017
Published by