American truck sales surge in 2011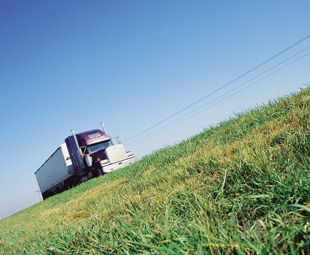 In his monthly review of global news for local truckers, FRANK BEETON looks at the US – its growing strength in the truck market, its van scene, and trends in vehicle preferences – then briefly examines Tata's new Indian "heavy", and takes a glance at the Hino 300 Series MCV that will be coming our way this year.

Whatever market analysts may think about the US government's recent efforts to revitalise its domestic economy, the measures taken so far seem to have exerted a positive influence on medium and heavy-duty truck sales. The final annual total at the end of December 2011, at 306 189 units, had grown by no less than 40,6 percent over the 2010 result of 217 702 sales. This expansion was headlined by a particularly impressive performance in the premium Class 8 category (Gross Vehicle Mass ratings above 15 000 kg), which grew by just less than 60 percent in the same year-on-year comparison. The star performer in this category was Volvo Trucks, which more than doubled its 2010 volume, while International Trucks trailed the other Class 8 brands but still returned healthy
33,4 percent growth. Daimler Trucks North America retained its Class 8 volume leadership position in 2011, retailing 54 367 heavy duty trucks, the vast majority of which carried the Freightliner nameplate.
Class 7 (11 818 – 15 000 kg GVM) volumes grew the least of any category in this review, improving by only 7,5 percent. The biggest individual improvement in this class was returned by PACCAR's Peterbilt brand, at 48,1 percent, while Navistar International retained its position as the segment volume leader. General Motors, following its decision to abandon its medium truck business, has now virtually disappeared from this segment, leaving room for the likes of PACCAR, Ford and Hino to grow their individual market shares.
Volumes in Class 6 (8 864 – 11 818 kg GVM) expanded by more than 30 percent compared to the previous year, with Freightliner providing the main impetus for Daimler Trucks' 11,3 percent market share growth, and returning an individual brand performance that was 125,2 percent better than that achieved in 2010. International Trucks once again retained its position as segment leader, albeit with a reduced market share, while General Motors' exit from this category was effectively completed during 2011.
The two smallest payload classes returned widely divergent results in 2011, with Class 5 (7 273 – 8 864 kg GVM) recording growth of 37,1 percent, while Class 4 (6 364 – 7273 kg GVM) was the only category to lose ground, ending the year 13,4 percent below its 2010 level. Ford consolidated its leadership position in Class 5, improving its share from 59,1 percent to 64,3 percent, and International Trucks recorded impressive year-on-year volume growth of 153,4 percent to reach 3 831 units in 2011. In Class 4, the withdrawal of both GM and Hino from this segment left Isuzu maintaining its leadership of the category, with sales of more than 5 000 of domestically-built and imported trucks.
From the above, it's clear that strategic decisions taken by some manufacturers have shaken up the composition of the US truck market. In particular, GM's announcement in 2009 that it was to vacate the medium truck business has opened up opportunities for other manufacturers to grow their market share. Although erstwhile GM partner and supplier Isuzu Motors moved quickly to plug the gaps in its product range and distribution system left by GM's disengagement, it seems unlikely that its new alliance with specialist manufacturer Spartan Motors can provide the same leverage and distribution footprint that characterised the earlier partnership with GM. Domestic US manufacturers are also sure to play the patriotism card when selling against Isuzu, and this can be a very persuasive factor in the current US economic scenario.
An interesting debate has also arisen in the US regarding maximum legal operating masses in various states. Generally speaking, interstate highways limit Gross Combination Mass ratings at 80 000 lbs, or, in metric terms, approximately 36 tonnes. However, in at least 20 states, heavier combinations are permitted on federal highways when hauling commodities such as sugar cane, milk, logs or coal. Many of these applications use multi-trailer layouts similar to those commonplace in Australia and South Africa, and GCMs in excess of 100 000 lbs (over 45 tonnes) have been legalised in a number of states.
The road transport industry frequently lobbies for a wider relaxation of mass limits, and special 20-year, 100 000 lb dispensations were recently extended in Maine and Vermont. Equally inevitably, this has led to an outcry from those safety and environmental lobbyists who are opposed to bigger and heavier trucks (on the grounds of their being more difficult to drive and the damage they cause to roads and infrastructure). However, in these times of carbon footprint consciousness, the haulier community has been quick to point out that higher permissible weights would result in fewer trucks carrying the same amount of goods. And so it goes on!
From an objective viewpoint, at 36 tonnes, America has a considerably lower typical combination mass regime than Europe (where the cross-border limit is 44 tonnes), and countries like South Africa (56 tonnes) and Australia (generally about 68 tonnes, but much heavier in places). The typical US 'eighteen wheeler' (6×4 truck-tractor with tandem axle semi), as seen on interstate highways, is quite small fry when compared to standard practice overseas – notwithstanding the fact that some American haulers have power units developing more than 370 kW (500 hp) and are to be found quite happily operating at considerably higher combination ratings in export markets. It seems future developments in the US truck market could take some really interesting turns.
RAM GOES EUROPEAN; IS THE US MARKETING CHANGING?
Last September, we reported that the Fiat/Chrysler partnership was considering the introduction of European integral van products into the US market. This thought was undoubtedly helped along by the growing popularity of the Mercedes-Benz Sprinter van range (which in both Mercedes and Freightliner branded forms, has been selling more than 10 000 units annually across the Atlantic), and Ford's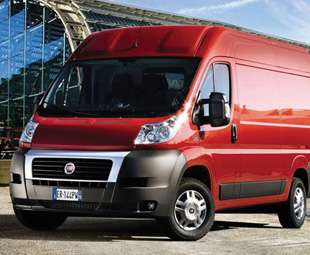 subsequent announcement that it was going to use its European Transit van as the base for a new American market range. Our understanding was that Chrysler's Ram division was looking at Iveco's Daily, as well as Fiat's Ducato and Doblo vans, as the means to extend its commercial vehicle range.
Follow-up reports published in mid-January suggest that a Ram-badged Ducato is to be built in the Chrysler complex in Saltillo, Mexico for introduction to the North American market from 2013. The complex – comprising a truck assembly plant, stamping plant, and two engine plants – will undergo an expansion valued at US$ 500 million in order to become Fiat/Chrysler's North American light commercial production centre.
The fact that a number of its competitors are aiming European-style products at the American LCV market would also not have escaped Nissan's attention. At the March 2010 National Truck Equipment Association's Show in St Louis, Missouri, Nissan revealed its NV Series of vans in NV1500, NV2500 HD and NV3500 HD versions. Nissan designed and configured this product exclusively for the US market, following an entirely different product strategy to that now being adopted by Daimler, Ford and Chrysler. Design features include a full-length bonnet, front-mounted engine with no intrusion into interior space, rear wheel drive, body-on-frame non-integral construction, and optional standard or high roofs. Power choices include a 4,0-litre petrol V6 or a larger 5,6-litre V8 unit, both driving through a 5-speed automatic transmission.
So who is following the most effective path? Well, in an article published in the US last October, the NV Series' total sales for the first nine months of 2011 were quoted at 3 035 units, compared to 69 187 for Ford's Econoline and 42 084 for the Chevrolet Express, its major competitors. Analysts say part of the reason for the NV's slow sales rate is that Nissan is not seen as a 'commercial brand' in the US, and that this perception would have been strengthened by the recent global 'disappearance' of the Nissan Diesel brand. An interesting thought!
Global FOCUS is not trying to suggest that all these products line up perfectly against each other, or that the 'New Europeans' will sweep all before them, but there has been a long-held perception that the US market always demands products that are different to those sold elsewhere, even if they perform the same basic functions. This has applied across most market sectors: cars intended for the American market were historically bigger and had softer ride qualities than overseas equivalents; medium-sized trucks had to be powered by petrol engines; heavy haulers were only considered marketable if they had 'conventional' (bonneted) cabs. Following a period where foreign manufacturers have gained control of several iconic US brands, and the likes of GM and Ford have come to realise the value of products produced by their offshore operations, there are now clear signs of change, with cars like the Chevy Cruze and Ford Fiesta gaining firm support, and the abovementioned vans being transplanted across the Atlantic in the wake of Sprinter's successful introduction. How long, therefore, before American long-distance operators can be sold on the benefits of the forward control premium haulers that proliferate across the rest of the globe? There can be no doubting that the likes of Daimler and Volvo would relish the prospect of being able to sell their global standard products in the US.
TATA'S NEW INDIAN "HEAVY"
The introduction of Tata Motors' new LPT 3723 model at the New Delhi Auto Expo early in January has laid two possible misconceptions to rest. The first is that Tata will now only develop the Prima 'World Truck' heavy-duty range seen at the Johannesburg International Motor Show (JIMS) last year, leaving its more basic, value-for-money 'traditional' product range to fade away; and the second is that India may still be trapped in the world of heavily overloaded two-axle rigid trucks, where it languished for many decades.
The LPT 3723 is an interesting beast. Designed for a 25-tonne payload, typically steel or cement, it's a long-wheelbase 5-axle rigid truck, and uses an air-conditioned forward control cab with a distinct similarity to an earlier Mercedes-Benz design (Tata's earliest efforts with commercial vehicles date back to a joint venture with Daimler-Benz established in 1954). The LPT 3723 5-axle configuration is described as 10×4, with twin steering front axles, a tandem-drive rear bogie, and, at the extreme rear, a lifting trailing axle. Power is provided by a 154 kW Cummins 6BT 5,9-litre diesel sourced from the Tata Cummins Indian joint venture, driving through a Tata G1150-OD 9-speed manual transmission. The Gross Vehicle Mass rating is 37 tonnes, running on 10R20-16 ply radial tyres.
HINO 300 – AUSSIE STYLE
Hino is currently rolling out its latest 300 Series worldwide, and we can expect to see this latest successor to the legendary Toyota Dyna medium commercial range on sale in South Africa some time this year. The line-up has already entered the Australian market, so a look at the 'down under' specification profile could be useful when contemplating the local launch.
Australia's current ADR 80/03 emission standard demands at least Euro 5 equivalence. Hino has reportedly gone a step further in ensuring that Europe's Enhanced Environmentally Friendly Vehicle (EEV) standard can be achieved by the new 300, without resorting to urea injection, through the application of Diesel Particulate Active Reduction with an impressive 800 000 km service interval. Power outputs range from 110 to 121 kW, and transmission choices include five- or six-speed manuals, or the fully-automatic Aisin 6-speed torque converter transmission that recently returned hybrid-like fuel consumption results in Australian testing.
Among the 45 model variants of the 300 Series available to Australian buyers, there are no fewer than eight hybrids, signifying the importance Hino is attaching to this technology in its efforts to gain market share. Hino's hybrid system has been completely redesigned, and now features a water-cooled AC/DC inverter, boosted battery capacity, a 4-litre engine developing 110 kW, and a permanent magnet electric motor that adds 36 kW to the AMT-equipped driveline.
---
Global FOCUS is a monthly update of international news relating to the commercial vehicle industry. It is compiled exclusively for FOCUS by Frank Beeton of Econometrix.
Focus on Transport
March 2, 2012
Published by